The Public Life of Sherlock Holmes: Western Noir – Hell on Wheels
The Public Life of Sherlock Holmes: Western Noir – Hell on Wheels
Back in November of 2011, AMC debuted a gritty new western, Hell on Wheels. Anson Mount played Cullen Bohannon, a former Confederate soldier out for revenge against the Union soldiers who had killed his wife and son and burned his farm. His pursuit takes him to the camp of the Union Pacific Railroad, which is headed across the central plains under the leadership of Thomas Durrant (Colm Meany: O'Brien of Star Trek: The Next Generation fame).
While the series starts out as a revenge tale, Bohannon abandons that quest after he kills the wrong man and instead focuses on helping build the Transcontinental Railroad. The series becomes the story of the various employees and camp followers who move along as the laying of track progresses: the mobile community is 'Hell on wheels.'
I'm writing about this series, which wrapped up weekend before last, because it is a Western Noir: And a darn good one. I had never seen Mount in anything before, but I'm telling you, he was made for this part. He's the protagonist, but he's not a white-hatted cowboy. Roy Rogers need not apply. He develops his own code of honor as the series progresses, but he's a 'get it done guy' who rises from swinging a pick to the most important person in the Transcontinental's story. And as he demonstrates many times, he isn't afraid to use a gun.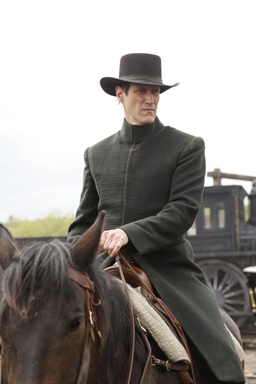 Bohannon is the only character which appears in every episode. Durrant, who is in 52 of the 55 shows, is a greedy, conniving rail baron and I think it's Meany's definitive role. There's some good inside Durrant, but it never gets in the way of his ultimate purpose: to win the race against the Central Pacific in getting to the famed Golden Spike (and to make a dollar along the way…). Meany is playing an actual historical person and the real Durrant was a swindling financier like Rockefeller and the other giants in American history.
You've probably seen tall, creepy Christopher Heyerdahl before. For a large part of this series, his character, The Swede, was as compelling a villain as I've ever seen. There's a scene near the end of Blood Moon Rising (the season two finale), shot in slow motion during a siege of the town, that is one of the most amazing things I've seen on television. And it's all about the Swede. I could almost argue that Heyerdahl carried the show for the first three seasons or so. Not that the show was lacking, but he was just that great to watch.
Harsh weather, Indians, cholera, outlaws, nature, corrupt officials, politics, overzealous US soldiers, financial machinations: the series is a constant battle of man vs. man and man vs. environment (and for a short time, man vs. bear. That's probably my least favorite story line of the whole series). It should come as no surprise that in this hostile setting, a lot of people die. Many prominent characters don't make it through the series. One particular hanging is still hard for me to believe. If you're going to root for anybody other than Bohannon or Durrant, you may end up disappointed.
Filmed in Canada, some of the scenery is gorgeous. But much of it is bleak and depressing. The people look dirty and tired. This isn't Hollywood's Wild West. The building of the railroad was backbreaking work, mostly done by Irish immigrants, freed black men and Chinese coolies. You think you had a hard day at the office… From the pilot episode to the series finale, Hell on Wheels is a fine-looking show with the kind of cinematography that is the hallmark of good Westerns.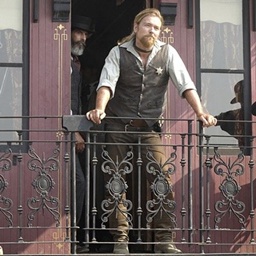 A friend repeatedly refused to watch the show because he doesn't like Westerns. But this is as much of a Noir as it is a Western. And it's a story about the Transcontinental Railroad, not a cowboys and Indians tale. The series opens with an emotionally exhausted Union soldier going in to a church to unburden his soul of his sins from the war. He's one of the men who Bohannon is hunting and it is payback time right there in the confessional. The action, the mood, the music: we're in Noir territory.
In season four, Sydney Stone (played to perfection by Jonathon Scarfe), an old "friend" from Bohannon's past, shows up and initiates an absorbing story line with fatal consequences for many. It's like a forties pulp story.
Cullen Bohannan: Lot o' men lost their way after the war.
Ruth: He's not lost, Mr. Bohannon. The forces of darkness reside within him. I looked into his eyes. I saw a wickedness there that is yet to be unleashed.
As we know, the railroad got built. The two lines were brought together at Promontory Point, Utah and the American West was truly opened up for settlement. Hell on Wheels paints a dark picture of that story. And it does it very, very well.
At it's heart, it's also the story about the relationship between Bohannon and Durrant. In fact, Bohannon's actions regarding the railroad mogul give us a real look inside the series' protagonist, right up to the end.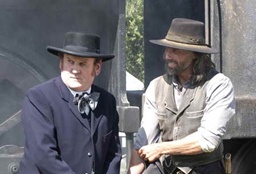 After Justified wrapped up (and after BBC Sherlock jumped multiple sharks), Hell on Wheels became my favorite television show. Its renewal status was up in the air after season one, but it lasted five seasons. The show's movers and shakers agreed that season five would be the final one, allowing them to steer the final fourteen episodes in the direction they wanted to reach the series closure that they desired. And it worked out pretty well.
I think Hell on Wheels will appeal to fans of Justified. It's not as good as that show (heck: what is?), but it has some of that same feel. Anson Mount has a little Timothy Olyphant in him, without the humor. Since binge watching is now one of America's great pastimes, go ahead and give Hell on Wheels a try.
If you like railroad simulation games like the Railroad Tycoon series, check out my review of Railway Empires – a fun game.
---
You can read Bob Byrne's 'The Public Life of Sherlock Holmes' column here at Black Gate every Monday morning.
He founded www.SolarPons.com, the only website dedicated to the 'Sherlock Holmes of Praed Street' and blogs about Holmes and other mystery matters at Almost Holmes.
He is an ongoing contributor to The MX Book of New Sherlock Stories series of anthologies, with stories in Volumes III, IV and the upcoming V.