Pathfinder Meets Lovecraft: Starspawn by Wendy N. Wagner
Pathfinder Meets Lovecraft: Starspawn by Wendy N. Wagner
Wendy N. Wagner is the Managing Editor for Lightspeed and Nightmare magazines, as well as an editor for the fabulous Destroy series of anthologies, including Women Destroy Science Fiction, Women Destroy Fantasy, and Queers Destroy Science Fiction. She's also the author of one previous Pathfinder Tales novel, Skinwalkers.
The sequel to Skinwalkers, Starspawn, will be published next week by Tor Books, and follows the notorious pirate Jendara as she returns to the cold northern isles of her home to settle down and raise her young son. When a mysterious tsunami wracks her island's shore, she and her fearless crew must sail out to explore the strange island that's risen from the sea floor. The marketing copy describes the novel as follows:
From Hugo Award winner Wendy N. Wagner comes a sword-swinging adventure in the tradition of H. P. Lovecraft, set in the award-winning world of the Pathfinder Roleplaying Game.
Pathfinder meets Lovecraft? That's definitely worth checking out.
Here's a closer look at the wraparound cover by Jesper Ejsing.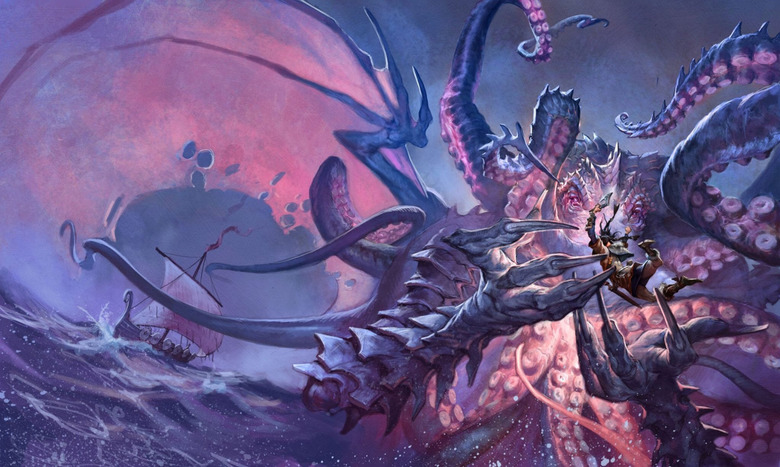 Pathfinder Tales: Starspawn will be published by Tor Books on August 9, 2016. It is 307 pages (plus a 10-page sample chapter from Sam Sykes' upcoming Shy Knives), priced at $14.99 in trade paperback and $9.99 for the digital version. The cover is by Jesper Ejsing.
See all of our previous Pathfinder coverage here.