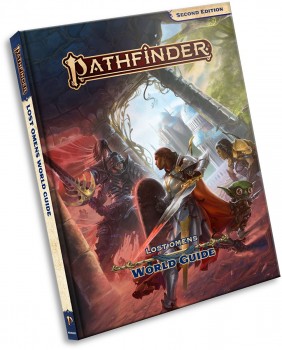 With the release of Pathfinder Second Edition at GenCon in August, Paizo set out to once again re-capture fire in a bottle. They'd done it once before, a decade ago, when they took the ruleset of Dungeons & Dragons 3.5e, slapped it together with a ton of house rule modifications and other changes, and then rebranded it as the Pathfinder RPG. Here they were taking that very same Pathfinder RPG, which had itself grown wildly successful, and trying to create a new and compelling variant of that.
Having played a handful of the Pathfinder Second Edition games now, I'm finding quite a lot to like about it the system. But one of the things that drew me so powerfully to Pathfinder First Edition was when I got my hands on the Inner Sea World Guide. While the rules were great, the dynamic nature of the setting, with the rich diversity of nations and storytelling options, was what really engrossed me.
And clearly I'm not alone, because one of the first releases that Paizo planned to follow-up the release of Pathfinder Second Edition was the Lost Omens World Guide (Paizo, Amazon). The default setting for Pathfinder (both editions) is the Age of Lost Omens on the world of Golarian, and thus the name of the guide. This re-introduces the core of the Pathfinder setting, while at the same time introducing a quick infusion of new character creation and advancement options to supplement the basic rules.
---