Nero Wolfe's Brownstone: The 'Lost' 1959 Pilot
Nero Wolfe's Brownstone: The 'Lost' 1959 Pilot
Only a few years ago, the 'lost' pilot of a 1959 Nero Wolfe television show came out on DVD. Surprisingly, no one posted it on YouTube until March of 2020, while much of America was staying at home during the Corona virus Pandemic. I myself saw it for the first time on March 22, so here we go!
Back in 1959, Edward Fadiman, part of Fadmian Productions, (which also acted for Rex Stout as 'Nero Wolfe Attractions'), got a pilot episode made through CBS. Unfortunately, it was fated to be a one-episode series (or was it?). TV was still an emerging medium, competing with radio, the silver screen, and the stage. It's no surprise that the project turned to Broadway for the dual leads. And in this episode, Archie's star shines at least as brightly as Wolfe's.
Kurt Kasznar appeared in one episode of a lot of TV shows, which was common in the fifties and sixties. He was a successful stage actor, including roles in The Sound of Music, and Barefoot in the Park. When notices about the pilot project began appearing in early 1959, he was appearing in Look After Lulu. At 280 pounds, he had the build for Wolfe. The press reported that he actually had lost 70 pounds and needed padding for the part! William Shatner was appearing on Broadway in The World of Suzi Wong. He was years away from boldly going where no man had gone before.
Alexander Scourby, who appeared in noir classic The Big Heat, was the 'name' guest star for the pilot episode.  George Voskovec played one of the suspects, Dr. Wollgang, He would revisit the world of Nero Wolfe again, starring as Fritz Brenner in William Conrad's 1981 series.
As the show opens, we see a scientist dying of an apparent heart attack at the exact moment of a moon missile launch at Cape Canaveral. We move to Nero Wolfe, sick in bed with a cold, as Archie brings in a breakfast tray, featuring one of Fritz's omelets (with a hint of sage). Wolfe absolutely shovels it down. He converses with Archie while he eats like a starving wolf (no pun intended). I found it completely distracting as he pushes food into his mouth while still chewing the prior bite. Fortunately, there is no more eating the episode. Archie does drink a glass of milk, while Wolfe breakfasts, which was a nice touch. Even if he drinks it while Wolfe is eating in bed.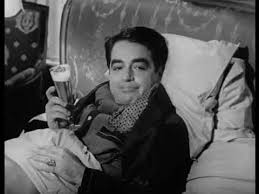 Throughout the episode, Wolfe sneezes. And with his mouth; germs would be flying out. Not once does he cover his mouth and nose first. He sneezes messily, and THEN he gets out his handkerchief. I'm surprised Archie will stay in the same room with him.
Kasznar has an accent, which Wolfe probably would have had for at least some years after immigrating to America. But foreign versions aside, I don't ever recall an accented Wolfe. It's only there sometimes (like Timothy Hutton's come-and-go NY accent in the A&E series), and it's not overly present. I've watched this show a half-dozen times, and I guess the accent is okay. Wolfe with an accent is different, but it's not a problem.
Physically, he is big enough for the part, though he's no Sidney Greenstreet or Orson Welles. He has three major scenes, and he's in a different outfit for each. He's in bed wearing a robe, over his pajamas. In the second scene, he's in the office, holding an orchid in a large pot next to the record player. He's playing Domenic Scarlotti to improve the orchid's coloring. Now, he's wearing what looks like a smoking jacket, or formal dressing gown, over a presumably yellow shirt. That's Wolfe, in the office, in  smoking jacket. Finally, in what Inspector Cramer would call 'one of his charades' at the end, he's properly attired in a suit and tie.
I like my Archie Goodwin smart, breezy, and capable, with a sense of humor, but not built for comic relief: No Nigel Bruces here. Lee Horsley and Timothy Hutton both work well for me. And so does William Shatner. Now hold… your… horses. It's not… what you… might think. While we love to poke fun at William Shatner for his pause-filled dialogue on Star Trek, he doesn't do his famous 'Kirk Slow Talk' in most of his roles. Watch TJ Hooker – and have you seen Heather Locklear's poured-on uniform? – or his turn as the villain Stapleton in a BBC production of The Hound of the Baskervilles, starring Doctor Who Tom Baker. Shatner plays Archie pretty much as Stout wrote him. His back-and-forth with Wolfe feels right. He goads Wolfe into working because the finances are low. And his narration, in the brownstone and out in the field, is on target.
During the 'reveal,' Archie is sitting in a chair, in front of Wolfe's desk, facing the crowd. That's just jarring. Archie at his desk is a huge part of the character – one reinforced by the A&E series, true. But I don't think too many readers of the Corpus would be crazy about that aspect of the show.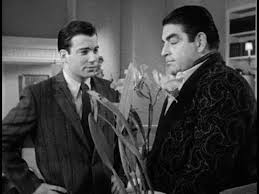 The episode goes fast! After the 'sick-in-bed' scene, Archie gets to solo, visiting one of the suspects. He comes back to find Wolfe in the office playing music for an orchid. And in the next scene, Wolfe identifies the murderer. The show ends with another scene of Wolfe in bed, where Archie confronts Wolfe about how he solved the case. Wolfe, leaving his beer unfinished, buries his head under the covers to avoid talking with Archie. It's not Corpus, but it's amusing. And Archie quotes to Wolfe verbatim, which is a nice touch.
None of the other characters appear. There's no Fritz, or Theodore, or Saul, or Cramer, or Lily – none of the gang. Of course, we might have seen at least some of them in future episodes, but it's just Wolfe and Archie in this one.
It's not a bad episode, if not very memorable. I think that Shatner is by far the best part. Kasznar isn't bad and worth watching in another episode. As far as faithful to Stout goes, I'd put it out there with the Greenstreet radio show and the comic strip. It is recognizable as Wolfe and Archie, but a lot of liberties are taken.
I've seen one reference on the web that three additional episodes were filmed, but that's as far as that goes. Personally, I think this is worth watching a few times. I love the Maury Chaykin series, and I like the William Conrad, and the recent Italian series. For a Nero Wolfe fan, there's no reason not to queue this one up on YouTube and give it a try.
Thanks to Lee Goldberg, who co-wrote several of the A&E episodes, for posting the video.
PRIOR NERO WOLFE POSTS
The Public Life of Sherlock Holmes
Meet Nero Wolfe
The R-Rated Nero Wolfe
Radio & Screen Wolfe
A&E's 'A Nero Wolfe Mystery'
A Sidney Greenstreet Nero Wolfe Pastiche – 'Stamped for Murder' (The Greenstreet Chronicles)
Nero Wolfe's Brownstone
3 Good Reasons – 'Not Quite Dead Enough'
3 Good Reasons – 'Murder is Corny'
The Careworn Cuff – Part One (The Greenstreet Chronicles)
The Careworn Cuff – Part Two (The Greenstreet Chronicles)
The Careworn Cuff – Part Three (The Greenstreet Chronicles)
3 Good Reasons – 'Immune to Murder'
---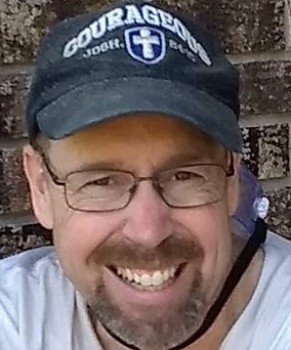 Bob Byrne's 'A (Black) Gat in the Hand' was a regular Monday morning hardboiled pulp column from May through December, 2018 and again from August through December, 2019. 
His 'The Public Life of Sherlock Holmes' column ran every Monday morning at Black Gate  from March, 2014 through March, 2017 (still making an occasional return appearance!).
He organized 'Hither Came Conan,' as well as Black Gate's award-nominated 'Discovering Robert E. Howard' series.
He is a member of the Praed Street Irregulars, founded www.SolarPons.com (the only website dedicated to the 'Sherlock Holmes of Praed Street') and blogs about Holmes and other mystery matters at Almost Holmes.
He has contributed stories to The MX Book of New Sherlock Holmes Stories – Parts III, IV,  V and VI.