Nero Wolfe's Brownstone – 3 Good Reasons: Immune to Murder
Nero Wolfe's Brownstone – 3 Good Reasons: Immune to Murder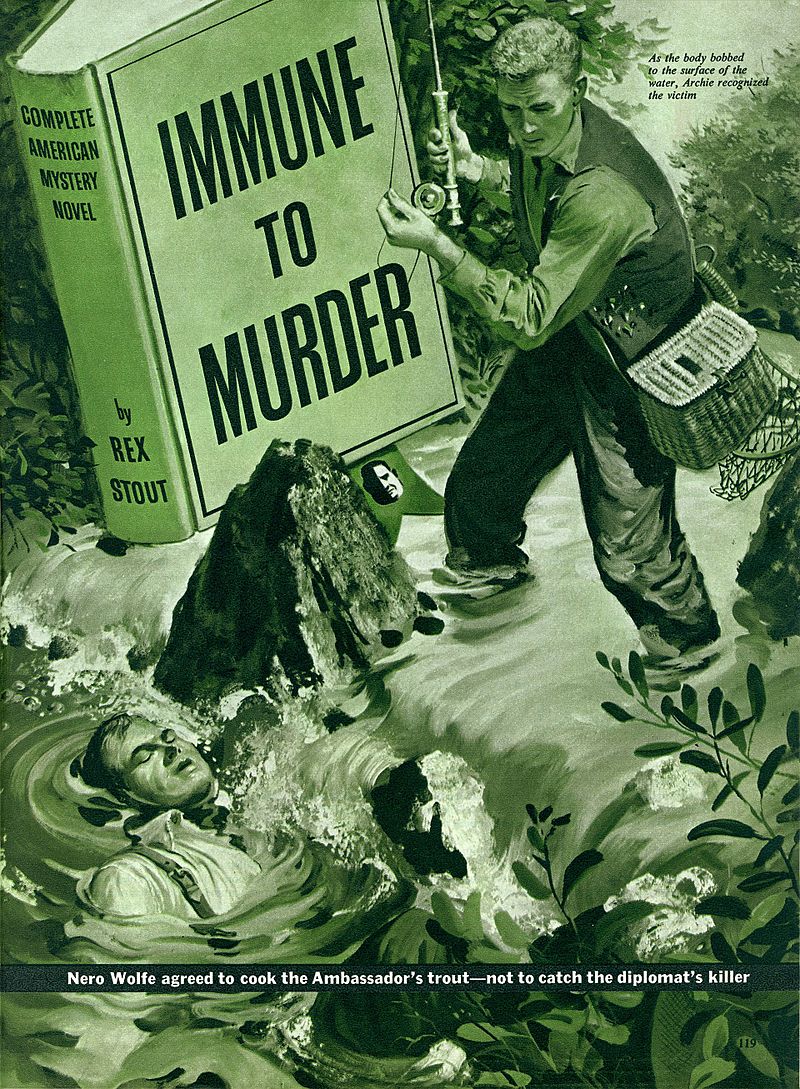 Welcome to the third installment of 3 Good Reasons. With a goal of eventually tackling every tale of the Corpus, I'll give three reasons why the particular story at hand is the best Nero Wolfe of them all. Since I'm writing over seventy 'Best Story' essays, the point isn't actually to pick one – just to point out some of what is good in every adventure featuring Wolfe and Archie. And I'll toss in one reason it's not the best story. Now – These essays will contain SPOILERS. You have been warned!
The Story
"Immune to Murder" can be found in Three for the Chair. Wolfe and Archie travel to a hunting lodge in the Adirondacks, owned by oil baron O.V. Bragan. Theodore Kelefy, an ambassador to the US from a third-world, oil-rich country, has requested that Wolfe cook some freshly caught trout. Archie goes fishing while a cranky Wolfe begins cooking lunch – and finds the body of Assistant Secretary of State David Leeson; murdered while out fishing. As has happened in other stories involving important persons as potential suspects, the local authorities aim their suspicions at Wolfe and Archie.  Wolfe is forced to solve the case so he can get back home. And also because the killer offends his pride.
3 GOOD REASONS
Classic Curmudgeon
I have read a few criticisms of Maury Chaykin, in the Nero Wolfe Mysteries television show, for yelling far more than Wolfe did. I think that's a fair assessment. Though, Wolfe certainly could express his anger somewhat loudly, when he wanted. But over the course of the entire Corpus, it didn't happen as frequently as the tv series would lead you to believe. However: it is still quite believable for Wolfe, and I don't think it detracts at all from the performance.
Chaykin (who, sadly, passed away in 2010), through his speech, facial movements and body language, absolutely did convey Wolfe's demeanor as a cranky curmudgeon. Rex Stout, through Archie, gives examples of Wolfe time after time over the forty-ish years of tales. And "Immune to Murder" absolutely opens up with just such an incident.
After a 328 mile drive from the Manhattan brownstone, to River Bend, a sixteen-room mountain lodge in the Adirondacks, Wolfe's back hurts. Since he always sits totally stiff and erect when traveling in a motor vehicle, "even with me at the wheel," as Archie says, that's not a big surprise. But Wolfe, even more cranky than when he's at home, says he has lumbago and refuses to leave his room and join the dinner group.
"A fine way to serve your country," I told him. "Not. In spite of a late start, I get you here in time to be shown to your room and unpack and wash up for dinner, and now you tell me to go tell your host you want dinner in your room. Nothing doing. I decline."
He was glaring back. "Confound it, I have lumbago!" he roared.
You do not have lumbago….What you need is exercise, like a good long walk to the dining room."
"I say it's lumbago."
"No, it's acute mooditis, which is a medical term for an inflamed whim."
I LOVE Wolfe and Archie like this. It's great stuff!
Archie lays out the entire setup. It's a deft piece of writing by Stout to tell the reader what's going on, without being an info dump. And establishing the character of Archie as the guy who has to keep Wolfe in line. He adds:
"If you've got lumbago, it's not in your back, it's in your psyche. It is called psychic lumbago. The best treatment –"
Wolfe finally has had enough and breaks up the lecture. He has been bullied into attending dinner with the others.
This is terrific Wolfe and Archie: and it takes place 'out of pocket.' Most fans of the series will acknowledge that the two seem to be at their best in the familiar environs of home. But there are more scenes with Wolfe away from the brownstone than you might realize. And the comfort level of these adventures for the reader is enhanced when the two interact as we expect them to.
The Corpus is replete with examples of Wolfe's stubbornness and crankiness. I would cite the salary dispute at the beginning of Prisoner's Base as another excellent 'confrontation.' There's a perfect example of Wolfe's childish behavior in the third story, The Rubber Band.
Archie refuses to pick up a dart which Wolfe had dropped. Wolfe won't get it himself, but he won't directly ask Archie to do so. Finally, Wolfe lets the rest of the darts roll out of his hand and down to the floor. Then he turns and goes upstairs, leaving Archie to pick up all the darts. It's beyond petty. As a counterpoint, Archie explains that if he leaves them, Fritz will have to pick them up, and that would put him at Wolfe's level. He picks them up, though with a twist as he throws them at the board.
Wolfe's Ability to Get the Job Done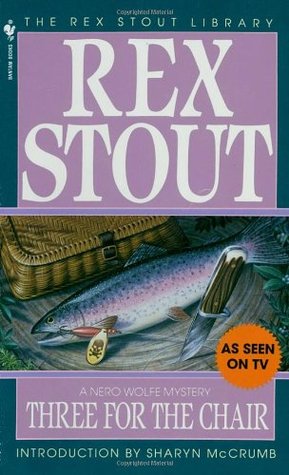 Wolfe is a genius, of course. Though, like Holmes, he only knows that which is of use to him. Archie can't believe that Wolfe can be the best detective in New York City, but not know that there's an FBI office in town. Much like Mycroft Holmes (who some speculate is his father), Wolfe takes routine to extremes rarely seen in human nature. In Murder by the Book, he says, "A schedule broken at will becomes a mere procession of vagaries."
Okay – that's not a bad assertion. But who in the world is so ironclad in their schedule, that it would occur to them to view it that way?
He functions best in the Brownstone, where he can spend four hours a day with his orchids, drink beer, eat good food, and read a book in his favorite chair. It wouldn't be too surprising, if, away from his routine and comforts, his unmatched mental processes don't function at peak levels. Certainly, in this story – far from home, in a bad mood upon his arrival, dragged into a murder he cares nothing about, and pestered by a District Attorney who sees him as the preferred killer – it wouldn't be surprising if he's a bit off his game. But he's not.
He notices something about Ambassador Kelefy's fish that results in him not cooking them for lunch. Which was the whole reason he was there in the first place. And he picks up on a comment made to him by Kelefy. One that has no impact on Archie. He thinks that a part of the US Penal Code related to foreign ambassadors may be relevant to the case, so he calls his lawyer, Nathaniel Parker, to check on it. With a state trooper in the room, ready to overhear this conversation, he switches to French! That's being on you're A game.
And then, when he's got his pieces in place, he devises a method around a seemingly insurmountable obstacle, by convincing New York Attorney General Jessel to let Wolfe talk to the US Secretary of State!
Wolfe assembles this stew to identify the killer. Really, when you add it all up, this is one of Wolfe's most impressive performances. Even though there's a twist at the end. Hint – the title of the case gives a hint to that twist.
Goodwin & Papps
It's not in and of itself spectacular, or extremely memorable, but I quite enjoy the conversation which Archie has with Spiros Papps at the dinner table the first night. In and of itself, it's an info dump, with Papps explaining to Archie who everybody is. But their interplay is a fun read. Archie cracks a few of his jokes, which Papps receives without batting an eye. Meanwhile, the advisor to the ambassador comes across as somewhat Machiavellian.
When first introducing himself to Archie, before even giving his name, he says, "I am an expert, a financier, and a man of guile."   Also, "I am a man of malice." And, "I am a man of simple candor."
When he expresses concern that Wolfe is adding onion to the fish he's preparing, Archie replies, "Don't worry. He just waves one at the pan."
The exchange ends when Archie, tired of roasting next to the fire, gest up to play pool with Bragan. While Papps would not be that interesting of a character for the rest of the story, his fireside chat with Archie stands out.
ONE BAD REASON
Would Wolfe Really Make That Trip?
Now, this isn't a fatal flaw. And sometimes, Stout had to get a bit outlandish to establish a premise for the case. Since Wolfe was adamant about not leaving the brownstone for work, Stout had to work a bit harder than he otherwise might have, sometimes, to send Wolfe 'offsite.'
Wolfe initially refuses Leeson's request to travel to the lodge and prepare lunch. Which is as it should be. But Wolfe (and Archie) are having a difficult time on an insurance case for Lamb and McCullough. And Wolfe sees leaving town as a way to avoid working on the case. Archie essentially says 'Nuts' to that. But the case gets harder and Wolfe agrees to 'serve his country.'
It's not totally implausible, but it's certainly a stretch. Even if Archie were badgering him, Wolfe could just ignore, or tolerate, his badgering. He can always fire Archie for being too annoying – though that never sticks.
To subject himself to a seven hour car ride, certainly covering some – gasp – unpaved roads, just to avoid working on a case? It would be easier to have a relapse. We'll talk about 'relapses' with other essays. And it seems reasonable to assume that a mountain lodge would not be to Wolfe's liking. And it's not like he'll be hanging out with fellow orchid fanciers!
But, of course, Wolfe has to be there for this plot to work. And, since there are a lot of things to like in this story, it can be overlooked. Since the story opens with Wolfe in his room at the lodge, even if it bothers the reader, it can be pretty easily ignored for the entirety of the story. If not, well, get over it!
MISCSELLANEA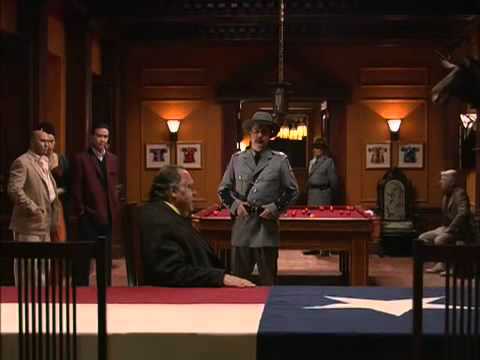 "Immune to Murder" appeared in the November, 1955 issue of The American Magazine. It was included in Three for the Chair in 1957, along with "A Window for Death" and "Too Many Detectives." I quite enjoy "Too Many Detectives," and I'll be doing an entry on that one relatively soon.
This is another very good A&E adaptation. George Plimpton, as the chief chef assisting Wolfe at the lodge, steals his scenes. Richard Waugh, who appeared in seventeen episodes, is fun to watch as Captain Jasper Colvin (he gets most of the good part played by DA Colvin in the book). Giancarlo Esposito, best known for playing Gus Fring on Breaking Bad and Better Call Saul, is a suave Ambassador Kelefy.
YOU DON'T SAY
Archie – "No. That's not fat. It's solid muscle. You should see him (Wolfe) lift a pen to sign a letter, absolutely effortless.
Archie – "You asked me what I thought. I said we had to stay on the Lamb and McCullough job. You said our country wanted that ambassador softened up and you said you must answer our country's call of duty. I said nuts. I said if you wanted to cook for our country you could enlist in the Army and work your way up to mess sergeant, but I would admit that Lamb and McCullough thing was probably too tough for you. Days passed. It got tougher.
The outcome was that we left the house at eleven-fourteen this morning and I drove three hundred and twenty-eight miles in a little under seven hours, and here we are. The setup is marvelous and very democratic. You're just here as a cook, and look at this room you've got." I swept a hand around. "Not a hardship in sight. Private bath. Mine is somewhat smaller, but I'm only cook's assistant. I suppose I might call it culinary attaché.
We were told dinner at six-thirty because they have to get up early to go fishing, and it is now six-thirty-four, and I am instructed to tell Bragan you'll eat in your room. Where would that leave me? They wouldn't want me at the table without you, and when will I get another chance to watch an ambassador eat? If you've got lumbago it's not in your back, it's in your psyche. It is called psyching lumbago. The best treatment –"
Wolfe – "Archie. Stop gibbering. 'Lumbago' denotes locality. From the Latin lumbus, meaning 'loin.' The psyche is not in the loin."
Archie – "No? Prove it. I'll concede that yours may not be, but I have known cases – for example, remember that guy, I forget his name, that wanted to hire you to arrange a meeting of his first four wives and persuade them-"
Wolfe – "Shut up!"
PRIOR NERO WOLFE POSTS
The Public Life of Sherlock Holmes
Meet Nero Wolfe
The R-Rated Nero Wolfe
Radio & Screen Wolfe
A&E's 'A Nero Wolfe Mystery'
A Sidney Greenstreet Nero Wolfe Pastiche – 'Stamped for Murder' (The Greenstreet Chronicles)
Nero Wolfe's Brownstone
3 Good Reasons – 'Not Quite Dead Enough'
3 Good Reasons – 'Murder is Corny'
The Careworn Cuff – Part One (The Greenstreet Chronicles)
The Careworn Cuff – Part Two (The Greenstreet Chronicles)
The Careworn Cuff – Part Three (The Greenstreet Chronicles)
---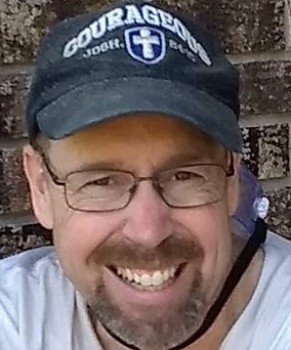 Bob Byrne's 'A (Black) Gat in the Hand' was a regular Monday morning hardboiled pulp column from May through December, 2018 and again from August through December, 2019. 
His 'The Public Life of Sherlock Holmes' column ran every Monday morning at Black Gate  from March, 2014 through March, 2017 (still making an occasional return appearance!).
He organized 'Hither Came Conan,' as well as Black Gate's award-nominated 'Discovering Robert E. Howard' series.
He is a member of the Praed Street Irregulars, founded www.SolarPons.com (the only website dedicated to the 'Sherlock Holmes of Praed Street') and blogs about Holmes and other mystery matters at Almost Holmes.
He has contributed stories to The MX Book of New Sherlock Holmes Stories – Parts III, IV,  V and VI. Rumor is that submissions are down and he's returning to the series in 2020.