The Public Life of Sherlock Holmes: Talking About Poirot
The Public Life of Sherlock Holmes: Talking About Poirot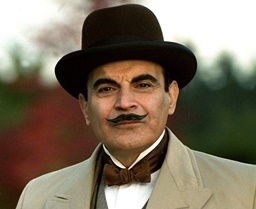 I mentioned last week (which you know, enlightened reader, because you love this column. You probably bookmarked the link as a memoriam to me. Anyhoo…) that I discovered the Nero Wolfe books through the A&E television series starring Maury Chaykin and Timothy Hutton. I'd just never read any of the books, even though the series had been around for decades. And now it's my favorite mystery series of them all (sorry Holmes and Pons).
Well, some thirty-ish years ago (maybe a little more), I read a couple of Agatha Christie books. I remember that one was definitely a Poirot. I didn't care for them and that was that. So, while Christie (alongside The Bard) is reckoned to be the best-selling fiction author of all time, she was absent from my not inconsiderable mystery library.
Then, a few years ago, I began watching the Hercule Poirot television series starring David Suchet (here's a trailer). And I really, really liked it. From 1989 through 2013, Suchet filmed 70 Poirot stories! So, I decided to give Christie's writings a chance again. Well, Poirot, anyways: I'm not sure you could pay me to read Miss Marple. Thus, I bought Hercule Poirot: The Complete Short Stories and had at it. As I write this, I'm on story 19 of 51.
First thing I noticed is how short these things are. Yes, I know they're called 'short stories,' but while I haven't tried counting words, most of them are between 8 and 16 pages long. And that's on big ol' 6" x 9" paper. Also, she was really cranking these out. A new Poirot was appearing almost weekly in The Sketch magazine.
The short stories were adapted into one-hour episodes, while the Poirot novels went two hours. Much filler has been added to the original stories for the television show.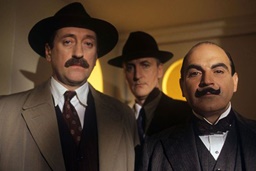 Perhaps due to the high volume, I haven't been all that impressed with her plotting. She seems a bit haphazard with it. I don't think she even bothered to explain why a child was kidnapped in "The Adventure of Johnnie Waverly." Plotting does not seem to be her forte. Nor does it strike me that it was particularly important to her.
As I read the stories, I am populating them with Suchet, Hugh Fraser as Poirot's Watson, Colonel Hastings, and Philip Jackson as Chief Inspector Japp. And by doing this, I am quite enjoying the stories. Much more than I would have without those images. In fact, I don't know that I would continue on with the collection if not for my picturing of Suchet.
As with Nero Wolfe, my frame of reference is coming from the characters via the television show, not the original stories. Unlike, say, Sherlock Holmes, where I'm deeply versed in the stories, in spite of the MANY adaptations I've viewed.
Christie's Poirot has a bigger ego than Suchet's. Christie's Poirot frequently utters something so arrogant that Hastings makes an observation about it. Such comments from Suchet seem to occur less frequently.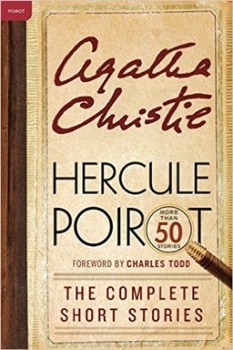 Also, Christie's Poirot is occasionally nimble or agile – something that certainly does not apply to Suchet. Watching Suchet 'run' during The Veiled Lady is rather amusing. That story, by the way, is a nice twist on Doyle's "Charles Augustus Milverton."
Christie's Hastings seems a little less subservient than in Fraser's portrayal. Hastings is the first person narrator of the first seventeen short stories. It's a bit jarring when he is absent from number eighteen, "The Incredible Theft," which is told in the third person and is lengthy at 42 pages.
I've felt that Japp and Poirot are almost chummy in the television series, but I get more of a sense of the Holmes-Lestrade relationship from the stories. Christies's Japp is a noticeably bit less congenial and partner-ish than Philip Jackson's Japp. There's a bit more of the policeman's disdain for the private investigator. Though Poirot was an accomplished police officer in Belgium before the war.
"The Disappearance of Mr. Davenheim" is Christie's take on the famous untold Holmes story, "The Disappearance of Mister James Phillimore, drawing on "The Man With the Twisted Lip."
More than once, Poirot, who stresses order and method (far more than in the Suchet series) and the using of the little grey cells (the brain) pokes fun at things like studying tobacco ash and analyzing mud and footprints. Clearly, a Christie elbow into the ribs of Sir Arthur Conan Doyle.
The television series looks great, has high production values and fine casting. As I said with the Wolfe series last week, I don't know that we can expect to see a superior version down the line. Suchet, especially, nailed the part and will cast a Basil Rathbone-like shadow for quite a while.
Kenneth Branagh, who is the reason I am a Shakespeare fan, is starring as Poirot in a new version of Murder on the Orient Express. Too soon after Suchet? We'll see.
First, I HIGHLY recommend watching at least a few episodes of this series (here is a trailer). I enjoy both the shorter and the full length ones, so it depends upon how much time you want to spare. Then, read some of Christie's stories and picture the actors in the parts. See what you think of that.
---
You can read Bob Byrne's 'The Public Life of Sherlock Holmes' column here at Black Gate every Monday morning.
He founded www.SolarPons.com, the only website dedicated to the 'Sherlock Holmes of Praed Street' and blogs about Holmes and other mystery matters at Almost Holmes.
He has contributed stories to The MX Book of New Sherlock Holmes Stories – Parts III, IV and V (and the upcoming VI).