You Should Be Streaming These Shows
You Should Be Streaming These Shows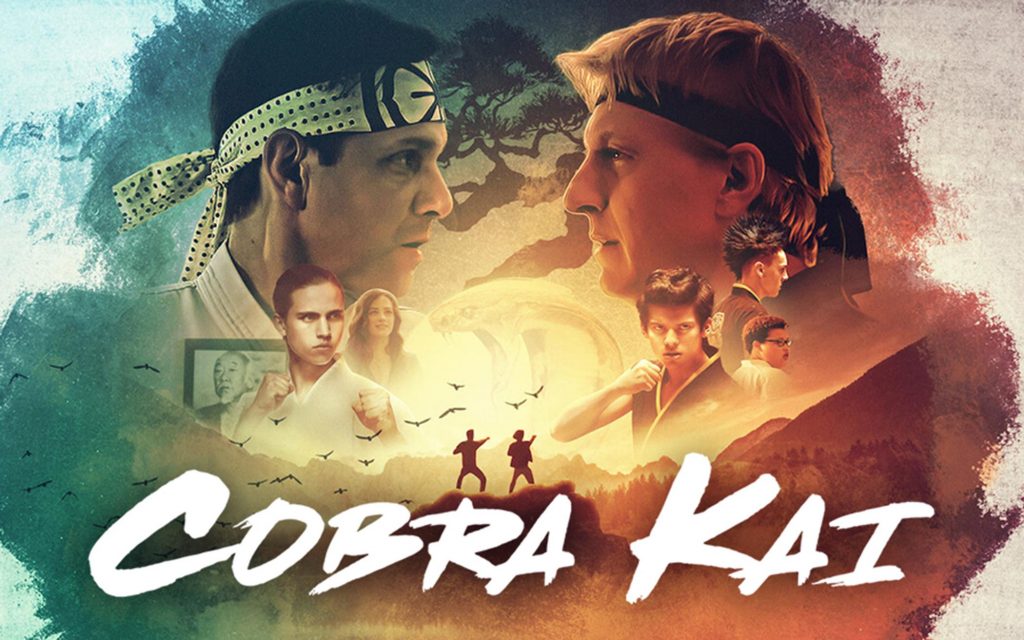 I really didn't start streaming series' until 2020. So, there were a lot of shows already completed; or with multiple seasons out there. Now, I mix them in with watching network shows on demand (I just finished first watch of Suits, was fantastic), and movies. Today, I'm going to talk about some streaming shows I think you should check out.
COBRA KAI
I'm going to start with the single-best streaming show I've watched yet. I just completed the recently dropped season four of this continuation of the original Karate Kid franchise. Every season has been excellent, and I think that four is the best; but I can't say definitively one of the earlier ones wasn't the best.
It was developed for YouTube, but when YouTube dropped original programming after season two, Netflix picked it up. Thank goodness!
The show starts 34 years after the events in the first Karate Kid movie. Johnny Lawrence's (William Zabka) life fell apart that day he lost the All Valley Karate Championship because of The Kick. Episode one shows us what a mess he is. Meanwhile, Daniel LaRusso went on to running an expensive automobile empire, living the high life with his lovely wife. They are total contrasts.
I'm not going to drop spoilers here. It would ruin the development of the story as you watch it. The show ties in to the original three movies (I don't even consider the Hilary Swank or Jaden Smith movies as official. I barely acknowledge their existence). Characters are brought in here and there, and the late Pat Morita is in some flashback scenes.
The characters are as rich, and complex, as in any show I watch. Nobody is absolutely good. Their flaws can be impactful. And while there are bad guys, we learn why they are the way they are. What in their lives – past and present – shaped them to act as they do. I don't think I've ever watched a show with better character design and development.
And the action scenes are terrific. The karate fights are spellbinding. The fighting these high school kids do is unbelievable. The high school fight scene at the end of season three was one of the best combat scenes I've ever watched on screen.
Johnny, from good motives, restarts Cobra Kai. Understandably, Daniel has issues with that, and ends up establishing Miyagi Do to quash it. And from that tension evolves a complex story line as good as any series I've watched.
I have praised The Mandalorian for its mix of fidelity and innovation. Cobra Kai does a superb job of maintaining authentic ties to the original trilogy: but also of building on the story. It really couldn't be much better. Characters act out of their frailties. My highest recommendation.
THE EXPANSE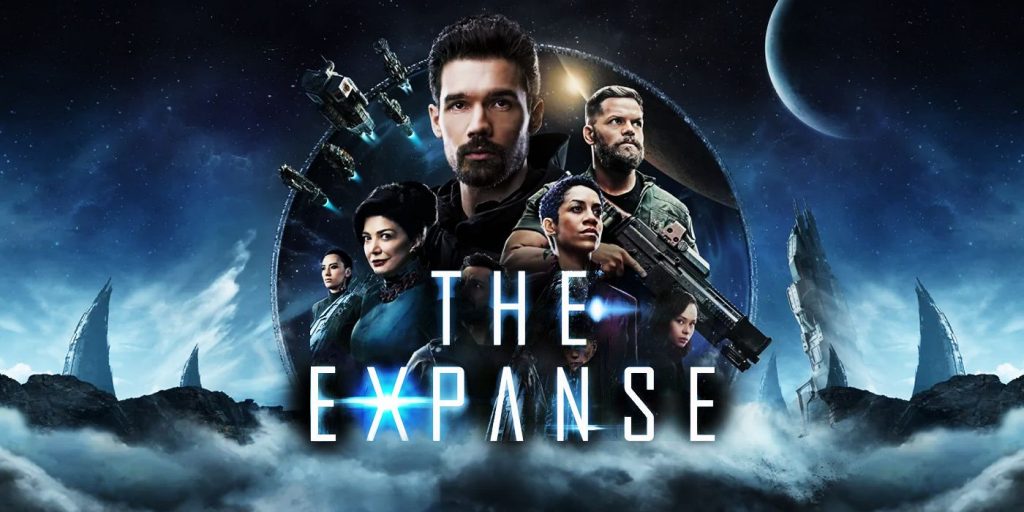 James S. A. Corey is the pen name of Daniel Abraham and Ty Franck. They have written nine novels and eight shorter works making up The Expanse. Which SyFy adapted into a series. They dropped it after three seasons, but Amazon Prime picked it up for streaming. It ran for five more seasons, finally wrapping up with the 62nd episode on January 22, 2022.
I found the Battlestar Galactica remake to be painfully slow. It just plodded along, and I quit after one season. I was tired of forcing myself to endure an episode. The Expanse is also a slow-moving season. But I find it captivating, and I looked forward to each episode.
It is a mix of sociological, environmental, political, cultural, even philosophical, elements. The visual theme is dark – it's not a brightly-lit show. Especially early on. I have to turn the brightness up to 100% on my tablet when watching. But the space scenes are pretty cool. I love watching a rail gun open up.
There are some cast changes, as some characters die, and some new ones come on board. But there are some excellent performances. Shohreh Aghdashloo (Chrisjen) absolutely steals her scenes. She is a political bad-ass. I really liked Wes Chatham, as Amos. He was probably my favorite character overall. And Cara Gee, as Carmina Drummer, deserves an Oscar. Thomas Jane gives the early seasons a Blade Runner/noir feel.
Characters act on what they think is right – whether for them, or for mankind. They stay true to themselves. And that creates situations, and conflict, that impact many others.
I mentioned it moves slowly. But the story, and the characters, are so good, that doesn't matter. There's no wishing things would hurry up. That's where it leaves Battlestar Galactica in the dust of space.
Seasons 1-4 and 6, were terrific. Season 5 was about two-thirds jumping the shark – only Amos' scenes saved it. It was a season about Naomi's angst, and that one did drag on. I was glad when it ended. And season 6 got things back on track.
I do far more fantasy than science fiction, but I thoroughly enjoyed The Expanse.
THE TICK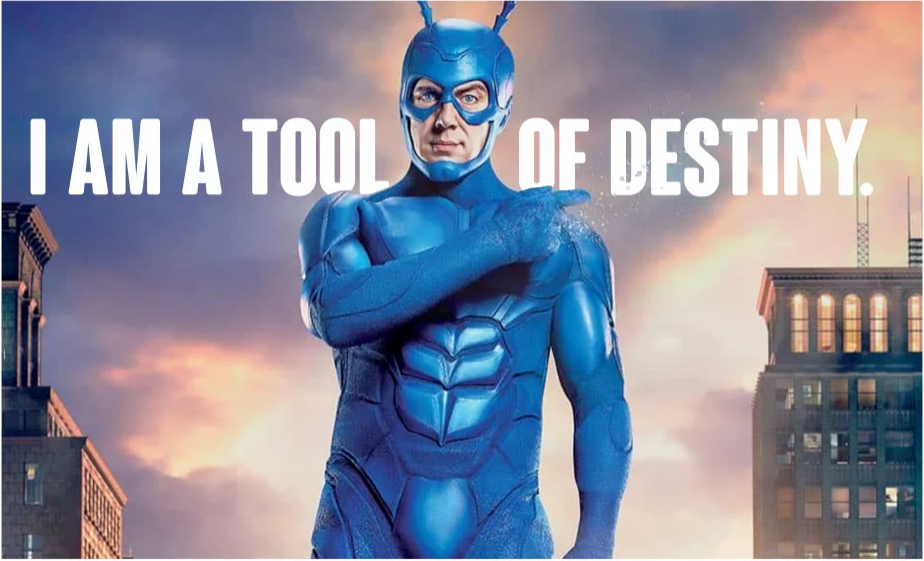 I've still got VHS tapes of the original Tick episodes, recorded off of the TV, in a closet. I thought the humor was wonderful. I still quote Tick lines. The cartoon ran for three seasons, with a total of 36 episodes. It should have gone FAR longer. It currently streams on Hulu.
In 2001, a live-action version with Patrick Warburton aired. It only made it 9 episodes. And that's because it wasn't good. He was well-cast, but it simply didn't capture the magic of the animated series (or the comic it all springs from). I never even tried to rewatch it. It's just bad.
So, two disappointments in either length or quality – and unfortunately, a third was coming.
In 2016, Prime (who rescued The Expanse) commissioned a new Tick series. And it was fun. Peter Serafinowicz is excellent as the nigh-invulernable blue-suited superhero, and the story-line worked, if a bit more mature. There was a second season (which I think improved upon the first). And then, of course, Prime canceled it.
Creator Ben Edlund tried to find a new home, but no deal. I think it's a blast to watch and I very much enjoyed it. I really don't understand why it didn't last. It's a comedy superhero series, and it looks good, it's funny, and the story is solid. I'm going to rewatch it when I catch a break in my viewing schedule. And I know I'll like it again.
GET SHORTY
I've written about this streaming series twice here at Black Gate, so I'm going to reprint what I've said before. I've put some thought into this excellent series. Get Shorty is an excellent book, a very good movie, and a pretty good series. That's a trifecta of quality that isn't too common.
The book Get Shorty made me a Leonard fan. It was laugh out-loud hardboiled crime. It's just a great read! And the movie, with fine performances by John Travolta, Gene Hackman, Dennis Farina, Delroy Lindo, and others, is worth multiple viewings.
Epix made a streaming series, also named Get Shorty, with season one airing in 2017. Two more seasons have followed, and it's airing on Amazon Prime. I only saw that first season, which I re watched last month. And now I've started on season two.
I guess what I'd say is that Get Shorty is based on the premise of Leonard's original novel. But it is a far cry from an adaptation. It's a new series based on the idea Leonard put forth in the book. Which is fine. But it's got different characters, and it's much harder edged, and far less funny.
Chris O'Dowd is Miles (the Chili Palmer role). He's a mobster, working for a Nevada mob boss named Amara. He and buddy Louis are cleaners – they clean up and get rid of bodies of Amara's enemies. Miles cons their way into producing a movie, teaming up with Rick Moreweather (played well by Ray Romano) to try and make an epic historical drama, The Admiral's Mistress. Season one deals with Miles trying to balance his two jobs.
I like the show well enough that I've started season two (Prime has all 27 episodes; except #2 of season 2 – really???). That's where I'm at. It's got more than it's fair share of violence, sex, and profanity. There's humor mixed in, but not really too much. There seems to be a major character change in Miles in season two, and I'm not too thrilled with that direction, but we'll see.
If you like hardboiled fiction, movies and television, you should check this out. If you just want to see Leonard's brilliant dialogue, and the book Get Shorty, this isn't going to give it to you. I like it, but don't love it. I do think that O'Dowd and Romano were very well cast in their parts, and bring a lot to the show. I highly recommend the Get Shorty movie. And the sequel Be Cool is fun, though not as good.
SIDE NOTE – A few months ago, I binge-watched O'Dowd's 2006-2013 Brit-com, The IT Crowd. It is HILARIOUS! The most laugh-out-loud show I've seen since Ricky Gervais' The Office (the American version didn't do much for me). O'Dowd and costar Richard Ayoade are absolutely hilarious as IT geeks buried in the basement of a big corporation. I can't recommend that show enough.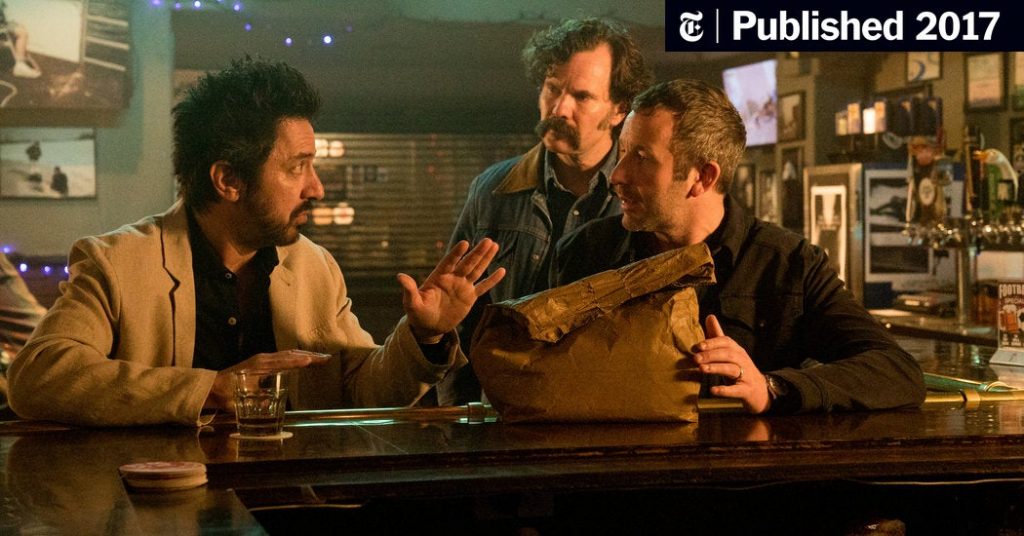 The late Elmore Leonard was a terrific writer. His characters and his dialogue were outstanding. He excelled at hardboiled, and could spice it with humor as needed. 3:10 to Yuma (The original and the remake are fine films) is based on one of his early short stories – the man could write Westerns. My all-time favorite TV show, Justified, sprang from his Raylan Givens short story, "Fire in the Hole."
Leonard has been the source of over two dozen movies and television shows. His 1990 novel, Get Shorty, helped re-launch John Travolta's career. With Gene Hackman, Dennis Farina, Danny DeVito, and Delroy Lindo, it's a great watch. And a highly recommended read!
In the summer of 2017, EPIX launched a ten-episode series starring Chris O'Dowd (who was GREAT in The IT Crowd) and Ray Romano. It's been renewed twice, for a total of twenty-seven episodes. The third season finale aired on November 3, 2019. There has been ZERO noise on whether the show will get another season, or be canceled. Get Shorty is running on radio silence. Kinda odd, really.
I love the book. I love the movie. I like the series. It is not an adaptation of the novel. I would say that it's based on the concept of Leonard's book. In the series, a mob soldier wants something more and ends up laundering his boss' money by producing a historical epic in Hollywood. That's a variation from the book, where a small-time loan shark runs down a skip and forces his way into the movie business while dealing with an unfriendly mobster from back home.
The series is a lot darker than the book, with a lot less humor. The story line continues on with no relation to the book; or its sequel, Be Cool (which was an okay movie).
If you're looking for Leonard's prose or dialogue on screen, you're not going to get it. In fact, there's not a lot of Leonard in this series. But Get Shorty is a hardboiled, neo-noir series worth watching. The plot consistently moves forward utilizing legitimate conflict, arising out of competing but complementary goals for the main characters. That's what makes the show work.
I'm midway through season two as I write this essay, and I'm watching more episodes daily. All three seasons are available on Amazon Prime. And a bonus is that Adam Arkin produced many of the episodes. His father Adam appears in a few episodes. Adam and Alan bring something to every project they work on. Alan's brother Matthew also shows up.
SUPPLEMENT: Finished binge-watching this weekend (my son took over the PC). I liked season three more than season two. And they certainly left it on a cliffhanger moment with the final scene. Hopefully Epix will run it for at least one more go-round. I think it's still a compelling show, and I'm interested in how the story line progresses.
SUPPLEMENTAL SUPPLEMENT – Epix has announced that season four will drop on November 13, 2022.
BOSCH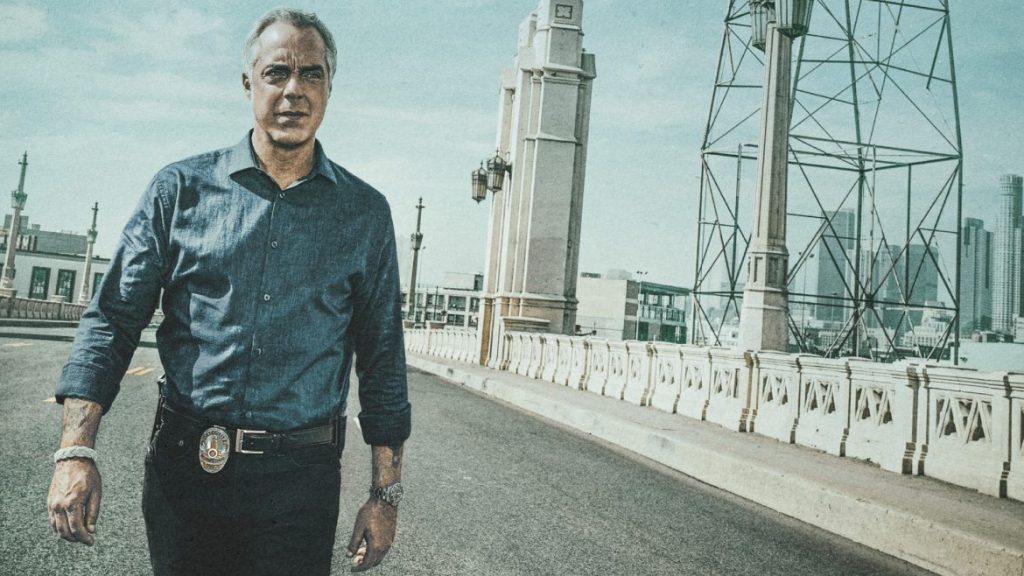 I talked about Bosch in 2020 back when I discovered it. It has since completed, and was outstanding to the end. A spin-off, starring Titus Welliver, is in the works. Here's what I originally said about it.
Not only have I been re-watching shows in 2020, I decided to check out a couple new ones. And I started with Bosch, which is a Prime Original. I am aware of Michael Connelly's successful novels, but I don't do 'dark' all that well: I'm more of a hardboiled guy than a noir one. But a couple friends raved about the show and I was looking for something to mix in with my Burn Notice run.
Titus Welliver is Harry Bosch, a tough, bend-the-rules cop in LA. Season one was quite dark, as he chased a serial killer. And Bosch isn't all that likable. While it remains a serious show, it wasn't quite as disturbing in season two, and you get to know Bosch better. Season seven has been delayed by this stupid Pandemic.
I think this is an excellent cop show. It is definitely grimmer than Castle, or The Rookie (I'm a Nathan Fillion fan). If that's the kind of police show you're looking for, this is probably the best one you'll find. It's a very good show. When I like a show, I usually can find a friend or two who didn't like it (no taste). I haven't run across anyone who watched this, but quit. It's that good.
I usually don't watch more than two episodes in a row. I need a break, so I set it aside for a few days and watch something a little lighter. It can be depressing. But it's solid.
OTHER SHOWS
There are other streaming shows I will also write about later. The first two seasons of Star Trek Discovery were amazing. And Anson Mount (Hell on Wheels) was a great Captain Pike. I can't wait for his show, Star Trek: Strange New Worlds. Season three wasn't bad, though not as captivating. I haven't watched season four yet, but I still like the show.
The Mandalorian, which I've done a couple essays on, is the best series to come out of the LucasArts/Marvel operations on Disney+. And the Book of Boba Fett is shaping up as superior as well.
In the Marvel World, Loki was the first good series, and Hawkeye was very good. Been a bit disappointed with the prior efforts.
Over across the Pond, Britbox's The Cleaner is both kinda wrong, and darn funny. Looking forward to a season two.
---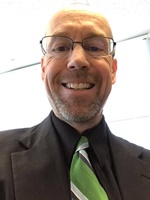 Bob Byrne's 'A (Black) Gat in the Hand' made it's Black Gate debut in the summer of 2018 and will be back yet again in 2022.

His 'The Public Life of Sherlock Holmes' column ran every Monday morning at Black Gate from March, 2014 through March, 2017. And he irregularly posts on Rex Stout's gargantuan detective in 'Nero Wolfe's Brownstone.' He is a member of the Praed Street Irregulars, founded www.SolarPons.com (the only website dedicated to the 'Sherlock Holmes of Praed Street') and blogs about Holmes and other mystery matters at Almost Holmes.

He organized Black Gate's award-nominated 'Discovering Robert E. Howard' series, as well as the award-winning 'Hither Came Conan' series.
He has contributed stories to The MX Book of New Sherlock Holmes Stories – Parts III, IV, V, VI and XXI.
He has written introductions for Steeger Books, and appeared in several magazines, including Black Mask, Sherlock Holmes Mystery Magazine, The Strand Magazine, and Sherlock Magazine.