Occult Detective Magazine #8 Now Available
Occult Detective Magazine #8 Now Available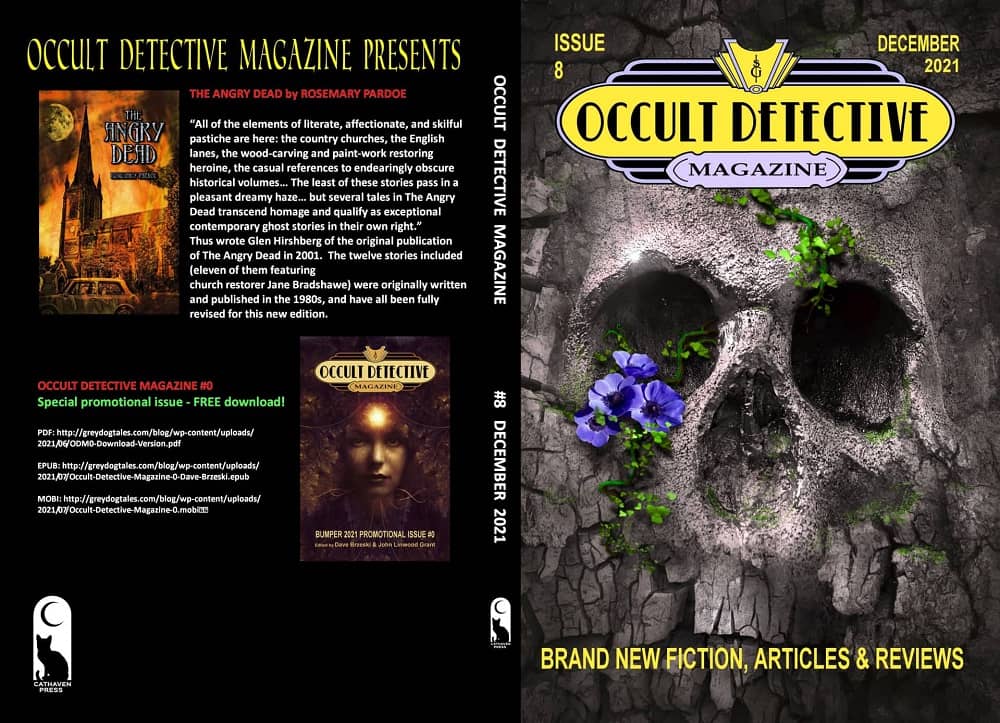 Wraparound cover for Occult Detective Magazine 8. Cover art by Stefan Keller
Occult Detective Magazine is back on the racks! With an overstuffed issue — 227 whopping pages! — and brand new fiction from Rhys Hughes, Robert Guffey, Rebecca Buchanan, Uche Nwaka, C L Raven, Christina White, and many more. Here's the issue summary from their website.
ODM #8 – packed with more fiction and reviews than ever before, 230pp of dark deeds and daring detection. Fourteen new stories – moorland hags, necromancy, rogue angels in Japan, Ley lines, period mysteries, Nigerian demons, serial killers, ghostly trains, surreal puzzles, and judgement in Haiti.
Whew! That's a promising line-up, and I've already ordered my copy. Read on for complete details, including sample art and the fiction Table of Contents.
Occult Detective Magazine has always given you a lot for your money, but at 227 pages the December 2021 issue is an exceptional value. Publisher Dave Brzeski's issue #8 announcement on Facebook included this tidbit about the new magazine size:
IT'S ALIVE, ALIVE I TELL YOU!!!

OCCULT DETECTIVE MAGAZINE #8 is now live on Amazon.

You will notice that there's been a small price hike. This is simply because this issue is bigger than the previous issues. We've upped the page count by 35 pages, which has increased the printing costs, as well as our having to pay for the extra stories.

The plan is for us to continue at around this size, unless it seriously affects sales, so we'll see what happens.
Here's the complete issue round-up.
We return! This issue is packed with both fiction and non-fiction – including lots of reviews – in fact we have the first in a semi-regular column, Dicing With Death, which will cover games of some relevance. Once again we've sought out tales which show the sheer breadth of the sub-genre. If you think 'occult detectives' are simply a few Victorian amateurs, an out-of-luck noir PI in a trench-coat, or a bit of urban fantasy, you must have missed our earlier issues. In these pages, we range across time and continents, from worrying peculiarities to outright horror.

Authors include Melanie Atherton Allen, Brandon Barrows, Rebecca Buchanan, Robert Guffey, Rhys Hughes, D.G. Laderoute, Paul StJohn Mackintosh, Andrew Neil MacLeod, Jonathon Mast, Uchechukwu Nwaka, C.L. Raven, Carsten Schmitt, I.A. Watson and Cristina L. White. With cover art by Stefan Keller and interior illustrations by Autumn Barlow, Mutartis Boswell and Andy Paciorek.
The fiction looks promising as always, but I'm especially looking forward to reading Paul StJohn Mackintosh's new gaming column Dicing With Death, focused on RPGs in the occult detective sub-genre.

Dicing With Death: Paul StJohn Mackintosh's new gaming column
Other non-fiction contents this issue include "Aural Apparations" by James Bojaciuk, a look at the Francis St Clare & Frederica Masters stories of R. Chetwynd-Hayes by Dave Brzeski, and a generous 15-page review section by Divers Hands.
As always, OCD has some top-notch interior artwork. Here's a few samples.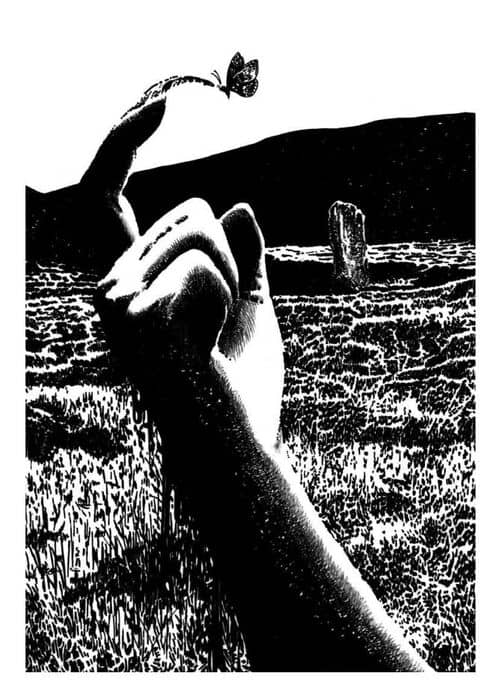 Illustration for 'The Voice on the Moor' by Melanie Atherton Allen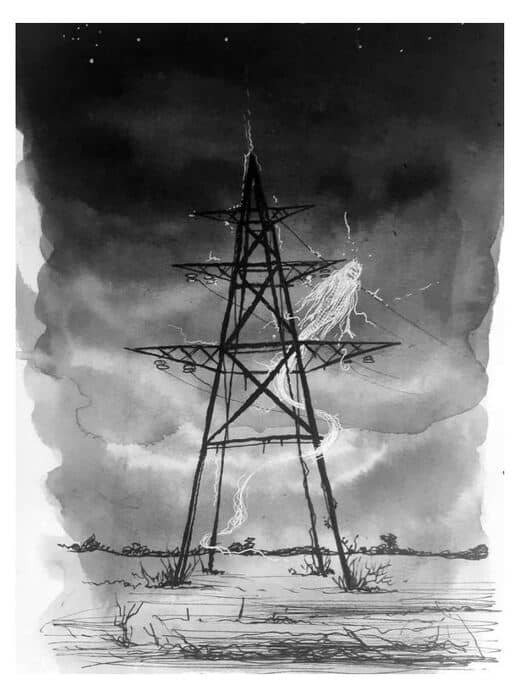 Illustration for 'Vinne De Soth and The Saucer People' by I A Watson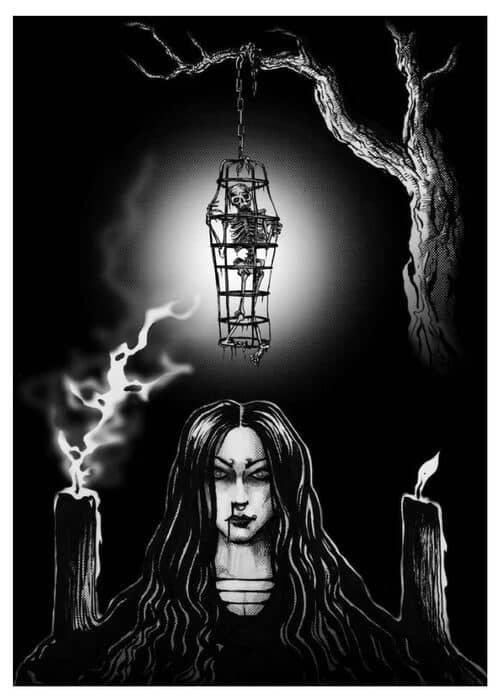 Illustration for 'The Dead Shall Rise' by C L Raven
Here's the Table of Fiction Contents:
'The Voice on the Moor' by Melanie Atherton Allen
'Angel Scales' by Brandon Barrows
'Committee of Mystery' by Robert Guffey
'Memory Fumes' by Rhys Hughes
'Ghost Trainspotting' by Paul StJohn Mackintosh
'Spirit Counsellor' by Uche Nwaka
'The Dead Shall Rise' by C L Raven
'Becoming Art Deco' by Christina White
'Grey Men of Glamaig' by Andrew McLeod
'The Bones are Walking' by Rebecca Buchanan
'Tadukeh' by Carsten Schmitt
'Theatre of the Mind' by D G Laderoute
'Hand That Shuts Every Door' by Jonathan Mast
'Vinne De Soth and The Saucer People' by I A Watson
John Linwood Grant and Dave Brzeski released a special free promo issue last year, Occult Detective Magazine #0, a generously-sized 195-page free PDF with stories by Paul Finch, Adrian Cole, S.L. Edwards, Mike Carey, Bev Allen, Josh Reynolds, William Meikle, and many more.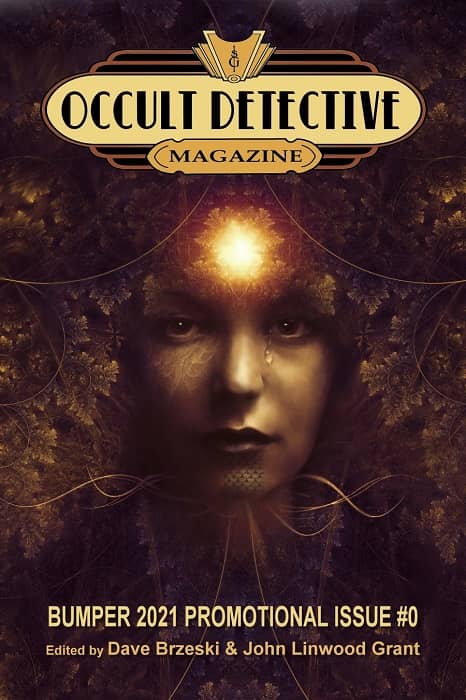 Occult Detective Magazine issue #0. Cover by Enrique Meseguer
Download the free issue 0 PDF here.
Our previous coverage of ODM includes:
Occult Detective Quarterly #1 – February 2017
Occult Detective Quarterly #2 – July 2017
Occult Detective Quarterly #4 – May 2018
Occult Detective Quarterly #6 – December 2019
Occult Detective Magazine is edited by John Linwood Grant and Dave Brzeski, and published by Cathaven Press. Issue #8 was published on January 3, 2022. It is 227 pages, priced at $13.41 in print, and $6.73 in digital formats. The creepy and effective cover is by Stefan Keller. Visit their website here.
See our complete magazine coverage here.