Occult Detective Quarterly #4 Now Available
Occult Detective Quarterly #4 Now Available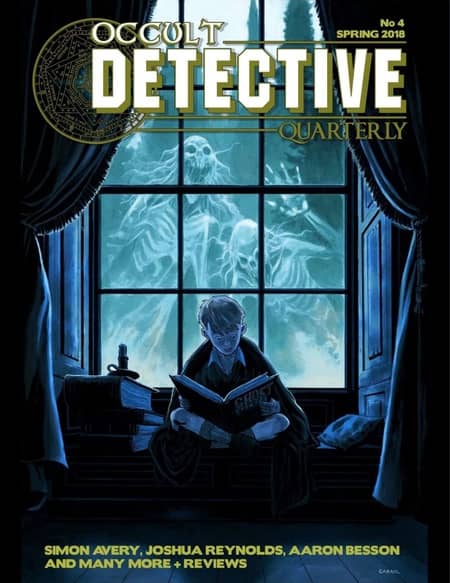 It's tough to be an amateur Occult Detective. Think of it as a fringe hobby with a high mortality rate. Not to mention one that brings with it intimate familiarity with a whole host of… well, let's call them "mental health issues."
Thank God for Occult Detective Quarterly, the magazine for determined supernatural hobby investigators. It keeps me up to date on all the latest spectral sleuthing gear, unsolved paranormal crimes, and the best nationwide heath care plans for Occult Detectives. Plus the ads are great — and believe me, the obituaries are required reading.
The latest issue, #4, has reviews of the newest ghosthunting equipment, a thoughtful opinion piece on dowsing, and an explosive tell-all on the recent bathroom haunting at the Library of Congress. Turns out it was all a hoax perpetuated by a corrupt senator from Oklahoma. He would have gotten away with it too, if it weren't for those darn kids.
[Click the images for more ghostly versions.]
As usual, the production values are top-notch. Occult Detective Quarterly has only published four issues, but they're already renowned for their top-notch layout and art. Here's a look at Robert Freeman's illustration for "The Case of the Black Lodge" by Aaron Vick.
The issue also contains a brand new Occult Legion tale by Sam Gafford, plus new fiction from Davide Mana, Rhys Hughes, Paul M. Feeney, Dale W. Glaser, and Black Gate's own Josh Reynolds, plus reprints by Sarah Hans and Aaron Besson, and lots more.
Here's the complete Table of Contents.
Editorial by John Linwood Grant
"Songs for Dwindled Gods" by Simon Avery
"Black Frog and Black Scarab" by Davide Mana
"Charms" by Sarah Hans
"The Bascomb Rug" by Josh Reynolds
"The Burning Pile" by Justin Guleserian
"The Case of the Black Lodge" by Aaron Vlek
"The French Lieutenant's Gurning" by Rhys Hughes
"Those Who Live in Shadow" by Paul M. Feeney
"Abduction in Ash: A Kellan Oakes Adventure" by Dale W. Glaser
"Yellow Light District" by Aaron Besson
"Faultlines" by Sam Gafford
Reviews
Aural Apparitions by James Bojaciuk
One of my favorite parts of the magazine is the full-color review section. Here's a peek.
The terrific cover this issue is by Sebastián Cabrol.
We last covered Occult Detective Quarterly with Issue #2.
Occult Detective Quarterly is edited by John Linwood Grant and Dave Brzeski, and published by Sam Gafford. Issues are $12.95 each; subscriptions are not currently available (far as I can tell, anyway). Get more details at Greydogtales.
See our May Fantasy Magazine Rack here, and all of our recent Magazine coverage here.