Birthday Reviews: Caitlín R. Kiernan's "Glass Coffin"
Birthday Reviews: Caitlín R. Kiernan's "Glass Coffin"
Cover by Tom Canty
Caitlín R. Kiernan was born on May 26, 1964.
Kiernan novel The Drowning Girl was nominated for the Nebula Award, the World Fantasy Award, the Bram Stoker Award, the British Fantasy Award, the James Tiptree, Jr. Award, the Shirly Jackson Award and the Mythopoeic Award. It received the Tiptree and Stoker Awards. Kiernan also won a Stoker Award for the graphic novel Alabaster: Wolves. She won two World Fantasy Awards in 2014 for her collection The Ape's Wife and Other Stories and the short story "The Prayer of Ninety Cats." Kiernan has won four International Horror Guild Awards for her novels Silk and Threshold and for her short fiction "Onion" and "Le Peau Verte."
"Glass Coffin" was originally published in Ellen Datlow and Terri Windling's 1999 fairy tale anthology Silver Birch, Blood Moon. It is part of her Salmagundi Desvernine series of short stories. It was reprinted, along with the other three stories in the sequence, in Kiernan's 2000 collection Tales of Pain and Wonder, along with several other short stories.
Although part of a series of stories featuring Salmagundi Desvernine and Jimmy DeSade, "Glass Coffin" can be read and understood on its own, although that understanding may be quite different for readers familiar with Kiernan's other stories. "Glass Coffin" itself is a retelling of Snow White and the Seven Dwarfs. Replacing the woodland cottage of the more familiar setting is a salvage yard that was formerly Salmagundi's family's shipyard. The Dwarfs are replaced by the foster children Salmagundi has taken in. Each of the six children described have their own personality and abilities, with the seventh off stage. While they all await Jimmy DeSade's return, Salmagundi cuts herself and dies for all intents and purposes.
Upon his return, DeSade, with the help of some of the children, build a glass coffin to hold Salmagundi's body. Unlike the traditional story in which Snow White is awakened by Prince Charming and everyone lives happily ever, in Kiernan's version once Salmagundi is ensconced in her glass coffin, DeSade leaves the children at the junkyard to make their own way in the harsh world in which they live without guidance from either of their erstwhile parents.
Reviewed in its original publication in the anthology Silver Birch, Blood Moon, edited by Ellen Datlow and Terri Windling, Avon Books 1999.
---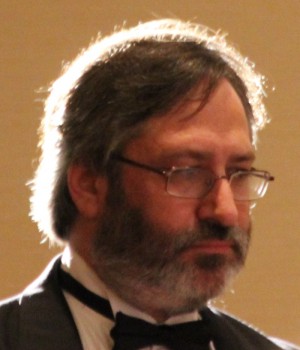 Steven H Silver is a sixteen-time Hugo Award nominee and was the publisher of the Hugo-nominated fanzine Argentus as well as the editor and publisher of ISFiC Press for 8 years. He has also edited books for DAW and NESFA Press. He began publishing short fiction in 2008 and his most recently published story is "Doing Business at Hodputt's Emporium" in Galaxy's Edge. Steven has chaired the first Midwest Construction, Windycon three times, and the SFWA Nebula Conference 5 times, as well as serving as the Event Coordinator for SFWA. He was programming chair for Chicon 2000 and Vice Chair of Chicon 7. He has been the news editor for SF Site since 2002.