When USA was Kicking the Major Networks' Collective Butts!
When USA was Kicking the Major Networks' Collective Butts!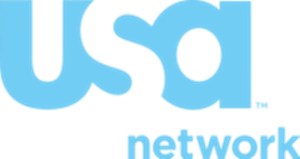 In the early 2000's, for about a decade and-a-half, USA Network was cranking out quality shows. For some programming, they were a viable competitor to the big four. In those pre-streaming days, I faithfully watched each week. And in the past year, I've discovered a couple I didn't watch the first time around. I decided it's time to talk about a few of them. So here's the first of a two-parter, looking at some of those great USA Network shows.
MONK (2002 – 2009)
How have I never written a stand-alone about Monk for Black Gate? That needs to be rectified in 2022! This is the show that put USA on the original programming map. Tony Shaloub's defective detective just grew in popularity each season. The series finale, when aired, had the highest rating of any hour-long drama series on basic cable.
Shaloub is Adrian Monk – formerly a brilliant detective for the San Francisco Police Department. He was a bit obsessive-compulsive, but it was manageable. Barely. But then his wife, Trudy, is killed by a car bomb, and his OCD goes extreme. He ends up discharged by the police department. He can't solve the murder, and it eats at him. He can't do what he's best at, to fix the biggest issue in his life.
His former partner, Captain Leland Stottlemeyer, is now chief of police, and he occasionally hires Monk to consult on tough cases. Lieutenant Randy Disher is his right hand. Stottlemeyer is competent, and Disher is brave; but they're not brilliant. That's where Monk comes in.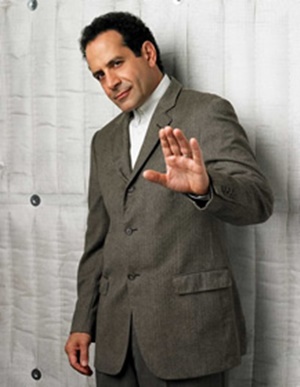 Sharona, played by Bitsy Schramm (A League of their Own), is his ALWAYS on-call assistant. A former nurse, she always has an endless supply of sterile wipes on hand, and she keeps him functioning on cases. She is also the business head in the pair, as Monk would work for free. She's a single mom with a young son; as if being Monk's assistant wasn't challenging enough. Schramm demanded more money after season two and was replaced by Traylor Howard (Two Guys, a Girl, and a Pizza Place). As Natalie Teeger, she's the single mom of a young girl, with no training beyond having been a bartender.
The dynamics are different with each assistant. They both work. But when I re-watch an episode, I often pick based upon whether I'm in a Sharona or a Natalie mood. The rest of the cast is consistent throughout.
Monk wants to earn his badge back. That's an ongoing goal, as is the series arc of solving Trudy's murder. Spoiler – they wrap it all up in the final season. Anything less would have been devastating to long-time fans.
Lee Goldberg is a NYT best-selling author, and a screenwriter. He even co-wrote episodes of  A&E's A Nero Wolfe Mystery, which I love. He co-wrote three episodes with William Rabkin (one of which is a favorite). He also wrote fifteen Monk novels. They are very authentic, and a couple parallel episodes. I have all of them, and enjoy them very much.
Hy Conrad, who worked his way up to co-Producer, followed up with four more novels. I haven't read those yet. The books continued on for six years after the TV show wrapped up – a testament to its popularity.
If you're my friend on FB – or you read this post – you know I love to play I Know that Actor (IKtA)– where I snap a screenshot of some actor I like, while I'm watching a show. Then I do a short post, talking about them a little, and other shows I like, which they've been on. Then other folks leave comments; including other performances they liked. FB is a well of negativity. I Know that Actor is something fun, and positive, and I really enjoy the community sharing about actors we like.
I think I started IKtA while watching Columbo. I absolutely LOVE seeing so many great guest stars, episode after episode. Monk is absolutely wonderful for playing that game. So many actors I like from other shows – including USA Network ones I watch.
I can't say enough good things about Monk. It's one of those shows that rose above its classification as a 'cable show' and became an iconic TV show. And if you're a Columbo fan (why the heck wouldn't you be?!), there is a very strong Columbo feel to it. Many of the villains, with their condescending attitude towards Monk, would have been great Columbo bad guys. Andrew McCarthy is a perfect example.
The stand-alone episodes always entertain. The quest for Trudy's killer, which pops up throughout, is satisfying. Monk is a show that I don't have to watch in order (like Burn Notice). I can just pop in an episode, remember the crime, and enjoy it. I'm not sure there's an episode I just simply don't like. The show works – and the guest stars shore up episodes. Monk streams on Prime, and Peacock, and I can't recommend it enough.
In 2020, with the Pandemic suffocating the world, Peacock (mentioned in the next section) did some fun videos on staying at home and staying safe, and supporting front-line workers. And for the first (and so far, only) time since the series ended, Shaloub took on the Monk persona. It was absolutely classic Monk, with help from Stottlemeyer, Disher, and Natalie. LOVED it!
Monk put USA Network on the original programming map, and it absolutely holds up. To me, Monk is the spiritual successor to Columbo, and provides the same kind of joy.
I've written about Monk before here at BG.
Psych (2006 – 2014)
One of my Top Five shows – I re-watch episodes of Psych sometimes daily. I often put one on at bedtime, and fall asleep to it. I know them all by heart, so falling asleep during one isn't a problem. Steve Franks pitched a series to USA, which was looking to build on the success of Monk.
James Roday is Shawn Spencer, a slacker who disappointed his dad, Henry (terrific performance by LA Law's Corbin Bernsen), by not following in his footsteps to become a Santa Barbara police detective (THAT was not one of my best sentences!). He is super-observant, and a strange set of circumstances in the pilot force him to pretend his abilities are actually psychic powers. I know – trust me, it works.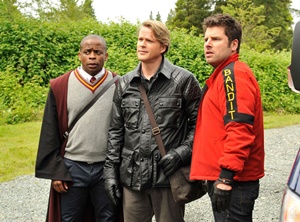 With his childhood best friend Burton Guster (Dule Hill, coming off his successful run in West Wing), he opens Psych – the psychic detective agency. Timothy Omundson is Carlton Lassiter, the no-nonsenese head detective, who has no use for Shawn. The female lead was recast after the pilot, and Maggie Lawson shines as junior detective Juliet Lassiter. Kristen Nelson tries to run herd over all this as Chief Vick.
Psych is another fantastic show for I Know that Actor. And it's absolutely overflowing with pop culture references and jokes. Val Kilmer, The Breakfast Club, Kurt Smith of Tears for Fears, baseball, wrestling; there are a ton of gold nuggets throughout the series. Ralph Macchio (who appears in two different episodes in two different roles) denigrates My Cousin Vinnie during a trial – love it!
Other than Shawn continuing to keep his fake psychic powers secret (only Gus and his dad know), there's just one major story arc. There's a never-captured serial killer in Santa Barbara – The Yin/Yang Killer. It covers three episodes, and it's far and away the most intense thing in the show. Dark even (for Psych).
There was a bonus episode at the end of Season 7. They did the entire episode as a musical. I HATED it. Upon a re-watch, it was tolerable. It is the one episode I've only watched twice. And I'm in no hurry to bump it up to three. I'm not a musical guy.
The series finale wrapped up everything, and even had a few tear-jerker moments. I loved the reference near the end to another USA detective working in San Francisco. And the final scene was SO Psych.
Peacock has brought the entire game together for three streaming movies. They build on the final episode, and it's been fun seeing the show get more life. Omundson had a serious stroke before the first movie started shooting, and they extensively reworked the script. He did make a cameo.
He was clearly still recovering, but fully in the second movie. Great ending in that one. And he was in much better shape for the third.
The three spaced-apart episodes with Cary Elwes as an international thief, are wonderful and make a fun mini-arc.
I watched Psych from the pilot. I actually didn't like Shawn so much in that first season. He's pretty self-absorbed and immature. A friend talked me into sticking with it. From the first episode of Season Two (American Duos, with a TERRIFIC appearance by Tim Curry), that complaint had been eliminated, and I was totally hooked.
Psych is probably vying with The Adventures of Brisco County Jr. for the number two spot in my Top Five. I love it that much. Streaming on Peacock, and Prime. The Musical, and the three movies, are only on Peacock. I recommend Psych more than any other show.
William Rabkin's, Lee Goldberg's screen-writing partner (see Monk, above), wrote five Psych books. The plots were hit-and-miss, but he captures the characters well, which is the key to this one.
Late last year, the terrific podcast, The Psychologists Are in, begin airing. Hosted by Maggie Lawson and Timothy Omundson, they are going, in order, through the entire series, relating tons of stories. The first episode had Steven Franks himself on, recounting how the whole thing came about. They've already had James Roday, Dule Hill, Kirsten Nelson, Sage Brocklebank (Buzz) etc. And guest stars from episodes, like Michael Weston (Cloudy, With a Chance of…Murder). Sometimes it's just those two, who are best friends in real life. I'm telling you, flat out: if you are a fan of Psych, this is THE podcast you have dreamed about. It's perfect, dropping a new episode every Wednesday.
I've written about Psych before here at BG. Twice, actually!
Burn Notice (2007 – 2013)
This one stepped outside of the 'detectives and cops in police stations' trend of the first two shows, and created a template for others shows: glossy, higher-octane series' set in pretty places.
Michael Weston is a 'burned' (basically, when a spy is fired and abandoned somewhere with no money, no job references, etc) and dumped in Miami, where his mom lives. Madeline Weston is played WONDERFULLY by Sharon Gless of Cagney and Lacey fame. They even reunited her with Tyne Daley for one episode, which was cool.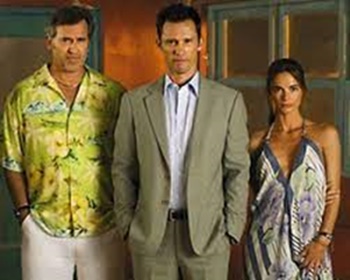 With help from his Irish gun-running ex-girlfriend Fiona (played by an uber-skinny Gabrielle Anwar); a friendly ex-Navy Seal, Sam Axe (Bruce Campbell NAILS this role); and a later addition in another burned spy, Jesse (great performance by Coby Bell), he makes money by taking on jobs to help those in need, while trying to figure out who burned him. He becomes kind of a Robin Hood as the show goes on.
This is an action-spy series, taking place almost entirely in Miami (he goes on a couple jobs away from home, but not many). There are mysterious organizations, some MAJOR villains, and constant conflict. It's not uncommon for Michael (who is a very talented dude) to be under a bad guy's thumb, and trying to get out of his situation without any unnecessary deaths. As I said in the prior essay:
This show subscribes to the theory that story is driven by conflict. While the side jobs are usually (though not always) solved in one episode, there was an over-arching season plot that constantly threw dangerous obstacles at Michael and his friends. There was no surcease from the pressure and the strain. And it was a mix of good guys and bad guys that he was either working against, or keeping secrets from.
Throughout an episode, Donovan provides a voice-over narration, in which Michael explains how to make a listening device out of two old cell phones, or build a bomb out of yogurt. They're fun.
Burn Notice is another great I Know that Actor show. Many folks who you also see on other USA Network shows pop up. One of my favorite actors, Tim Matheson (Animal House, Up the Creek, West Wing), is Michael's ex-mentor – and not a good guy. Jere Burns (Justified, Dear John) turns in a tour de force as an ex-CIA psychiatrist. A lot of really good guest stars.
For me, Burn Notice isn't an episodic show. I don't just watch one here and there, like I do with Monk and Psych. But I have watched it entirely through, three times.
Lee Goldberg's brother Tod, wrote five novels for the series. I liked the first, but haven't gotten to the others. Burn Notice is another two-thumbs up show for me.
There are elements of Burn Notice in White Collar, which is pretty cool, as I work through that show as well.
I've written about Burn Notice before here at BG.
---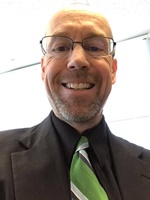 Bob Byrne's 'A (Black) Gat in the Hand' made its Black Gate debut in the summer of 2018 and will be back yet again in 2022.
His 'The Public Life of Sherlock Holmes' column ran every Monday morning at Black Gate from March, 2014 through March, 2017. And he irregularly posts on Rex Stout's gargantuan detective in 'Nero Wolfe's Brownstone.' He is a member of the Praed Street Irregulars, founded www.SolarPons.com (the only website dedicated to the 'Sherlock Holmes of Praed Street') and blogs about Holmes and other mystery matters at Almost Holmes.
He organized Black Gate's award-nominated 'Discovering Robert E. Howard' series, as well as the award-winning 'Hither Came Conan' series.
He has contributed stories to The MX Book of New Sherlock Holmes Stories – Parts III, IV, V, VI and XXI.
He has written introductions for Steeger Books, and appeared in several magazines, including Black Mask, Sherlock Holmes Mystery Magazine, The Strand Magazine, and Sherlock Magazine.