Return to the Middle Sea in All the Seas of the World by Guy Gavriel Kay
Return to the Middle Sea in All the Seas of the World by Guy Gavriel Kay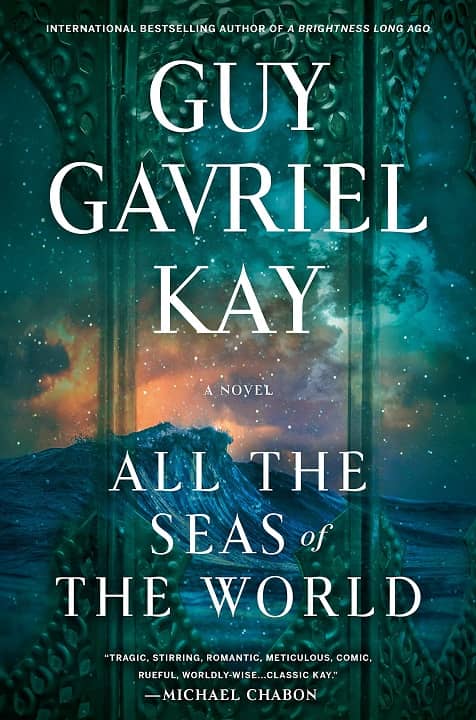 All the Seas of the World (Berkley, May 17, 2022)
What does it mean to be an exile? How does that meaning bend across lines of nationality, of gender, of religion? How many different ways can being exiled shape, define, ruin, or even save a life?
This is just one set of questions raised by All the Seas of the World, the newest novel from master fantasy author Guy Gavriel Kay. The novel, Kay's fifteenth, comes from Berkley and will be released on May 17, 2022.
All the Seas of the World is the third in a sequence of novels set in the lands around the Middle Sea, Kay's reimagining of the Mediterranean region of Europe and North Africa, in a time period akin to the early Renaissance. The first novel set in this time and place, Children of Earth and Sky, actually takes place after the second installment, A Brightness Long Ago. This third novel is placed chronologically between the two. Kay prefers not to refer to the books as a trilogy, and with reason. Though related, and featuring recurring characters, each book stands alone. Taken together, the stories here fit into a world history Kay began to build with The Lions of Al-Rassan (1995), and built upon in Sailing to Sarantium and Lord of Emperors (1998 and 2000), and The Last Light of the Sun (2004).

Children of Earth and Sky and A Brightness Long Ago (Berkley, 2016 and 2019). Covers by Larry Rostant and Adrian Hillman
All three of the Middle Sea books chronicle events and politics surrounding the fall of the fictional city of Sarantium — an analogue to Constantinople, which was besieged and taken by the Ottoman Empire in 1453. The Middle Sea region is home to three major faiths, Jaddite, Asharite, and Kindath, roughly representative of Christianity, Islam, and Judaism. Much of the intrigue, violence, and warfare in these three novels stems from tensions and prejudices among the religions. And the politics, religious and geopolitical, Kay has woven into his tales feel all the more layered, textured, and believable for having their roots in real world history.
Yet, as strong as Kay's world building is, here and always, his character work has long been his bread and butter. All the Seas of the World is no exception. The two lead characters in this newest offering are Lenia Serrana and her business partner Rafel ben Natan. She is a Jaddite who was captured by Asharite raiders and sold into slavery. He is a Kindath who had to flee his home in Esperaña to escape the horrifying excesses of what was essentially the Inquisition. Together, they are drawn into an assassination plot and then business dealings that alter their lives and play a central role in shaping world events.
Together as well, they embody the theme of exile running through the novel. Again and again over the course of his marvelous career, beginning with his earliest high fantasies, The Fionavar Tapestry (which was a trilogy) and the incredible Tigana, Kay has explored this motif. But in All the Seas of the World, he places it at the very center of his story telling. Nearly every character, it seems, has been displaced in some way by war, by the threat of persecution, by life-changing choices of their own. In their pursuit of a new place to call home, or a redemptive return to their places of birth, these exiles redefine the world.
Exile, the endless inward reliving of what had been done to you: that was also a thing that defined some people. In a sense, Rafel had often thought, he'd always remained the child on a crowded sea strand with his father and mother, driven from their home among weeping people. Would that ever change?
Despite his dark memories, Rafel has found in his rootlessness a path to freedom and prosperity on a scale often denied to those of his faith. He is a ship-owning merchant, successful, blessed with the means and wherewithal to move freely among the Jaddite and Asharite countries of the Middle Sea.
Lenia, too, has been rootless nearly all her life. The Asharites took her when she was only a girl. She won her freedom years later by murdering the man who owned and used her. She is both exile and outlaw.
There was no home to go back to. Only memories and the dead. There was no her to go back, she'd told Rafel once when he'd asked about Batiara. He asked many questions, answered only few about himself. He'd started a reply, she remembered, a disagreement, of course — about needing to put the past behind you, build your life forward — but he'd stopped himself. He was not an insensitive man, and had losses of his own, she knew. She wondered if he'd done it himself: put the past behind him. She didn't ask.
Hers seems the more difficult of the two tales, and yet the freedom she has won for herself is even more noteworthy than Rafel's. Her history allows Kay to revisit another of his recurring themes. As in so many of his novels, this one features several bold, powerful women, beginning with Lenia herself. She is young, rebellious, unbound by cultural traditions or social expectations. She is a fighter, a killer, a businesswoman, a former slave who refuses to be shamed by her history of coerced sexuality.
Even in a fantastical Renaissance world, she is an anomaly. But she is so well-drawn, her personal history so well-constructed and convincing, that she does not come across as forced or contrived. She is extraordinary, but very much a creature of the time and place Kay has constructed. Rafel, older than she, more cautious, but capable and canny in his own right, finds her by turns exasperating and fascinating.
s
The Lions of Al-Rassan (HarperPrism, 1995, cover by Mel Odom), Sailing to Sarantium and Lord of Emperors
(Roc, 2010, covers by Larry Rostant) and The Last Light of the Sun (Roc, 2004, Larry Rostant)
Drawing upon a third career-spanning theme, Kay explores the nature of creative expression itself. Many of Kay's novels feature artists in the midst of creating a significant, at times life-defining, work — a mosaic in the Sarantium books, a painting in Children of Earth and Sky, music in Tigana. In All the Seas of the World, he uses the weaving of this very story as a narrative device, a choice that feels self-conscious at times, but that ultimately proves effective. Periodically, Kay will pause and step out of point of view to give us information about the fate — beyond the timeframe of the novel — of one character or another.
This is something he has done in past books, and I will admit that I am bothered by it on occasion. To me, these digressions sometimes feel intrusive, even unnecessary. I had similar reactions to these interludes in this book. In other instances, though, a voice — his voice? That of a character relating the broader tale? — moves forward to comment upon the action, the arcs of the various lives we've encountered, the larger lessons to be gleaned from what we have read. These comments upon life itself and upon the role of the storyteller, I found oddly effective, none more so than the passage that closes the novel.
Children yet to be born, or very young in this story, will grow up to live through their own days and nights. Some will become important in their world, most will not. Most cannot be. But in what is given to us, the ink and brush put to paper, words offered, words we read… there might come a thought, a shared one, about this back and forth, the music made between the singer and the listener. Hands, minds, touching across space and years. Stories are, as much as anything else, an act of love. They begin, they trace or weave their path for us, with us. They end. This one has, my loves.
Kay is a remarkable writer. His prose is gorgeous, very nearly poetic. But I do not wish to leave readers with the impression that All the Seas of the World is notable only for its elegance and eloquence. Like all of Kay's novels, this one is captivating, rich with compelling, flawed, complex characters. It is set in a world that is at once familiar and exotic, wondrous and brutally real. Its many intersecting plot threads twist and turn in surprising, sometimes excruciating, directions. It is filled with intrigue and action. Indeed, of the three excellent Middle Sea novels, this one is probably the most exciting, which is saying something.
And that may be, to my mind, the greatest of Kay's many skills. He manages to be at once lyrical and thrilling, thought-provoking and downright fun. He lingers on exquisite detail, takes a moment to remark upon the nature of humanity itself, and still paces his stories within an inch of their lives. Not that this should surprise any of us. The man has won multiple awards, including a World Fantasy Award. He is a member of the Order of Canada.
With All the Seas of the World, he has added to his legacy, giving us a novel that ranks as one of his very best. Read it, savor it, allow yourself to be moved and haunted and drawn back into its pages. Then join me as I eagerly await Kay's next tale.
---

David B. Coe is the award-winning author of more than two dozen novels and as many short stories. He has written epic fantasy — including the Crawford Award-winning LonTobyn Chronicle — urban fantasy, and media tie-ins. His most recent novels are the supernatural thrillers, Radiants and Invasives. He has co-edited several anthologies for the Zombies Need Brains imprint.
As D.B. Jackson, he is the author of the Thieftaker Chronicles, a historical urban fantasy set in pre-Revolutionary Boston. He has also written the Islevale Cycle, a time travel epic fantasy series that includes Time's Children, Time's Demon, and Time's Assassin
David has a Ph.D. in U.S. history from Stanford University. His books have been translated into a dozen languages. He and his family live on the Cumberland Plateau. When he's not writing he likes to hike, play guitar, and stalk the perfect image with his camera.
www.DavidBCoe.com
www.dbjackson-author.com
www.davidbcoe.com/blog
www.facebook.com/david.b.coe
twitter.com/DavidBCoe
www.facebook.com/DBJacksonAuthor
twitter.com/DBJacksonAuthor