Robots, Deep Space, and Star Trek: Free RPG Day at Games Plus in Mount Prospect
Robots, Deep Space, and Star Trek: Free RPG Day at Games Plus in Mount Prospect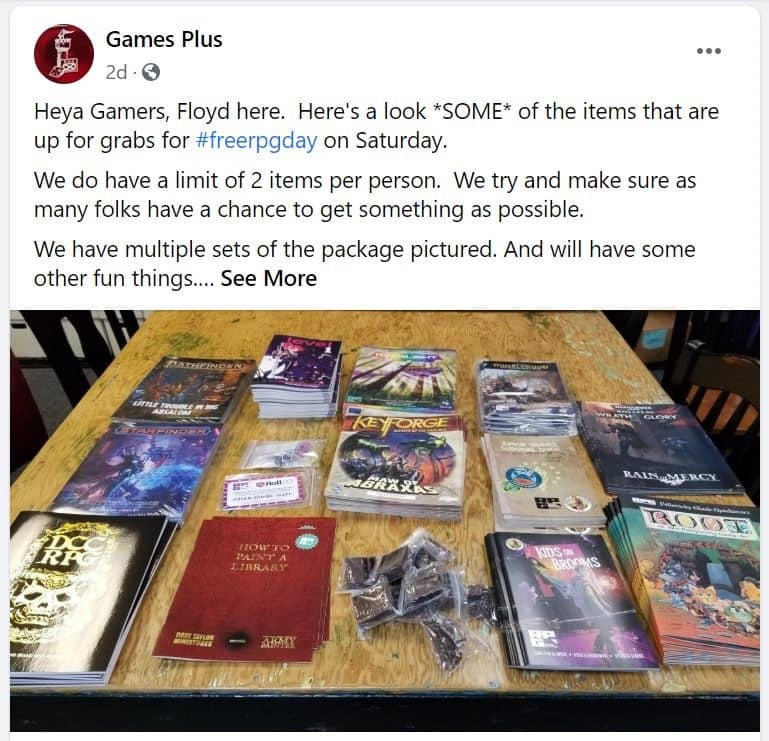 Free RPG Day is not something I can remember ever taking part in…. mostly because the only local gaming store here in St. Charles died ten years ago. But when I saw the Facebook announcement from Floyd at Games Plus on Friday (above), I was intrigued enough to make the 30-mile drive to Mount Prospect Saturday morning.
Games Plus is easily the best gaming store in the the Chicago area — perhaps in the entire country. It's the home of the Games Plus auctions I've written about extensively for the the past 10 years. Like all retail stores, it's struggled as a result of the pandemic, and I was overdue for a visit to show my support (and spend some money) anyway.
And several of the items in Floyd's pic grabbed my attention, especially the Dungeon Crawl Classics adventure from Goodman Games, the Root the Tabletop Roleplaying Game adventure, and the Warhammer Wrath & Glory module. It'd be a challenge narrowing my selection down to two items, but I figured that'd be part of the fun.
So what is Free RPG Day?
[Click the images for RPG-sized versions.]
Some of the the Free RPG Day selections at Games Plus
I knew what is was in theory, anyway. It's an industry-sponsored annual event created to help promote local gaming stores, and gaming in general. Inspired by the runaway success of the popular Free Comic Day, which helped generate awareness and foot traffic to comic shops across the country, Free RPG Day typically occurs every June in over 500 stores worldwide, and provides gamers with free exclusive releases for a whole host of tabletop roleplaying games from folks like Paizo, Fantasy Flight, Goodman Games, Cubicle 7, Magpie Games, Renegade Game Studios, Wizkids, 9th Level, and many others.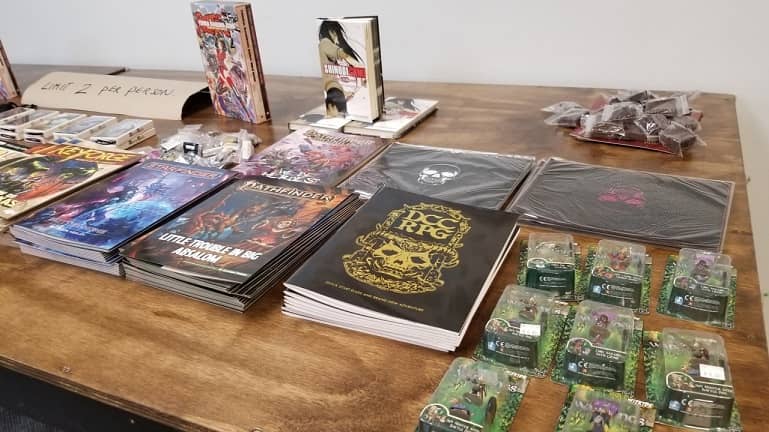 How are we supposed to choose just two?
When I got to the store at 10:15, fifteen minutes after it opened, there was already a line to get in. Staffers were limiting the number of people in the store to about a dozen or so at a time, which I think was a very prudent precaution in the age of COVID-19. No one without a mask was admitted.
The line moved very briskly, and it wasn't more than ten minutes or so until I was inside the store. I thought that by the time I made it inside, the selection of free games would have been whittled down a little, which at least would make my decision easier. Didn't happen. When I finally arrived at the well-stocked Free RPG table here were still more than 20 releases to choose from, including more than a few I was very interested in.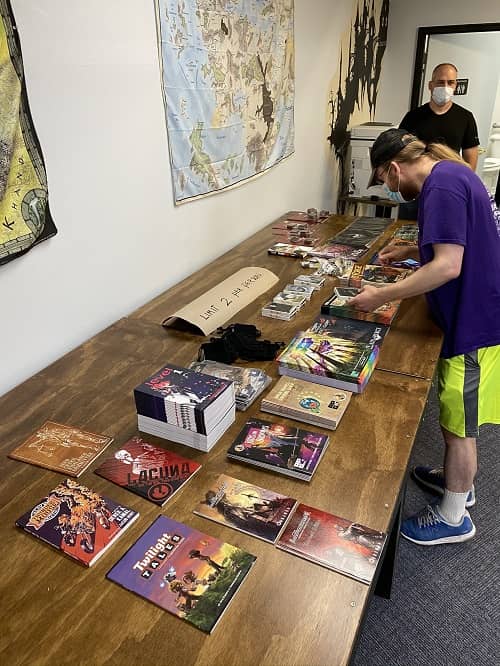 The free game line
They included:
Root: Pellenicky Glade Quick Start Guide by Magpie Games
Heavy Metal Thunder Mouse RPG (complete)
Kids on Brooms free edition by Renegade Game Studios
Level 1 indie RPG anthology by 9th Level
Warhammer 40,000: Wrath And Glory Adventure Book Rain of Mercy by Cubicle 7 Games
DCC Adventure Book and Quickstart Guide by Goodman Games
Starfinder Adventure Book: Skitter Home by Paizo
Pathfinder Adventure: Little Trouble in Big Absalom by Paizo
Keyforge, Maw of Abraxas Adventure Book by Fantasy Flight Games
Overlight Adventure book by Renegade Game Studios
Junior Braves Survival Guide Adventure Book by Renegade Game Studios and Oni Press
D&D 5e Adventure Humblewood: The Wakewyrm's Fury by Hitpoint Press
I don't mind telling you, it was not easy choosing just two items to take home — especially since the clock was ticking as I perused the selections, with the implied pressure of all those folks waiting outside while I dithered.
It didn't help that each item was an exclusive, either. Meaning there's no way to purchase these games through regular channels after Free RPG Day is over. That's all part of the point — it gives you a reason to visit your local store. (In practice, of course, some Free RPG Day items do show up on eBay or even in the Games Plus auction, but usually infrequently, and quantities are low and they're often expensive.)
So should I get the rarity for the games I already collect, like Starfinder, Pathfinder, or D&D? Or use this as an opportunity to try a brand new game, like Root, Wrath & Glory, or Keyforge? Or should I go the Indie route and try that great looking Level 1 anthology, or Heavy Metal Thunder Mouse?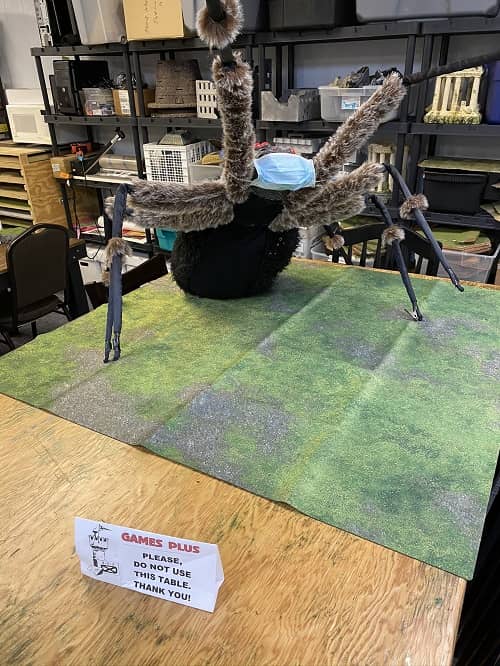 They're serious about masks at Games Plus
In the end I took a blended approach, picking up the Starfinder adventure, which looked deliciously intriguing, as well as one release for a game I don't have yet: the Warhammer Wrath And Glory adventure module. The Wrath and Glory revised Core Rulebook is due for release from Cubicle 7 in the US in November, so it shouldn't be long before I'm able to make use of this one.
After driving over 30 miles, I didn't exit the store immediately, despite the waiting line outside. Games Plus is a true Cave of Wonders, packed with hundreds of new releases, and I took 20 minutes to wander the aisles. I gave myself what felt like a generous budget to choose 2-3 major new releases, and it took the full 20 minutes to narrow down my selection.
Just a few of the items that made my final selection tough: The Master of Ceremonies Toolkit
for the City of Mist RPG (Modiphius), the Nibiru dark science fiction RPG (Modiphius), and
the Cavaliers of Mars adventure setting (Onyx Path).
I spent a few minutes hunting for new releases for a handful of my recent favorite games, including Monte Cook's groundbreaking Numenera, the superb Coriolis RPG from Modiphius, the Alien RPG from Free League, the popular Mutant Year Zero from Modiphius, Chaosium's classic RuneQuest, and CthulhuTech from Catalyst Labs.
I didn't find everything I wanted, but I did manage to locate a few choice items, including Mechatron, the second major expansion for Mutant Year Zero, which contains rules for creating and playing robots. The book is sold out online everywhere I checked, so I was very pleased to find Games Plus had it in stock.
I also found plenty of unexpected treasures, the most interesting of which was probably Forbidden Lands: The Bitter Reach, a massive 312-page epic campaign module for the gorgeous Forbidden Lands RPG from Free League, which I covered here last year.
I also stumbled on The Stars are Fire by Bruce R. Cordell, a gorgeously illustrated 224-page space opera setting and supplement for the Cypher System from Monte Cook Games (also compatible with Numenera and The Strange RPG). I'd never even heard of this one, but I was sold almost instantly as I flipped through it. It reminded me of the enormously creative settings for the Ashen Stars RPG from Pelgrane Press, and that's high praise indeed.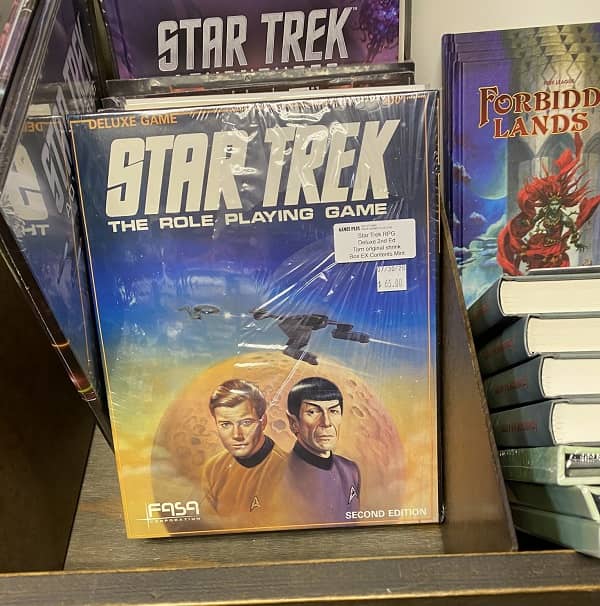 This gorgeous artifact made me do a double take on the way to the register
I'd already accumulated more than my budget would allow, so after some internal debate I returned several selections to the shelves (including the enticing Nibiru RPG and the new City of Mist game book) and headed to the cash register. On my way I spotted the boxed set above: the Deluxe version of the Second Edition of the Star Trek Role Playing Game from FASA, originally released in 1983.
Now, despite what it looks like, this game hasn't been sitting unopened on the shelves at Games Plus for nearly 40 years. That white sticker near the top tells us it's a used game — and the text says it's still in the original shrink (albeit torn), and it looks brand new. It's priced at $65 — just $55 with my in-store discount. Something like that was a real find for a collector, and I didn't have to think about it too long. I piled it on top of my stack.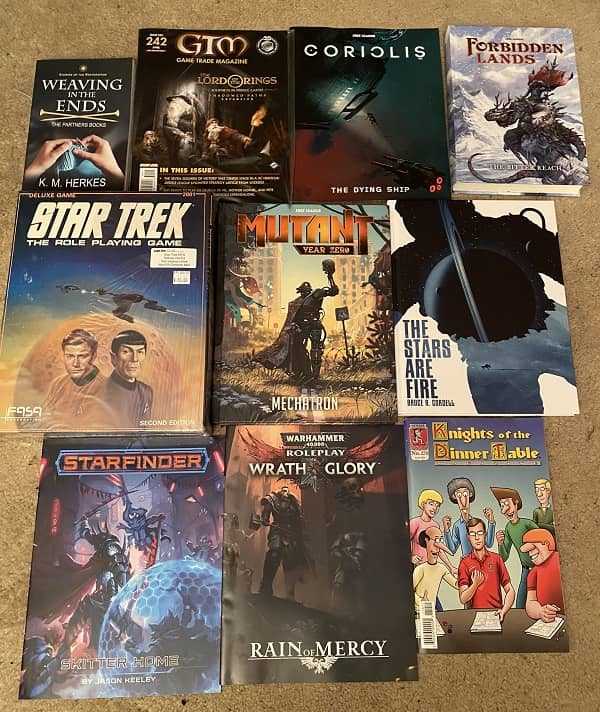 All the loot from Saturday's excursion. Total price: $224.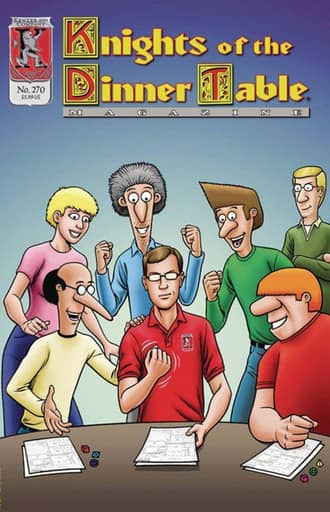 Above is everything I brought to the register on Saturday:
The Bitter Reach – campaign module for The Forbidden Lands (Modiphius, $39.99)
Mechatron — second major expansion to Mutant: Year Zero (Modiphius, $49.99)
The Stars are Fire — epic space opera campaign for the Cypher System (Monte Cook Games, $49.99)
The Dying Ship — adventure for the Coriolis RPG (Modiphius, $14.99)
Star Trek The Role Playing Game Second Edition — FASA ($65)
Game Trade Magazine #242 — $3.99
Weaving in the Ends — novel by local Chicago author K.M. Herkes ($14.99)
Knights of the Dinner Table issue #270 — KenzerCo ($5.99)
Starfinder: Skitter Home — Free RPG Day
Warhammer Wrath $ Glory: Rain of Mercy — Free RPG Day!
Total price? $224. Quite a bit for what began as an investigation of Free RPG Day. But I was very pleased with my finds, and very satisfied to be able to support Games Plus.
I was especially happy to be able to buy a copy of Knight of the Dinner Table #270, a tribute issue to my friend Steve Johansson (see the cover at right).
Steve was my collaborator on The Java Joint, a KoDT comic that appeared in the back of every print issue of Black Gate (and which was eventually collected in a book in 2011). He passed away unexpectedly from complications from diabetes last year. Steve was a terrific writer and a good friend, and we spent a lot of time at the gaming table together over the years. Jolly Blackburn and the crew at KenzerCo pulled together to dedicate issue #270 to him, and it's a fond tribute I think Steve would have enjoyed very much.
Another surprise I found in the magazine shelves — a copy of local Chicago writer K.M. Herkes's novel Weaving in the Ends. I met Herkes at Capricon here in Chicago back in February, and wrote about her Stories Of The Restoration story cycle. It was a delight to find her latest book here, and I was happy to add it to my pile.
See all our recent coverage of the latest Role Playing Games here.