Raiders and Rogues in a Cursed World: Forbidden Lands by Modiphius
Raiders and Rogues in a Cursed World: Forbidden Lands by Modiphius
While I was at the Spring 2019 Games Plus Auction, I took the time to shop around in the New Arrivals section, since Games Plus is probably the best-stocked games store I've ever visited. As usual, I picked up a few magazines and the latest issues of Jolly Blackburn's excellent Knights of the Dinner Table comic. But there was another game that caught my eye: Forbidden Lands, a boxed RPG developed by accomplished Swedish development house Fria Ligan (Free League in English), makers of the excellent Coriolis science fiction game, as well as the acclaimed Tales from the Loop and the upcoming Alien Roleplaying Game, and distributed in the US by Modiphius.
What drew me to Forbidden Lands? Truthfully it was the cover art by Simon Stålenhag, and the impressively sized (and heavy!) box. Once I picked it up however, it was the back-cover text that fired my imagination.
In this open-world survival roleplaying game, you're not heroes sent on missions dictated by others — instead, you are raiders and rogues bent on making your own mark on a cursed world. You will discover lost tombs, fight terrible monsters, wander the wild lands and, if you live long enough, build your own stronghold to defend.
Last thing I need is another fantasy RPG crowding my shelves, especially one in a generic fantasy setting. But the evocative text sold me on the promise of a dark world far-removed from routine high fantasy tropes, and characters that sounded a lot closer to sword & sorcery archetypes than I'm used to. The price on the box was $49.99, and I decided to take a chance.
[Click the images for forbidden-sized versions.]
Forbidden Lands and its supplements. Photo by Lawpsided
I'm glad I did. My impulse buy turned out to be one of the better gaming purchases I've made this year. Amazon reviewer Lawpised, who posted the above photo of the game alongside many of its associated stretch goals, left this enthusiastic review in February of this year.
This might just be the greatest RPG of all-time… The production and value of the Core Boxed Set is unmatched in RPG history. For $45, you get two pho-leather, hardcover, gilded rule books with attached ribbons for bookmarking your pages: The Player's Handbook and the Gamemaster's Guide. You also get a third softcover book, a gigantic color hex-map of the Forbidden Lands, and a sticker set to place on the map as your players explore. And this is all contained in the boxed set, which is nice and sturdy with beautiful art on the cover.

The game uses the award-winning and simple "Year Zero" engine from Fria Ligan's other RPG's, which includes Mutant: Year Zero, Coriolis, and Tales from the Loop. I love the mechanics, because it's not just a binary succeed or fail system. There is meaningful decision-making involved in almost every step of the game for the players to mitigate their chance of failure in a fun way (opposed to just rolling a d20 and hoping for the best, at the complete mercy of the dice)… As a boardgamer who likes controlling my chance of success with easy to understand strategy and tactics without unnecessary complication, this is the RPG I've been waiting for.
Unfortunately the core game box is already sold out through most of my usual gaming channels, though I hope that's not a situation that lasts long.
Like a lot of adventure games these days, Forbidden Lands was funded by a Kickstarter. It successfully closed in 2017, and raised 2,828,267 Swedish Krona (not precisely sure how much that is in regular gaming money, but a converter on the internet says it's nearly $298,000?)
It's customary for a campaign like that to generate some nifty stretch goals, and this one was no exception. On top of the usual soundtrack, red ribbon bookmarks and the like, there were several substantial gaming tools, including:
Raven's Purge — a 224-page hardcover sandbox campaign with 7 scenarios and an 8th finale episode ($36 retail)
Forbidden Lands Card Deck — 55 high cards describing magical artifacts, mounts, and maneuvers in combat ($17)
A deluxe Gamemaster Screen with artwork by Alvaro Tapia ($27)
Forbidden Lands Custom Dice — I guess it's trendy to have custom dice? I dunno. They support the game mechanics with custom symbols ($24)
The core set may be sold old, but there's plenty of stock on those custom dice if you want 'em.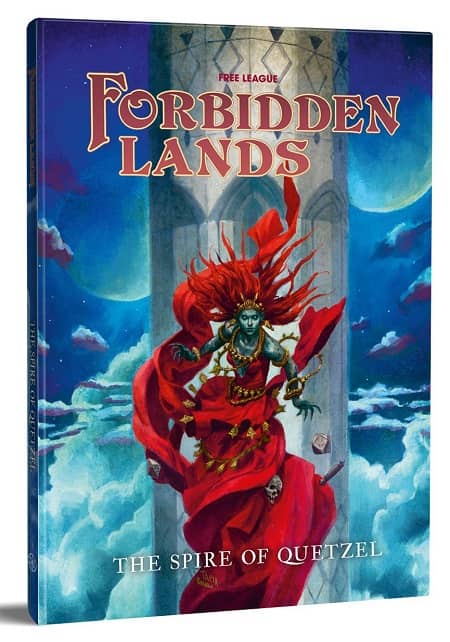 Since the release of the game there's been at least one additional supplement, a 72-page compendium titled The Spire of Quetzel continuing four adventure scenarios.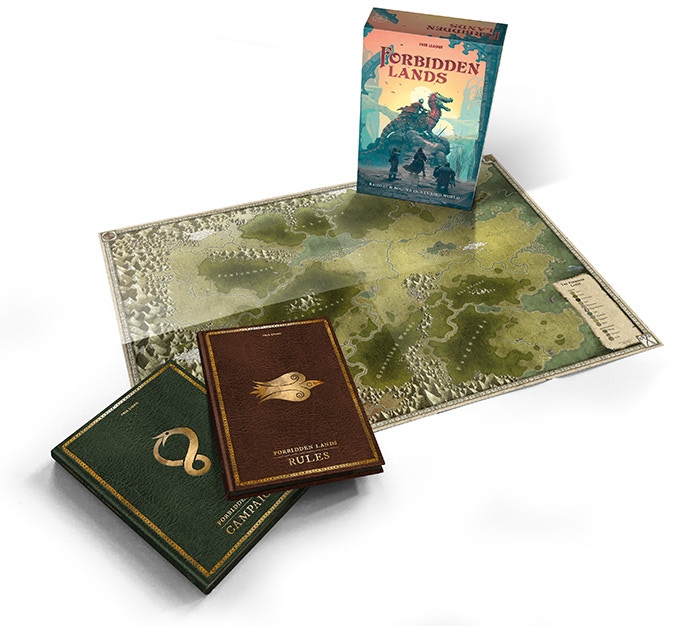 Our previous coverage of Mophidius's RPGs includes:
Mindjammer
Star Trek Adventures by Andrew Zimmerman Jones
Conan – Adventures in an Age Undreamed Of by Gabe Dybing
Conan: Adventures In An Age Undreamed Of Q&A With Jason Durall by Bob Byrne
Achtung! Cthulhu
Tales from the Loop by Andrew Zimmerman Jones
See all our recent RPG coverage here.