The Golden Age of Science Fiction: The 1973 Hugo Award for Best Fan Artist: Tim Kirk
The Golden Age of Science Fiction: The 1973 Hugo Award for Best Fan Artist: Tim Kirk
The Hugo Award for Best Fan Artist has been given since 1967. The first award went to Jack Gaughan, which should be a hint that it has often gone to people very well known for their professional artwork. (A similar statement applies to the winners for Best Fan Writer.) That said, these artists have all definitely done significant work in fannish publications.
Tim Kirk, another artist who has had a major professional career, was nominated for Best Fan Writer 8 times in the between 1969 and 1977, winning the Hugo in 1970, 1972, 1973, 1974, and 1976. It would be fair to say that for me, coming into contact with fandom in this period, my image of "fan art" was formed by Tim Kirk's work, along with two more artists who won for their 1970s work, William Rotsler and Alexis A. Gilliland. (Not to slight the excellent Phil Foglio, but for whatever reason his art didn't enter my consciousness until later. And Alicia Austin, four-time nominee and 1971 winner, was and is a favorite artist of mine, but for her professional work.)
[Click the images for bigger versions.]
Tim Kirk art for The J.R.R. Tolkien Calendar 1975
Tim Kirk was born in 1947. He came to some prominence in when Ballantine Books published The J.R.R. Tolkien Calendar 1975 using his paintings for The Lord of the Rings, which he produced as a thesis project for his Master's in Illustration. He worked for Hallmark Cards in Kansas City, and for Disney, and he has done a great many book covers.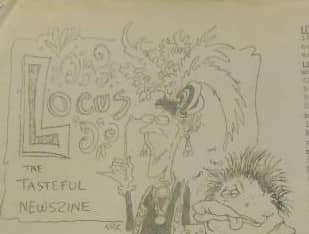 He was a regular contributor of fan art to Locus in the early years, and I've included an example above. Other fan art from 1972 include his cover for the L. Sprague de Camp poetry collection Phantoms and Fancies, and his cover for the Clark Ashton Smith special issue of the fanzine Nyctalops. I've also included an example of his professional work from 1972, the cover to Under the Green Star, by Lin Carter.
---
Rich Horton's last article for us was a look at the winner of the 1973 Skylark Award: "Larry Niven." His website is Strange at Ecbatan. See all of Rich's articles here.