What I'm Watching: April 2023
What I'm Watching: April 2023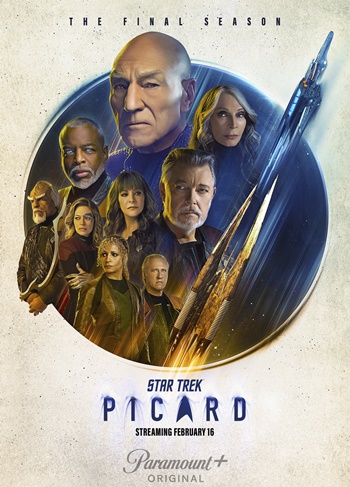 I haven't done a What I'm Watching this year, so here's a new installment.
DANGER! THERE BE SPOILERS
I'm talking about shows I've watched. I won't give away anything huge, but in the context of the discussion, there will probably be spoilers. You have been warned.
STAR TREK PICARD: SEASON THREE
Prior to Strange New Worlds and the terrific job that Anson Mount continues doing as Captain Pike, ST: The Next Generation, was my favorite Trek series.
I wrote about ST: Picard a couple times here at Black Gate. I struggled through the plodding season one. With John de Lancie (Q) in the picture, season two was much better – excluding Picard's child-hood angst.
Season three brought a wrap-up to TNG. More Picard-centric emotional angst slowed things down, but it was tremendous closure for TNG. Just about any face you wanted to see popped up.. It was wonderful to see Trekkers from the past (and not just TNG). And on the new side of things, Todd Stashwick as Captain Liam Shaw is in my Top Five for all time Trek-verse characters. He was terrific.
Phasers on Stun – I cannot believe I watched this entire season without realizing that Jack Crusher was the same actor who played James Kent in Downton Abbey. Completely didn't register until I looked him up for this essay. Man, did I miss that one!
Quite simply, season three of Picard was fantastic, and the series finale was outstanding. They closed out the franchise in wonderful fashion. There was also a Marvel-esque credits scene which certainly could be the basis for a spin-off show.
Nothing has been announced in any fashion for one, but it would be nice.
No spoilers. Go watch Picard, if you like Star Trek. Stick with season one, even if you'd rather clean the tub sometimes. It's all worth it. Season two is pretty good. And season three is great. And it even ties back to one of TNG movies. Just a terrific job. Highly recommend making sure you see this installment in the Trek-Verse.
FLORIDA MAN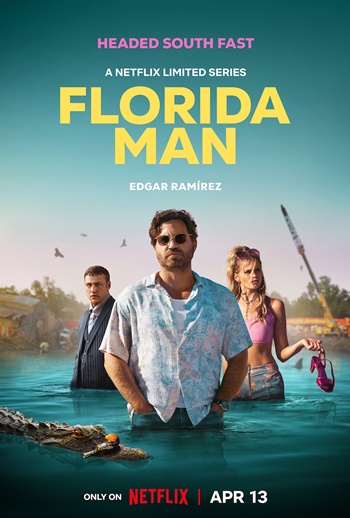 This is a seven-episode series which is streaming on Netflix. Mike Valentine is a former cop and recovering gambler. He is working off a gambling debt to Philly mob boss Moss Yankov by being a strong-arm guy. Delly West (the GORGEOUS Abbey Lee) is Moss' girlfriend and she takes a runner to Florida. Moss sends Mike after her, and he ends up back in his hometown, where his dad (Anthony LaPaglia) used to be sheriff. And not the Barney Fife kind.
Clark Gregg is the beloved Agent Phil Coulson in the Marvel-verse. Here, he's Deputy Ketcher, taking his family on a vacation to Disney World. Mike steals his gun and sends his life into an amusing hell spiral. Gregg directed two of the seven episodes.
I really enjoyed this all the way to the end. There's a Carl Hiassen vibe going on (I'm a HUGE Hiassen fan). And it's full of 'Flor-i-duh' bits that make you grin.
And Rithie King's retired leg-breaker Dutch is straight out of a Laurence Shames novel. I love the funny, Florida crime elements. Coster is just off a terrific stint as a biker boss in season one of the SUPERB Tulsa King.
Finally, there's a Donald Westlake-style caper going on. And blood does not make a trustworthy thief make. Nor romance. Nor job loyalty. Nor…
It doesn't appear there's going to be a season two, though they left a lot of possibilities open. But they closed it out sufficiently, and another adventure might be straining things. I'd happily watch another installment, though.
So, if you like Florida crime stuff, with humor, or crime capers, this is a good one.
I co-moderate a hardboiled/noir group on FB, and someone there commented that this show was a Hap and Leonard rip-off. I liked the Hap and Leonard show. But it was fiercely committed to sucking out every moment of joy and happiness. It never let you actually enjoy an entire episode. It wore me out, and I was fine that it finally ended, even though I liked it. Florida Man doesn't take that joyless approach, and I like it the more for that.
THE MANDALORIAN
And, I wrapped up season three of The Mandalorian. It remains my favorite project in the entire Star Wars-verse. Innovation and Fidelity – it's as good as Star Wars gets.
Loved the story line and developments, as it honed in more on Lost Mandalor this season. The whole Mandalor thing has a Robert E. Howard vibe – I like it.
I've mentioned I quit on Battlestar Galactica in season two because I found it soooo slow. I'm a Katee Sackhoff fan because she was good in Longmire. She IS Bo Katan. I can't imagine a better portrayal. And man, she is kick-butt! She's been a highlight of the series.
I liked the ending, and the final scene, which wrapped around to the wandering cowboy theme that opened the series. And from the first episode, I have liked the scene 'cels' they show under the credits. I think they are absolutely awesome to look at.
I have nothing but praise for The Mandalorian. It;'s giving me exactly the Star Wars I want.
MISC
I'll talk about Netflix' The Night Agent in another post. It was excellent. I just rewatched season one of Prime's Reacher – loved it again – and The Night Agent may be even a little better.
I finished the final season of Elementary, which I had not seen. If you aren't familiar with it, it ran from 2012-2019, set in modern-day NYC. Johnny Lee Miller is Holmes, and Lucy Liu is Watson.
It was a good show, though I recall it dragging when I watched season four back when. But it finished well, and I think it was a solid police procedural with a Holmes overlay. It had a very strong cast. It never got too cute or smug like BBC's Sherlock, which had a FANTASTIC start but turned into a giant pile of crap.
There were two Elementary spin-off books written, and I just finished the first. The author (who has done some Star Wars and graphic novel stuff) got the characters down, but a couple times, the way he goes into massive detail to describe the scene as Holmes or Watson sees it, noticeably drags. Overall it was good, and I'll read the second one soon.
Since I watched the final season a decade removed from seeing the original one, I may revisit this show from the start. I liked all the Holmes references.
I am also re-watching Amazon's two-season streaming series of The Tick. I LOVED the cartoon when it aired (for far too short a time). The Patrick Warburton live-action series had some good moments, but it was not a good show and was quickly canceled.
Amazon's series gets The Tick and Arthur down cold. It might be a little darker than a casual fan of the cartoon might expect, but it's not overwhelming. And man, it is FUN!! I am enjoying it as much as I did the first time.
Some previous entries on things to watch:
The Pale Blue Eye, and The Glass Onion: Knives Out
The Rings of Power (Series I wrote on this show – all links at this one post)
What I'm Watching – December 2022 (Frontier, Leverage: Redemption)
What I'm Watching – November 2022 (Tulsa King, Andor, Fire Country, and more)
What I'm Watching – September 2022 (Galavant, Fire Fly, She-Hulk, and more)
What I'm Watching- April 2022 (Outer Range, Halo, Why Didn't They Ask Evans, and more)
When USA Network was Kicking Major Butt (Monk, Psych, Burn Notice)
You Should be Streaming These Shows (Corba Kai, The Expanse, Bosch, and more)
What I'm BritBoxing – December 2021 (Death in Paradise, Shakespeare & Hathaway, The Blake Mysteries, and more)
To Boldly Go – Star Treking – (Various Star Trek incarnations)
What I've Been Watching – August 2021 (Monk, The Tomorrow War, In Plain Sight, and more)
What I'm Watching – June 2021 (Get Shorty, Con Man, Thunder in Paradise, and more)
What I've Been Watching – June 2021 (Relic Hunter, Burn Notice, Space Force, and more)
What I'm Watching: 2020 – Part Two (My Name is Bruce, Sword of Sherwood Forest, Isle of Fury, and more)
What I'm Watching 2020: Part One (The Adventures of Brisco County Jr, Poirot, Burn Notice, and more)
Sherlock Holmes (over two dozen TV shows and movies)
---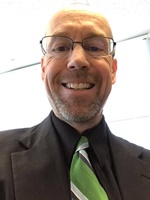 Bob Byrne's 'A (Black) Gat in the Hand' made its Black Gate debut in 2018 and has returned every summer since.

His 'The Public Life of Sherlock Holmes' column ran every Monday morning at Black Gate from March, 2014 through March, 2017. And he irregularly posts on Rex Stout's gargantuan detective in 'Nero Wolfe's Brownstone.' He is a member of the Praed Street Irregulars, founded www.SolarPons.com (the only website dedicated to the 'Sherlock Holmes of Praed Street') and blogs about Holmes and other mystery matters at Almost Holmes.
He organized Black Gate's award-nominated 'Discovering Robert E. Howard' series, as well as the award-winning 'Hither Came Conan' series. Which is now part of THE DEFINITIVE guide to Conan.

He has contributed stories to The MX Book of New Sherlock Holmes Stories – Parts III, IV, V, VI and XXI.
He has written introductions for Steeger Books, and appeared in several magazines, including Black Mask, Sherlock Holmes Mystery Magazine, The Strand Magazine, and Sherlock Magazine.