What I'm Watching: April 2023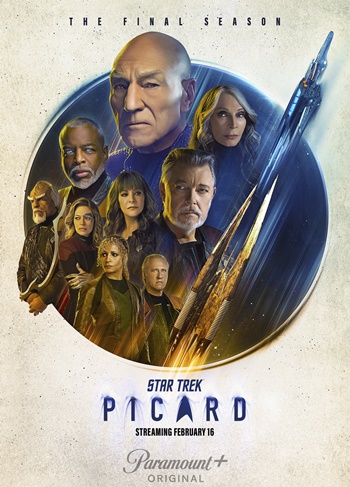 I haven't done a What I'm Watching this year, so here's a new installment.
DANGER! THERE BE SPOILERS
I'm talking about shows I've watched. I won't give away anything huge, but in the context of the discussion, there will probably be spoilers. You have been warned.
STAR TREK PICARD: SEASON THREE
Prior to Strange New Worlds and the terrific job that Anson Mount continues doing as Captain Pike, ST: The Next Generation, was my favorite Trek series.
I wrote about ST: Picard a couple times here at Black Gate. I struggled through the plodding season one. With John de Lancie (Q) in the picture, season two was much better – excluding Picard's child-hood angst.
Season three brought a wrap-up to TNG. More Picard-centric emotional angst slowed things down, but it was tremendous closure for TNG. Just about any face you wanted to see popped up.. It was wonderful to see Trekkers from the past (and not just TNG). And on the new side of things, Todd Stashwick as Captain Liam Shaw is in my Top Five for all time Trek-verse characters. He was terrific.
Phasers on Stun – I cannot believe I watched this entire season without realizing that Jack Crusher was the same actor who played James Kent in Downton Abbey. Completely didn't register until I looked him up for this essay. Man, did I miss that one!
Quite simply, season three of Picard was fantastic, and the series finale was outstanding. They closed out the franchise in wonderful fashion. There was also a Marvel-esque credits scene which certainly could be the basis for a spin-off show.
Nothing has been announced in any fashion for one, but it would be nice.