The Golden Age of Science Fiction: Star Wars
The Golden Age of Science Fiction: Star Wars
The Balrog Award, often referred to as the coveted Balrog Award, was created by Jonathan Bacon and first conceived in issue 10/11 of his Fantasy Crossroads fanzine in 1977 and actually announced in the final issue, where he also proposed the Smitty Awards for fantasy poetry. The awards were presented for the first time at Fool-Con II at the Johnson County Community College in Overland Park, Kansas on April 1, 1979. The awards were never taken particularly seriously, even by those who won the award. The final awards were presented in 1985. The Film Hall of Fame Awards were not presented the first year the Balrogs were given out, being created in 1980. The SF Film Hall of Fame was given to two films each in its first and final years.
George Lucas's film Star Wars isn't just a film, it is a cultural phenomenon that has much longer tendrils than most people realize. Star Wars and its sequels have touched all aspects of film making, marketing, computing, culture, and more. A list of the companies that were founded because of Star Wars's success is absolutely staggering. Obviously, there was LucasArts, ILM, Lucasfilm Animation, Skywalker Sound, Pixar, THX, Kerner Optical, and dozens more. The massive footprint of Star Wars makes it a little difficult to write about in the same way other articles in the series are structured.
So, let's talk about 1977, the year Star Wars was released.
While science fiction fans were anticipating the release of Star Wars, especially after a major blitz at the 1976 Worldcon in Kansas City, the studio was less sure of the film's potential. Sure, they sent costumes, props, PR men, and Mark Hamill to MidAmeriCon, but they also opened Star Wars in only 42 theatres in the US. For those who are math challenged, that is less than 1 theatre per state. And if you figure it played in multiple theatres in cities like New York, LA, and Chicago, or in states like Pennsylvania or Texas, that means that vast swathes of the country didn't have a chance to see the film when it first opened. In fact, FOX was telling some theatres that if they wanted Charles Jarrott's adaptation of Sidney Sheldon's The Other Side of Midnight, which was scheduled for release on June 8, they would also need to pick up Star Wars, with a May 25 release date.
I'll admit that I was about as sure of Star Wars success as those FOX executives.
My first exposure to Stars Wars was seeing the original trailer on television. To my eyes, it seemed like the film had very little plot and was basically a lot of random shooting by people (and creatures) zipping around in little ships. Or people running around shooting each other. If there were actual characters or a story, there was nothing in the trailer that really appealed to me.
And then, May 25 came and the film was released. In the first week, it brought in $3 million dollars ($12,565,495 in 2019). Only $71,500 per screen. About a quarter of the cost to make the film. But it had legs. It stayed in the theatres and quickly became a phenomenon, with people camping standing in lines around the theatre to get into the shows, often for the second, fifth, or tenth time. But not me.
My friends, Steven, John, Steven, Danny, Steve, Matt, Steve (Yes, there were a lot of Steves. In the school year before Star Wars opened, my class had five Steve/ns and the class across the hall had 4 Steve/ns. Amazingly, the other two classes didn't have any) all went to see the movie. Often a second, fifth, or tenth time. But not me.
Eventually, I was worn down. Listening for months to my friends telling me that I needed to see this film, I finally came around. However, I didn't do it in a normal way. Although they had been after me to see the film all summer, when I finally went to see the movie with…my grandmother, who totally didn't understand what we were watching. We saw the movie at the Yorktown Cinema I-II-III-IV, which had been expanded from two theatres the year before and would eventually be demolished in 1997. Coincidentally, the theatre was within yards of where I have run Windycon and attended Windy City Pulp and Paper since 2008.
Of course, once I gave in to seeing Star Wars, I was hooked, going back multiple times with various Steves, reading the book by "George Lucas," as Alan Dean Foster was known then, and reading Splinter of the Mind's Eye when it came out the following year under Foster's own name, wondering if the next film would pick up where that novel ended, picking up Brian Daley's Han Solo novels as they came out, and, in 1980, standing in a long, long wrapped around the Golf Mill Theatre to see Empire Strikes Back with Scott, Chuck, and Steve on May 21, 1980, opening day.
For the first year of the SF Film Hall of Fame, Star Wars tied with 2001: a space odyssey in a field which also included Alien, The Black Hole, Close Encounters of the Third Kind, Dark Star, The Day the Earth Stood Still, Forbidden Planet, Invasion of the Body Snatchers, Metropolis, Planet of the Apes, Silent Running, Star Trek: The Motion Picture, The Thing, Things to Come, and The War of the Worlds, only two of which, Forbidden Planet and The Day the Earth Stood Still, would win the award in subsequent years.
---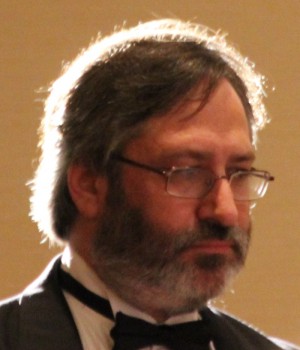 Steven H Silver is a sixteen-time Hugo Award nominee and was the publisher of the Hugo-nominated fanzine Argentus as well as the editor and publisher of ISFiC Press for 8 years. He has also edited books for DAW and NESFA Press. He began publishing short fiction in 2008 and his most recently published story is "Webinar: Web Sites" in The Tangled Web. Steven has chaired the first Midwest Construction, Windycon three times, and the SFWA Nebula Conference 6 times, as well as serving as the Event Coordinator for SFWA. He was programming chair for Chicon 2000 and Vice Chair of Chicon 7.