There's a Lifetime of Reading in DAW Omnibus Volumes
There's a Lifetime of Reading in DAW Omnibus Volumes
DAW Books was founded in 1971 by uber-editor Donald A. Wollheim after he left Ace Books. In the last five decades it's published almost two thousand science fiction and fantasy novels (W. Michael Gear's Pariah, released on May 14, is Daw Book #1823), and it has launched the careers of hundreds of writers, including C. J. Cherryh, Julie E. Czerneda, Patrick Rothfuss, Tad Williams, Kristen Britain, Melanie Rawn, Violette Malan, and Tanith Lee.
Right. So there's lots of reasons to love DAW Books. But here's another one you may not be aware of: it has a fascinating tradition of re-releasing much of its most popular SF and fantasy in compact and affordable paperback omnibus editions. In fact, of those 1800 DAW titles released since 1971, nearly a hundred are omnibus editions, many of which are still in print.
Hard to believe? I didn't believe it myself until I found all three of the omnibus collections above in a recent trip to my local B&N and, after I brought them home, began to poke around to see just how many others were still available. I counted well over 50 without even trying. Here they are.
[Click the images for omnibus-sized versions.]
Original DAW editions of Julie E. Czerneda's Species Imperative trilogy. Cover art by Luis Royo
The three books at the top of this article are great examples of the wide range of titles available in DAW omnibus format.
The Initiate Brother Duology by Sean Russell (July 2, 2013)
The Nightfall Duology by Mickey Zucker Reichert (April 3, 2018)
Species Imperative by Julie E. Czerneda (September 2, 2014)
The Initiate Brother Duology is a reprint of two novels by Canadian fantasy writer Sean Russell: The Initiate Brother (1991) and Gatherer of Clouds (1992), under a well-known Michael Whelan cover. The Nightfall Duology contains two novels published over a decade apart, The Legend of Nightfall (1993) and The Return of Nightfall (2004).
And Species Imperative contains all three novels in Canadian science fiction writer Julie E. Czerneda's trilogy: Survival (2004), Migration (2005), and Regeneration (2006). See above for the original cover art by Luis Royo.
Tanya Huff has many omnibus volumes from DAW, including all six novels in her Blood Books series (see below). But most interesting to me is the cleverly titled A Confederation of Valor, which collects two novels featuring Confederation Marine gunnery sergeant Torin Kerr: Valor's Choice (2000) and The Better Part of Valor (2002). There are a total of five books in the series; the most recent was The Truth of Valor (2010).
M.A Foster's The Book of Ler (2006) is a collection of three classic DAW titles from the yellow-spine era: The Warriors of Dawn (1975), The Gameplayers of Zan (1977), and The Day of the Klesh (1979). The omnibus edition is the only way to get that eye-catching Michael Whelan cover, which is probably the chief reason I bought it.
Jennifer Roberson's popular tales of Tiger and Del span no less than seven books:
Sword-Dancer (1986)
Sword-Singer (1988)
Sword-Maker (1989)
Sword-Breaker (1991)
Sword-Born (1998)
Sword-Sworn (2002)
Sword-Bound (2013)
The first six were collected in three omnibus collections, all of which appeared in 2006.
The Novels of Tiger and Del, Volume I
The Novels of Tiger and Del, Volume II
The Novels of Tiger and Del, Volume III
All three omnibus volumes have covers by Todd Lockwood; the one above is the first.
Cheryl J. Franklin published a pair of series with DAW, the 4-volume SF adventure Network/Consortium, and the two-book Taormin fantasy series, Fire Get (1987) and Fire Lord (1989). Tales of Taormin (2005) collects both fantasy novels and appeared in 2005 with a cover by Richard Hescox.
Mercedes Lackey has had a long and fruitful career with DAW, publishing dozens of novels, alone and in collaboration, including her long running Valdemar and Elemental Masters fantasy series. I'm not entirely sure how many Lackey omnibus volumes DAW has published, but I know it's a lot, including The Complete Arrows Trilogy (2015), The Last Herald-Mage Trilogy (2016), and the one I've shown here, Tarma and Kethry (2018), containing the Valdemar novels The Oathbound (1988) and Oathbreakers (1989) and the collection Oathblood (1998).
Doris Egan also writes for DAW under the name Jane Emerson. As Doris Egan she published a popular science fiction trilogy in the late 80s and early 90s: The Gate of Ivory (1989), Two-Bit Heroes (1992), and Guilt-Edged Ivory (1992).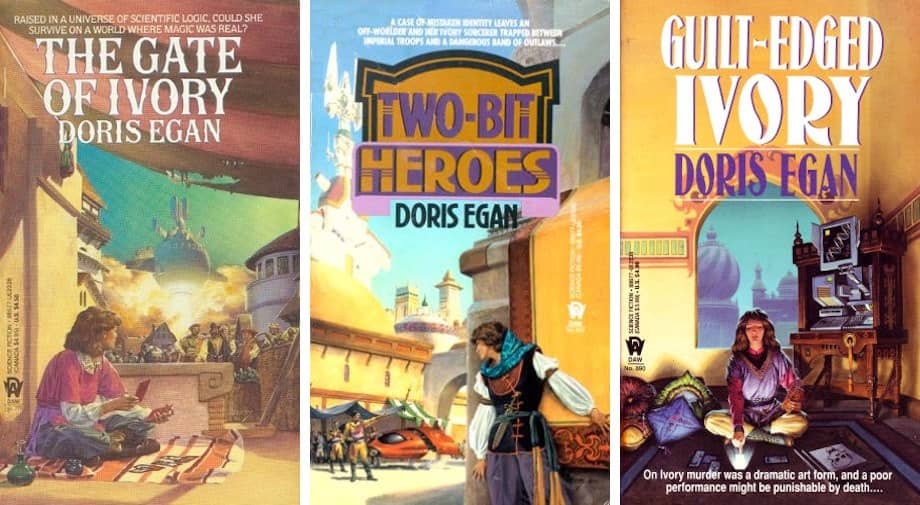 Original covers to the Gate Of Ivory trilogy by Richard Hescox
All three had covers by Richard Hescox, and were collected in 2001 in The Complete Ivory. This is one of the more collectible books on this list; used copies typically sell for $25-35 on eBay.
Only Marion Zimmer Bradly has more DAW omnibus volumes than C.J. Cherryh. At last count I identified at least ten Cherryh omnibus volumes, virtually all in mass market paperback. But I think my favorite is The Faded Sun Trilogy (2000), with the famous cover by Michael Whelan. It contains:
The Faded Sun: Kesrith (1978)
The Faded Sun: Shon'jir (1978)
The Faded Sun: Kutath (1979)
The Sentience trilogy by Terry A. Adams opened with the Nebula-nominated Sentience in 1986, it was followed by The Master of Chaos (1989). Just before the third volume Battleground was published in 2013, DAW published the first two in a combined edition titled The D'neeran Factor (2013).
Edward Willett is another Canadian. The Helix War (2012) collects two tales of far-future SF, Marseguro (2008) and Terra Insegura (2009). This looks like a fun SF series (albeit short); more recently Willet published the standalone SF novel The Cityborn. He also writes under the name E.C. Blake; I wrote about his Masks Of Aygrima trilogy from DAW just last year. Those books are likely too fat to end up in an omnibus collection; you'll have to collect those one at a time like the rest of us.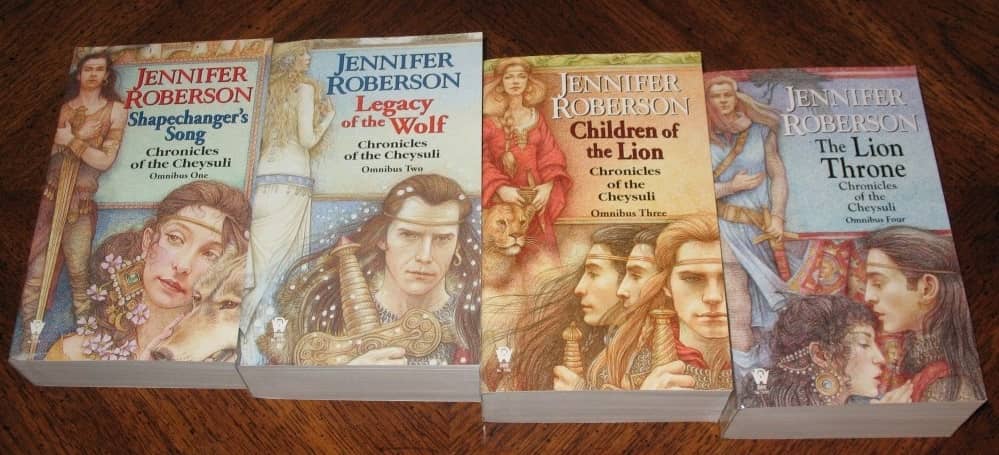 Jennifer Roberson's Chronicles of the Cheysuli. Covers by Yvonne Gilbert
Jennifer Roberson's Chronicles of the Cheysuli consists of eight novels:
Shapechangers (1984)
The Song of Homana (1985)
Legacy of the Sword (1986)
Track of the White Wolf (1987)
A Pride of Princes (1988)
Daughter of the Lion (1989)
Flight of the Raven (1990)
A Tapestry of Lions (1992)
DAW published all eight in four fat omnibus editions in 2001. There's a lot of reading in these volumes; if I did the math right (624 pages + 768 pages + 752 pages + 784 pages = 2928) it's nearly 3,000 pages of dynastic epic fantasy.  All four are still in print, 18 long years later. I haven't read these ones, but I'm in awe of a fan base that can keep four reprints in print for nearly two decades.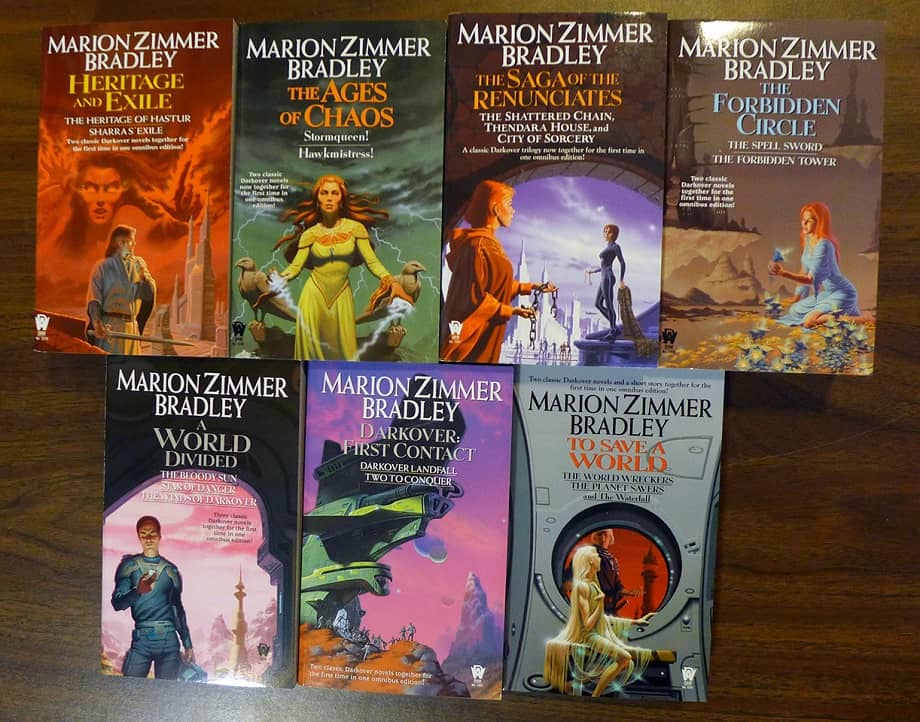 Speaking of a long-lived fan base, we come at last to Marion Zimmer Bradley, Bradley published some 24 Darkover novels in her long career; all of which have been collected in a dozen omnibus paperbacks from DAW, Ace, Doubleday, the Science Fiction Book Club, and others.
Above are all seven omnibus editions published by DAW; they appeared between 2002 – 2004, with covers by Romas Kukalis. Like most of Bradley's fiction, they are now out of print (and not likely to come back into print any time soon, considering her current reputation), but most are readily available on eBay and other online sites.
The Sand Wars by Charles Ingrid; covers by Vincent di Fate
Charles Ingrid and Emily Drake are just two of the many, many pseudonyms used by the incredibly prolific Rhondi A. Vilott Salsitz (the others include Sara Hanover, Anne Knight, Elizabeth Forrest, Rhondi Greening, and Rhondi Vilott Salsitz). Although many of those noms de plume appear to be retired, she's still extraordinarily productive; she appeared in a pair of anthologies last year under the name Jenna Rhodes (Crossroads of Darkover and Guilds & Glaives), and in the Tales of Plexis anthology under the name Rhondi Salsitz. She also published the novel The Late Great Wizard from DAW in September under the name Sara Hanover.
Most of her work has been published by DAW. As Charles Ingrid, she had a lengthy career in the late 80s and early 90s, publishing a dozen novels in three series:
Sand Wars
Solar Kill (1987)
Lasertown Blues (1988)
Celestial Hit List (1988)
Alien Salute (1989)
Return Fire (1989)
Challenge Met (1990)
Marked Man
The Marked Man (1989)
The Last Recall (1991)
Patterns of Chaos
Radius of Doubt (1991)
Path of Fire (1992)
The Downfall Matrix (1994)
Soulfire (1995)
Eventually, all three series were assembled into five omnibus volumes.
The Marked Man and Patterns of Chaos omnibus volumes by Charles Ingrid
All five books appeared between 2001-02. If you were a Charles Ingird fan, you had a couple of good years.
The Sand Wars: Volume 1 (2001)
The Sand Wars: Volume 2 (2001)
The Marked Man Omnibus (2002)
Patterns of Chaos: Volume One (2002)
Patterns of Chaos: Volume Two (2002)
As Emily Drake, Salsitz published four books in the contemporary fantasy series The Magickers Chronicles; they were collected in two volumes in 2010.
Ohio SF & fantasy author S. Andrew Swann has published some two dozen novels with DAW, including no less than five series:
The Moreau Quartet
The Hostile Takeover Trilogy
Apotheosis Trilogy
The Cleveland Portal Series (two books)
The Dragon Series (three books)
DAW has repackaged three of them into omnibus editions.
The Moreau Omnibus (2003)
The Hostile Takeover Trilogy (2004)
Dragons & Dwarves (2009)
I admit I was initially drawn to Swann's novels by the fabulous art of Jim Burns, who did the covers for this Moreau and Hostile Takeover novels.
Here's a closer look at the cover art for Profiteer, the opening novel in Hostile Takeover. A portion of this piece was repurposed as the cover of the omnibus edition (above). Click for a bigger version.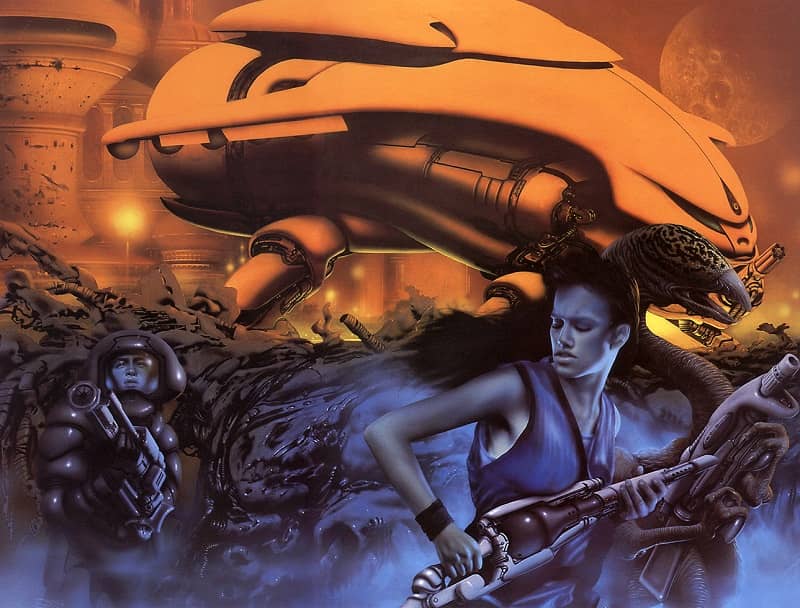 Here's a look at the Burns covers for the entire series.
The Moreau Omnibus was published in 2003, collecting the first three novels. Of course a fourth, Fearful Symmetries, came along in 1999, and by 2015 it made sense to repackage the four books into two different omnibus editions.
The Moreau Quartet Volume One (2015)
The Moreau Quartet Volume Two (2015)
Confusing, maybe. But look on the bright side: you don't get too many modern SF novels with a giant bunny on the cover. Here are the updated omnibus editions, with the Jim Burns covers.
DAW seems to chiefly thought of as a fantasy publisher these days and, given the enormous success of DAW writers such as Patrick Rothfuss, Tad Williams, Kristen Britain, Seanan McGuire and others, that's certainly understandable.
But I don't think they get enough credit for the diverse range of modern science fiction they offer. Here's a sample of some of their more recent SF offerings from Stephen Leigh (Assassin's Dawn: The Complete Hoorka Trilogy, 2013) and R.M. Meluch (two volumes of Tour of the Merrimack, both from 2013).
Over the past two years we've covered several more recent DAW omnibus volumes, all published in large trade paperback (phone book) format: Sean Russell's River Into Darkness, Michelle West's The Sacred Hunt Duology, and Joshua Palmatier's The Throne of Amenkor. At the risk of repeating myself, I'll include them here for completeness.
Next up: Mickey Zucker Reichert, Irene Radford, Tanya Huff, Marjorie B. Kellogg, and Peter Morwood.
After that, I also include some links to additional coverage of omnibus volumes by Cherryh, Stephen Leigh, Palmatier, Michelle West, Sean Russell, and Violette Malan.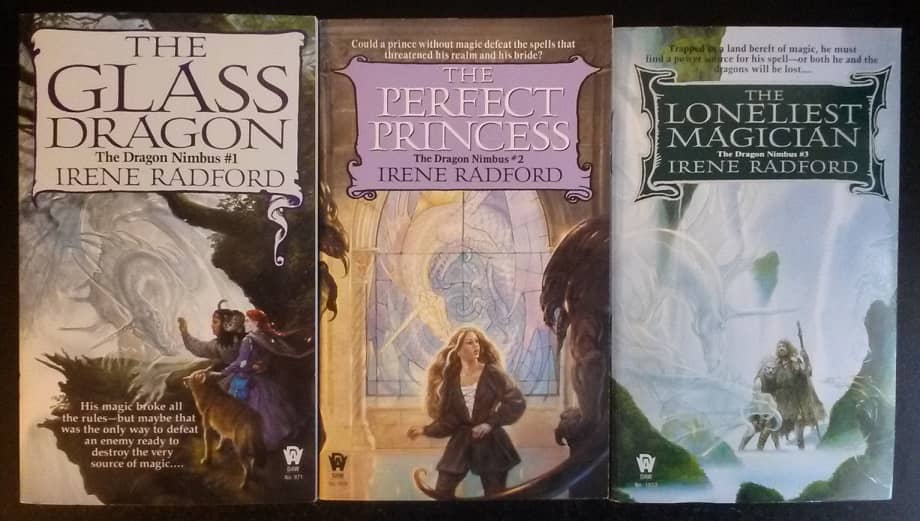 The original Dragon Nimbus Trilogy by Irene Radford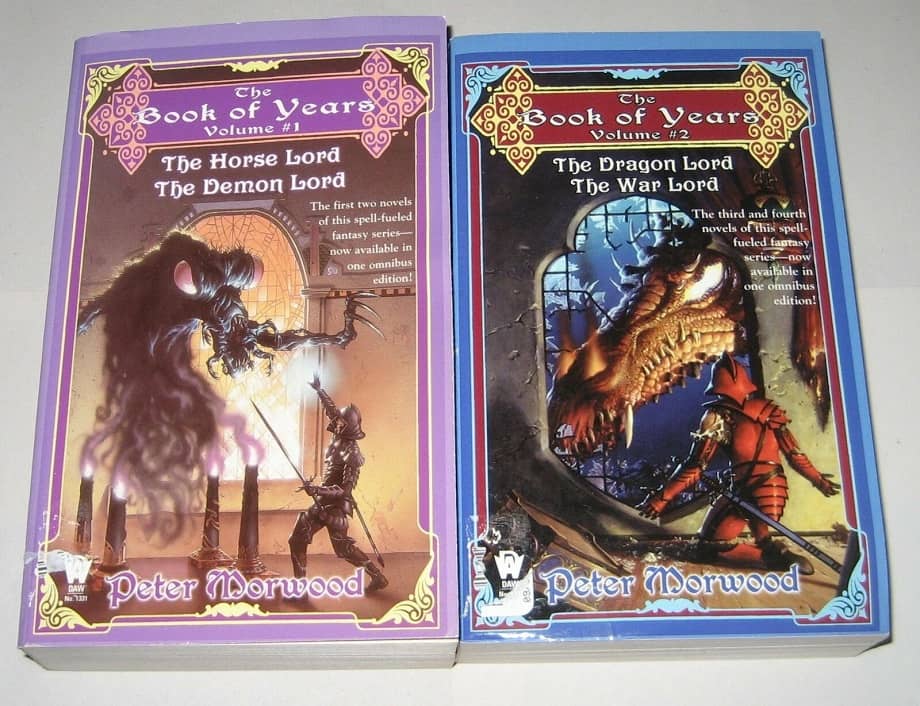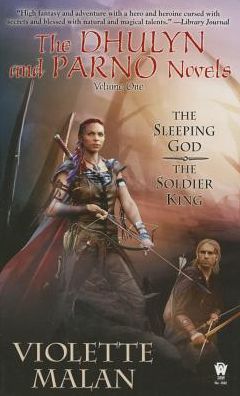 Whew! That's 53 DAW omnibus volumes, give or take, with shout outs to about a dozen more.
I leave it as an exercise to the reader to track down the others. If you have favorites of your own, or feel I missed any important titles, shout out in the comments. Always happy to add to the list.
Here's that list of our previous coverage of DAW omnibus editions, as promised.
The Omnibus Volumes of C.J. Cherryh, Part I
The Omnibus Volumes of C.J. Cherryh, Part II, Part II
The Omnibus Volumes of C.J. Cherryh, Part III, Part III
The Omnibus Volumes of C.J. Cherryh Part IV: The Complete Morgaine
Assassin's Dawn: The Complete Hoorka Trilogy, by Stephen Leigh
The Throne of Amenkor by Joshua Palmatier
The Sacred Hunt Duology by Michelle West
Moontide and Magic Rise by Sean Russell
The Dhulyn and Parno Novels: Volume One by Violette Malan
If it seems I write about a lot of omnibus books, that's because I do. Here's all our recent articles, from publishers such as Tor, Orion Publishing/Gollancz, Bantam Spectra, Black Library, DAW, Saga Press, Baen, Ace, and many others.