The Omnibus Volumes of C.J. Cherryh, Part IV: The Complete Morgaine
The Omnibus Volumes of C.J. Cherryh, Part IV: The Complete Morgaine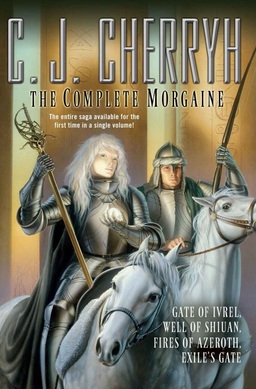 Last year, in my series on The Omnibus Volumes of C.J. Cherryh, I mentioned The Morgaine Saga, a collection of the first three novels in her classic sword-and-sorcery series. That's a fine book, but there are two problems with it. One, it doesn't include the final novel, Exile's Gate, and two, it's been out of print for over a frickin' decade.
Ah well… I guess when you're a vintage paperback collector, you shouldn't look a gift horse in the mouth. The Morgaine Saga was a terrific book, and collectors were glad to get it (when we could find it). Gate of Ivrel, Cherryh's first novel, and the first book in the series, was a breakout book for her. She won the John W. Campbell Award for Best New Writer the year after it appeared, and it helped launch her entire career (for the intimate details of her start in the business, watch CJ's talk at 2016 the Nebula Awards last month.)
In honor of CJ's Grand Master at the Nebula's, DAW gave out samples of her work to all the attendees. And I was surprised and delighted to find a copy of The Complete Morgaine among the giveaways. Published in trade paperback last year, it contains all four books for the first time in a single volume:
Gate of Ivrel (1976)
Well of Shiuan (1978)
Fires of Azeroth (1979)
Exile's Gate (1988)
I guess it's true what they say… good things come to he who waits. The Complete Morgaine was published in September 2015 by DAW Books. It is 816 pages, priced at $20, with a cover by Michael Whelan. It also contains an introduction by Andre Norton. We previously surveyed The Omnibus Volumes of C.J. Cherryh (and there's more than you think): Part I, Part II, and Part III.