The Omnibus Volumes of C.J. Cherryh, Part I
The Omnibus Volumes of C.J. Cherryh, Part I
It's probably not a surprise to most to you that I love vintage paperbacks. I write a regular series on some of the more interesting old paperbacks in my collection, Vintage Treasures, which over the years has gradually become one of the more popular links on the BG blog.
I cherish old paperbacks both as books and as unique cultural artifacts. Over the decades, our industry has been blessed with some truly gifted artists, designers, and editors, and many of these old books are quite beautiful. So I especially appreciate those rare instances when publishers bring vintage paperbacks back into print after a quarter century or more, complete with the original cover art. That's rare enough, but when the publisher also bundles popular trilogies into a single handsome book, and releases it at the same price as a regular paperback, that's cause for celebration.
That's the case with the DAW omnibus collections of C.J. Cherryh's science fiction and fantasy novels from the 1970s and 80s. DAW has published a grand total of nine, re-packing virtually her entire early catalog in compact and affordable volumes, and I've gradually been collecting them. They're a fabulous value and a great way to introduce yourself to one of the most popular and important genre writers of the late 20th Century.
[Click on any of the images for bigger versions.]
The first one I purchased was The Faded Sun Trilogy, originally published by DAW in three volumes:
The Faded Sun: Kesrith (1978)
The Faded Sun: Shon'jir (1978)
The Faded Sun: Kutath (1979)
This is a classic SF adventure series I've been interested in for decades… it was hard to resist getting the entire thing in one 776-page package for just $8.99.
The Faded Sun: Kesrith was originally serialized in four parts in Galaxy magazine, from February to May 1978; its first paperback appearance was in August 1979, with a cover by Gino D'Achille. The Faded Sun: Shon'jir followed the same year, also with a fine cover by D'Achille.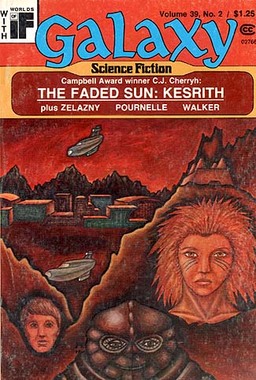 For the third and final volume, The Faded Sun: Kutath, DAW hired the cover artist who would be most closely associated with Cherryh for most of her career: Michael Whelan, who delivered a terrific painting of mri warriors framed against a setting moon on a desolate desert landscape.
Here's the blurb on the back of the paperback omnibus edition:
They were the mri — tall, secretive, bound by honor and the rigid dictates of their striated society. This golden-skinned, golden-eyed race had provided the universe with mercenary soldiers of almost unimaginable ability. For aeons, the kel — the mri's warrior caste — had fought battles on a myriad of worlds against uncountable foes. Sometimes they had even fought others of their own kind. And even then the mri had prospered — honing their skills in proper and traditional combat, eliminating the weak and unfit, and giving honor to the strong.

But for four decades now they have faced an enemy unlike any other. In defending the merchant ships and protecting the intergalactic commerce of the elephantine regul, the kel have met the deadliest enemy any mri has ever faced — an enemy who does not honor single combat, an enemy whose only way of war is widespread destruction. These "humans" are mass fighters, creatures of the herd, and the mri have been slaughtered like animals.

Now, in the aftermath of war, the mri face extinction. It will be up to three individuals to save whatever remains of this devastated race: a kel — one of the last survivors of his kind; a sen — the priestess and spiritual leader of this honorable people; and a lone human — a man sworn to aid this enemy of his own kind. Can they retrace the galaxy-wide path of this nomadic race back through millennia to reclaim the ancient world which first gave them life?
The Faded Sun Trilogy was published in January 2000 by DAW Books. It is 776 pages, priced at $8.99, with a cover by Michael Whelan. Fifteen years later, it is still in print.
Two years before she wrote her first Faded Suns book, C.J. Cherryh published her first novel, Gate of Ivrel, in 1976. It was her breakthrough book; she won the John W. Campbell Award for Best New Writer in 1977 and she followed it with three more. All told, the Morgaine series is four books:
Gate of Ivrel (1976)
Well of Shiuan (1978)
Fires of Azeroth (1979)
Exile's Gate (1988)
The first three were published from 1976-79, and all with Whelan covers; the fourth volume followed a decade later. It's the closest Cherryh has ever come to sword-and-sorcery, the epic tale of a woman's desperate mission across time and space to preserve the integrity of the universe.
The Morgaine Saga was published on March 1, 2000 by DAW Books. It is 720 pages, priced at $7.99, with a cover by Michael Whelan. It contains the first three novels in the series, and is currently out of print.
Finally, we come to one of Cherryh's most beloved series, her sprawling space opera Chanur novels. There are currently five:
The Pride of Chanur (1982)
Chanur's Venture (1984)
The Kif Strike Back (1985)
Chanur's Homecoming (1986)
Chanur's Legacy (1992)
The Pride of Chanur appeared in 1982 with a Whelan cover, featuring one of his most famous self-portraits (that's the artist, peeking out from behind a pride of alien Hani.) The novel was nominated for both the Hugo and Locus Awards. It was followed by Chanur's Venture, with one of Whelan's finest covers, and The Kif Strike Back, with a rare non-Whelan cover (art by David A. Cherry.) All three were re-packaged in The Chanur Saga.
Here's the back cover blurb for the omnibus edition:
Here, for the first time in one volume, is C.J. Cherryh's classic adventure of interstellar politics, a spacefaring fugitive, and first contact with a strange race known as "humans."

No one at Meetpoint Station had ever seen a creature like the Outsider. Naked-hided, blunt-toothed and blunt-fingered, Tully was the sole surviving member of his company — a communicative, spacefaring species hitherto unknown. He had been a prisoner of his discoverers/captors, the sadistic, treacherous kif, until he escaped to the hani ship The Pride of Chanur.Little did Tully know when he threw himself on the mercy of the crew of The Pride that he put the entire hani species in jeopardy and imperiled the peace of the Compact itself. This seemingly defenseless fugitive held information which could prove the ruin or glory of any species at Meetpoint Station, and whomever Tully allied with would stand to gain power and riches beyond imagining.

For with Tully came the key to opening trade with a previously unknown sector of space — a sector of space controlled by a race called "humans." And what began as a simple rescue attempt would soon blossom into a dangerous game of interstellar politics where today's ally could become tomorrow's executioner, and where methane breathers become volatile wild cards playing for stakes no oxy breather could even begin to understand…
The Chanur Saga was published by DAW Books on May 1, 2000. It is 704 pages, priced at $8.99. The cover is by Michael Whelan. It is still in print.
The next two books in the series, Chanur's Homecoming (1986) and Chanur's Legacy (1992), were collected in a second omnibus collection, Chanur's Endgame, in 2007. I'll cover that one in the next installment.
The nine DAW C.J. Cherryh Classic Omnibus Editions are:
The Dreaming Tree (The Dreamstone, The Tree of Swords and Jewels)
The Faded Sun Trilogy (The Faded Sun: Kesrith, The Faded Sun: Shon'jir, The Faded Sun: Kutath)
The Morgaine Saga (Gate of Ivrel, Well of Shiuan, Fires of Azeroth)
The Chanur Saga (The Pride of Chanur, Chanur's Venture, The Kif Strike Back)
Chanur's Endgame (Chanur's Homecoming, Chanur's Legacy)
Alternate Realities (Port Eternity, Wave Without a Shore, Voyager in Night)
At the Edge of Space (Brothers of Earth, Hunter of Worlds)
The Deep Beyond (Serpent's Reach, Cuckoo's Egg)
Alliance Space (Merchanter's Luck, Forty Thousand in Gehenna)
In Part II, we cover Chanur's Endgame, Alternate Realities, and Alliance Space.
See all of our recent Vintage Treasures articles here.