The Omnibus Volumes of C.J. Cherryh, Part II
The Omnibus Volumes of C.J. Cherryh, Part II
Last week I wrote the first installment of a three-part series looking at DAW's ambitious program to bring some two dozen of C.J. Cherryh's early fantasy and space opera novels back into print, The Omnibus Volumes of C.J. Cherryh, Part I. I looked at The Faded Sun Trilogy, The Morgaine Saga, and The Chanur Saga, published in January, March, and May of 2000, respectively.
In the Comments section of that article, Joe H. observed,
That first Chanur omnibus always confused me because it was functionally equivalent to putting The Hobbit, Fellowship and Two Towers into a single volume. And then you had that seven-year gap before the second Chanur omnibus was published…
Joe is quite correct. Chanur's Homecoming, the fourth novel in the series, was in effect the conclusion of a trilogy which began in Chanur's Venture and The Kif Strike Back. Readers coming to the novels for the first time with the first omnibus had to track down a copy of the final volume, or wait until it was collected with Chanur's Legacy in the omnibus Chanur's Endgame in 2007.
The covers for the last two volumes in the series (as well as the omnibus) were painted by Michael Whelan.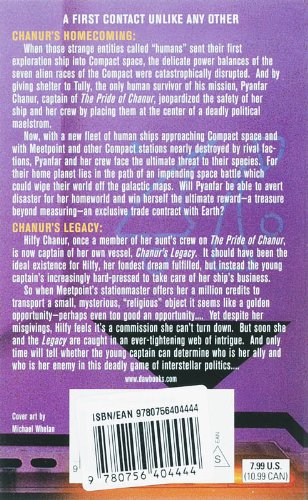 Here's the back cover text to Chanur's Endgame:
A FIRST CONTACT UNLIKE ANY OTHER

Chanur's Homecoming:

When those strange entities called "humans" sent their first exploration ship into Compact space, the delicate power balances of the seven races of the Compact were catastrophically disrupted. And by giving shelter to Tully, the only human survivor of his mission, Pyanfar Chanur, captain of the merchant vessel The Pride of Chanur, jeopardized the safety of her ship and her crew , placing them at the center of a political maelstrom — inadvertent key players in a power game which could cause an interspecies war or, conversely, enfold humanity, a previously unknown sentient species, into the protective arms of the Compact.

Now, with a new fleet of human ships approaching Compact space, Meetpoint and other Compact stations nearly destroyed by rival factions, the hani unwillingly "allied" with the devious and untrustworthy kif, and forced to doubt their longtime comrades, the mahendo 'sat, Pyanfar and her crew face the ultimate threat to their species. For the hani home planet lies in the path of an impending space battle which may wipe the very memory of their world from the galactic maps. Will Pyanfar be able to avert disaster for her homeworld and win herself the ultimate reward — a treasure beyond measuring — an exclusive trade contract with Earth?

Chanur's Legacy:

Hiffy Chanur, once a member of her aunt's crew on The Pride of Chanur, is now captain of her own vessel, Chanur's Legacy. It should have been the ideal existence for Hiffy, her fondest dream fulfilled, but instead the young captain's increasingly hard-pressed to take care of her ship's business.

So when Meetpoint's stationmaster offers her a million credits to transport a small, mysterious, "religious" object it seems like a golden opportunity — perhaps even too good an opportunity… Yet despite her misgivings, Hiffy feels it's a commission she can't turn down. But soon she and the Legacy are caught in an ever-tightening web of intrigue. And only time will tell whether the young captain can determine who is her ally and who is her enemy in this deadly game of interstellar politics…
The Chanur saga is one of the most popular space opera series ever published and, like the best SF, its popularity has endured for generations. The first novel, The Pride of Chanur, was nominated for both the Hugo and Locus Awards in 1983, and the first omnibus, The Chanur Saga, has been in print for fifteen years.
Unfortunately, the second omnibus is considerably harder to find — at least, at a good price. It's been out of print for several years and, as of this writing, the cheapest used copies I could find online start at around $30. Buying the individual volumes might be your best bet.
Chanur's Endgame was published by DAW on June 5, 2007. It is 736 pages, cover priced at $7.99 in paperback; there is no digital edition. The cover is by Michael Whelan. It is currently out of print.
The next omnibus I want to look at, Alternate Realities, doesn't collect connected novels like the Faded Suns or Chanur books. Instead, it's a catch-all volume collecting three standalone science fiction novels:
Port Eternity (1982)
Wave Without a Shore (1984)
Voyager in Night (1981)
All three were published in the early 1980, and set in Cherryh's Alliance-Union universe.
C.J. Cherryh calls these novels the "magic cookie books," or treats she wrote for herself. All three explore more "fantastic" themes of science fiction. (See more details on the origins at Alternate Realities' Wikipedia entry.)
Port Eternity is a science fantasy with strong Arthurian overtones, in which Camelot returns on a spaceship manned by Arthurian androids. The original cover (above) was by Ken Kelly.
Their names were Lancelot, Elaine, Percivale, Gawain, Mordred, Lynette and Vivien, and they were made people, clone servants who worked aboard The Maid, an anachronistic fantasy of a spaceship. They had no idea of their origins, from those old storytapes of romance, chivalry, heroism and betrayal, until a ripple in the space-time continuum sucked The Maid and her crew into a no-man's land from which there could be no return, and they were left alone to face a crisis which their ancient prototypes were never designed to master…
Wave Without a Shore is a mystery which poses a peculiar question: is there alien life on the isolated colony planet of Freedom? If so, why can only some people see them? Original cover by Don Maitz.
Freedom was an isolated planet, off the main spaceways and rarely visited by commercial spacers. It wasn't that Freedom was inhospitable, the problem was that outsiders — tourists and traders — claimed that the streets were crowded with mysterious blue-robed aliens. Native-born humans, however, denied that these aliens existed — until a planetary crisis forced a confrontation between the question of reality and the reality of the question…
The final volume is Voyager in the Night, a science-fiction horror novel in which a human space crew's collision with an alien ship ends in death — and a strange rebirth. It was a 1984 Philip K. Dick Award nominee. The original paperback cover was by Barclay Shaw.
Rafe Murray, his sister Jillian, and Jillian's husband Paul Gaines, like many other out-of-luck spacers, had come to newly built Endeavor Station to find their future. Their tiny ship, Lindy, had been salvaged from the junk heap, and fitted to mine ore from the mineral-rich rings which circled Endeavor. But their future proved to be far stranger than any of them imagined, when a "collision" with a huge alien vessel provided them with the oddest first contact experience possible!
Although the novels are standalone they share a setting, and two (Port Eternity and Voyager in Night) are sometimes described as being part of Cherryh's Age Of Exploration trilogy, the third volume of which is the Hugo Award nominee Cuckoo's Egg (1985).
Alternate Realities was published by DAW on December 1, 2000. It is 525 pages, priced at $7.99 in paperback and $6.99 for the digital edition. Cover by Don Maitz. It is still in print.
The final omnibus we'll look at today is Alliance Space, a collection of two novels set in Cherryh's Union-Alliance universe, setting for her Chanur, Fading Suns, and Age of Exploration Novels. It collects Merchanter's Luck (1982) and Forty Thousand in Gehenna (1983).
Merchanter's Luck is set mostly on the tramp freighter Lucy, captained by Sandor Kreja, a man whose extended family was killed by pirates years ago. When the Lucy pulls into the outpost Viking to take on cargo and a new crew member, Sandor finds himself smitten by Allison Reilly, part of the affluent Reilly clan. Allison is well out of his league… unless Sandor is willing to take a crazy risk to improve his family's shaky standing. The original cover (above) was by Barclay Shaw.
His name was Sandor and he was the owner and entire crew of a tramp star-freighter that flew the Union planets under false papers and fake names. Her name was Allison and she was a proud but junior member of the powerful family whose mighty starship, Dublin Again, was the true queen of the spaceways. They met at Viking Station, she seeking a night's dalliance, he desperately in search of a spacer assistant. Their fateful meeting was to lead to a record-breaking race to Pell Station, thereby catching the calculating eye of the grim commander of the Alliance battlecraft Norway, and a terrifying showdown at a deadly destination off the cosmic charts.
Forty Thousand in Gehenna is one of the rare Alliance-Union novels set on the Union side (the other two being Cyteen and Regenesis). The dino-riffic cover is by James Gurney.
When forty thousand human colonists are abandoned for political reasons on a planet called Gehenna, and re-supply ships fail to arrive, collapse seems imminent. Yet over the next two centuries, the descendants of the original colonists survive despite all odds by entering a partnership with the planet's native intelligence — the lizard-like, burrowing calibans.
Alliance Space was published by DAW on March 4, 2008. It is 602 pages, priced at $8.99 in paperback. There is no digital edition. The cover artist is uncredited. It is still in print.
The nine DAW C.J. Cherryh Classic Omnibus Editions are:
The Dreaming Tree (The Dreamstone, The Tree of Swords and Jewels)
The Faded Sun Trilogy (The Faded Sun: Kesrith, The Faded Sun: Shon'jir, The Faded Sun: Kutath)
The Morgaine Saga (Gate of Ivrel, Well of Shiuan, Fires of Azeroth)
The Chanur Saga (The Pride of Chanur, Chanur's Venture, The Kif Strike Back)
Chanur's Endgame (Chanur's Homecoming, Chanur's Legacy)
Alternate Realities (Port Eternity, Wave Without a Shore, Voyager in Night)
At the Edge of Space (Brothers of Earth, Hunter of Worlds)
The Deep Beyond (Serpent's Reach, Cuckoo's Egg)
Alliance Space (Merchanter's Luck, Forty Thousand in Gehenna)
In Part I, we covered The Faded Sun Trilogy, The Morgaine Saga, and The Chanur Saga.
In Part III, we'll discuss The Dreaming Tree, At the Edge of Space, and The Deep Beyond.
See all of our recent Vintage Treasures here.