The 2014 Philip K. Dick Award Nominees
The 2014 Philip K. Dick Award Nominees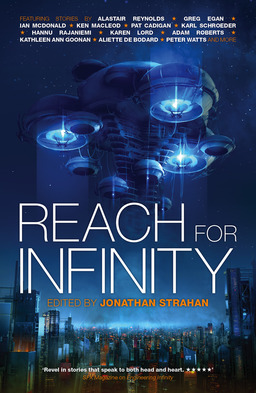 The Philip K. Dick Award is presented annually for distinguished science fiction originally published in paperback in the United States. The award is sponsored by the Philadelphia Science Fiction Society.
The six finalists this year are (with links to earlier Black Gate coverage, where appropriate):
Elysium by Jennifer Marie Brissett (Aqueduct Press)
The Bullet-Catcher's Daughter by Rod Duncan (Angry Robot)
The Book of the Unnamed Midwife by Meg Elison (Sybaritic Press)
Memory Of Water by Emmi Itäranta (Harper Voyager)
Maplecroft: The Borden Dispatches by Cherie Priest (Roc)
Reach For Infinity edited by Jonathan Strahan (Solaris)
I wasn't aware that anthologies are eligible for the Dick Award, but I'm very pleased to see Jonathan Strahan's Reach for Infinity on the list this year.
Last year's winner was Countdown City by Ben H. Winters, author of The Last Policeman, with a special citation going to Toh EnJoe's Self-Reference Engine.
This year's winner will be announced on Friday, April 3, 2015 at Norwescon 38 in SeaTac, Washington. The 2014 judges are Jon Armstrong, Ritchie Calvin, Ellen Klages, Laura J. Mixon (chair), and Michaela Roessner. See more details at the Official Philip K. Dick Awards Home Page.
See all of our recent News articles here.