New Treasures: Reach For Infinity, edited by Jonathan Strahan
New Treasures: Reach For Infinity, edited by Jonathan Strahan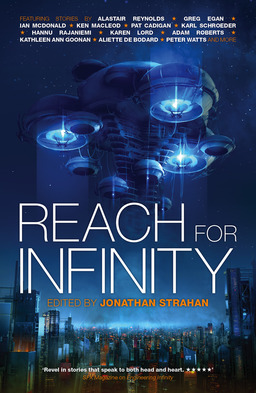 Reach For Infinity makes me very happy.
A while back, I wrote a blog post titled "Is the Original SF and Fantasy Paperback Anthology Series Dead?", in which I lamented the death of the great genre anthologies like Orbit, New Dimensions, and Universe, and noted that no modern publisher had the courage to launch one these days. None except Solaris that is, which recently started several excellent new anthology series — including Jonathan Strahan's terrific Infinity line, beginning with Engineering Infinity (2010) and Edge of Infinity (2012).
I'm thrilled to see at least one publisher willing to take the risk… and more importantly, to pull it off. Kudos to Jonathan Strahan and his editors at Solaris for making the impossible look easy. These books deserve your support and they're a fantastic and inexpensive way to introduce yourself to some great writers. Check them out — and start with Reach For Infinity, the third in the series, now on sale.
Humanity Among the Stars

What happens when we reach out into the vastness of space? What hope for us amongst the stars?

Multi-award winning editor Jonathan Strahan brings us fourteen new tales of the future, from some of the finest science fiction writers in the field.

The fourteen startling stories in this anthology feature the work of Greg Egan, Aliette de Bodard, Ian McDonald, Karl Schroeder, Pat Cadigan, Karen Lord, Ellen Klages, Adam Roberts, Linda Nagata, Hannu Rajaniemi, Kathleen Ann Goonan, Ken MacLeod, Alastair Reynolds and Peter Watts.
Reach For Infinity was published by Solaris on May 27, 2014. It is 346 pages, priced at $9.99 in trade paperback and $6.99 for the digital edition.