Tor.com Salutes Solaris Books
Tor.com Salutes Solaris Books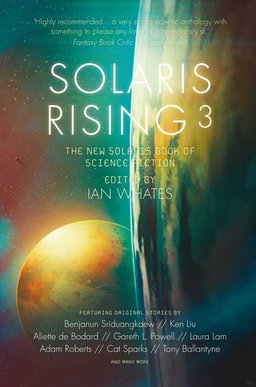 A while back, I praised Solaris Books for their impressive line of top-notch original anthologies, including Ian Whates's Solaris Rising, and Jonathan Strahan's Reach for Infinity. And just a few hours ago (see below), I reported on their upcoming fantasy volume, Fearsome Magics.
Looks like I wasn't the only one to notice. Last week at Tor.com, Niall Alexander called out the publisher for their splendid recent record on original anthologies:
In recent years, no one publisher has done as much for the short form of speculative fiction in Britain as Solaris. Since the summer, they've released Reach for Infinity… the latest volume of Jonathan Strahan's continuing chronicle of the future history of humanity — reviewed right here by yours truly— alongside the eighth edition of The Best Science Fiction and Fantasy of the Year and the third in the superb Solaris Rising series.

And there's much more to come in the coming months. Fearsome Magics, the follow-up to The New Solaris Book of Fantasy, is out in early October — on the same day, indeed, as Two Hundred and Twenty-One Baker Streets from Solaris' sister imprint Abaddon, which proposes to showcase the great detective through a decidedly unlikely lens.

Just this week, readers of When Gravity Falls were treated to an early look at another of the plentiful collections Solaris has on the cards. Dangerous Games is due in December, and it looks to meet, or even exceed, the high standards set by Jonathan Oliver's previous projects.
Solaris 3 was edited by Ian Whates and released on August 26, 2014. I bought a copy last week and it looks like the same great bargain as the other volumes — a thick 448 pages for just $7.99 in paperback — with stories from  Aliette de Bodard, Ken Liu, Julie E. Czerneda, Tony Ballantyne, Sean Williams, Ian Watson, Adam Roberts, George Zebrowski, Benjamin Rosenbaum, Rachel Swirsky, and many others. The cover is by Pye Parr (click the image at right for a high res version of the front and back cover.)
Jonathan Oliver's Dangerous Games looks like a striking new entry as well. Collecting original short fiction from Chuck Wendig, Lavie Tidhar, Paul Kearney, Pat Cadigan, and many others, its theme is game players of all kinds. And as Niall points out, it has a stellar cover: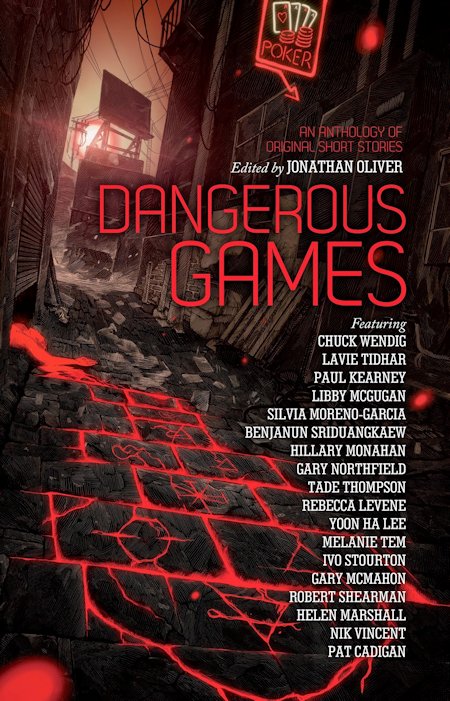 Jonathan Oliver's previous Solaris anthologies include House of Fear and the British Fantasy Award winner End of the Road.
Here's the complete Table of contents for Solaris 3:
Introduction by Ian Whates
"When We Harvested the Nacre-Rice" by Benjanun Sriduangkaew
"The Goblin Hunter" by Chris Beckett
"Homo Floresiensis" by Ken Liu
"A Taste for Murder" by Julie E. Czerneda
"Double Blind" by Tony Ballantyne
"The Mashup" by Sean Williams
"The Frost on Jade Buds" by Aliette de Bodard
"Popular Images from the First Manned Mission to Enceladus" by Alex Dally MacFarlane
"Red Lights, and Rain" by Gareth L. Powell
"They Swim Through Sunset Seas" by Laura Lam
"Faith Without Teeth" by Ian Watson
"Thing and Sick" by Adam Roberts
"The Sullen Engines" by George Zebrowski
"Dark Harvest" by Cat Sparks
"Fift & Shria" by Benjamin Rosenbaum
"The Howl" by Ian R. MacLeod and Martin Sketchley
"The Science of Chance" by Nina Allan
"Endless" by Rachel Swirsky
Learn more at the Solaris Press website.
We last covered Tor.com with Mordicai Knode's review of First Edition Advanced Dungeons & Dragons.