Future Treasures: Fearsome Magics, edited by Jonathan Strahan
Future Treasures: Fearsome Magics, edited by Jonathan Strahan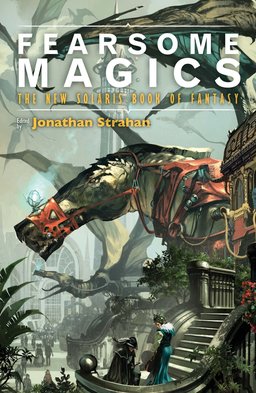 Solaris Books continues to single-handedly fuel a renaissance in paperback anthologies, including two top notch science fiction anthology series: Ian Whates's Solaris Rising, and  Jonathan Strahan's  Reach for Infinity.
Next week sees the arrival of Jonathan Strahan's Fearsome Magics, his second volume of original fantasy fiction from Solaris. Here's what James McGlothlin said about the first, Fearsome Journeys:
Many of Fearsome Journeys' stories fit squarely within the tradition of fantasy — which I love! For instance, many contain typical tropes such as magic, dragons, wizards, fighters, thieves, etc., as well as familiar plot angles like quests to recover treasure or kill some monster or dragon. However, as one would expect from this lineup, many are fairly experimental attempts to push the boundaries of what is, or should be, considered fantasy. Let me give a few highlights.

Glenn Cook provides another great tale of the Black Company, his popular fantasy military troop, with his story "Shaggy Dog Bridge." Similar to Cook's Black Company, Scott Lynch's "The Effigy Engine" centers upon a group of (wizard) warriors called the Red Hats, who are battled-hardened cynics often attempting to just get by. This was a very interesting tale describing war contraptions that reminded me of medieval versions of the AT-AT Walkers from The Empire Strikes Back. Very cool!…

I can say — without any reservation — all of stories contained within Fearsome Journeys are extremely well-crafted… There's no doubt that these are some of the best writers in the field today.
Here's the book description.
A cabinet of magic! A cavalcade of wonder! A collection of stories both strange and wondrous, of tales filled with wild adventure and strange imaginings. Fearsome Magics, the second New Solaris Book of Fantasy, is all these things and more. It is, we think, one of the best books you will read all year.

Award-winning editor Jonathan Strahan has invited some of the best and most exciting writers working in fantasy today to let their imaginations run wild and to deliver stories that will thrill and awe, delight and amuse. And above all, stories that are filled with fearsome magic! Authors include Garth Nix, K.J. Parker, Justina Robson, Ellen Klages, Christopher Rowe, Isobelle Carmody, Tony Ballantyne, James Bradley, Karin Tidbeck, Nina Kiriki Hoffman, Frances Hardinger, Kaaron Warren, Genevieve Valentine and Robert Shearman.
Fearsome Magics is edited by Jonathan Strahan and published by Solaris Books. It will be published on October 7, 2014. It is 352 pages, priced at $7.99.
See all of our upcoming Future Treasures here.