New Treasures: Fearsome Magics: The New Solaris Book of Fantasy, edited by Jonathan Strahan
New Treasures: Fearsome Magics: The New Solaris Book of Fantasy, edited by Jonathan Strahan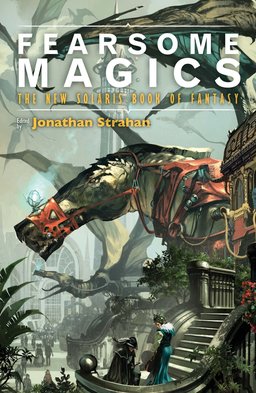 Back in September, I told you about Jonathan Strahan's newest fantasy collection Fearsome Magics: The New Solaris Book of Fantasy, the follow-up to his acclaimed Fearsome Journeys. Fearsome Magics has a stellar list of contributors, including Ellen Klages, Robert Shearman, Nina Kiriki Hoffman, Tony Ballantyne, and many more. I'm too lazy to copy over the complete list and the back copy text from my prior post, but you can read them here.
Here's what James McGlothlin said in his review of the first volume:
Many of Fearsome Journeys' stories fit squarely within the tradition of fantasy — which I love! For instance, many contain typical tropes such as magic, dragons, wizards, fighters, thieves, etc., as well as familiar plot angles like quests to recover treasure or kill some monster or dragon. However, as one would expect from this lineup, many are fairly experimental attempts to push the boundaries of what is, or should be, considered fantasy…

I can say — without any reservation — all of stories contained within Fearsome Journeys are extremely well-crafted… There's no doubt that these are some of the best writers in the field today.
Solaris Books continues to single-handedly fuel a renaissance in paperback anthologies, including two top notch science fiction anthology series: Ian Whates's Solaris Rising and Jonathan Strahan's Reach for Infinity. I'm very pleased to see a fantasy series join that august list. They've shown no signs of resting, either — their newest anthology is Dangerous Games, edited by Jonathan Oliver.
Fearsome Magics is edited by Jonathan Strahan and published by Solaris Books. It was published on October 7, 2014. It is 352 pages, priced at $7.99. The cover is by Tomasz Jedruszek. Our last report on Solaris was Tor.com Salutes Solaris Books on September 30.