Is the Original SF and Fantasy Paperback Anthology Series Dead?
Is the Original SF and Fantasy Paperback Anthology Series Dead?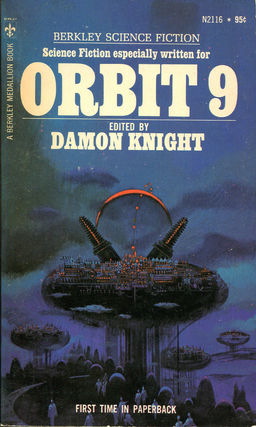 I miss the era of the original paperback anthologies. It seems to have faded away without anyone really noticing and I'm not sure why.
Well, I guess I do know why, but I'm grumpy about it. Short fiction isn't really viable in mass market anymore. Ten years of trying — and failing — to publish a fantasy fiction magazine taught me that.
That wasn't always the case. For decades, SF and fantasy readers supported several prestigious, high-paying paperback markets for short fiction and they attracted the best writers in the field. Damon Knight published 21 Orbit anthologies between 1966 and 1980; Robert Silverberg edited New Dimensions (12 volumes, 1971-81) and star editor Terry Carr helmed 17 volumes of the Universe series (1971-1987), for example.
I'd be hard pressed to tell you which of those three was the best source for original SF and fantasy, and I don't really feel qualified to anyway, since I didn't read them all. (Or even most of them — we are talking a combined 50 volumes, just for those three. I read pretty fast, but I'm not Rich Horton.)
In any event, those days are gone. And now that they are, I wonder — was it the sheer editorial talent of Messieurs Knight, Silverberg, and Carr that allowed their respective anthologies to continue for decades?
Or was there simply more of an appetite for short fiction forty years ago? Could an editor with the same talent and drive accomplish what they did today? Or is it futile, like trying to argue football with the Borg?
I think perhaps Australian editor Jonathan Strahan has come closest, with his four-volume Eclipse series (2007-2011, all published by Night Shade Books), which died three years ago.
Even Eclipse, as good as it was, didn't really compare, as it was published exclusively in trade paperback and never had a mass market edition — and thus never reached the audience that even a low-selling volume of Orbit obtained.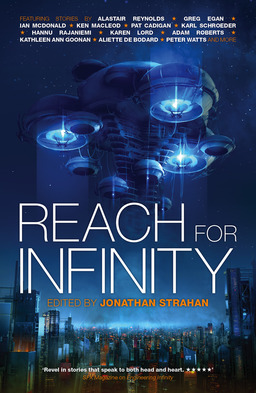 Strahan is trying again, albeit somewhat surreptitiously, with his Infinity series, a mass market paperback original anthology featuring all-new fiction. The first, Engineering Infinity, appeared in 2010; Edge of Infinity two years later; and the third, Reach for Infinity, is scheduled to arrive on May 27, 2014.
All three were published by Solaris. I wasn't even aware this was a series until the third volume was announced recently (maybe Strahan wasn't either). Whatever the case, I'm very glad to see it.
While we're talking about Solaris, I note with interest that the two other recent efforts to resurrect the original genre anthology series — Ian Whates's Solaris Rising (two volumes so far: Solaris Rising in 2011, and Solaris Rising 2.0 in 2013), which covers science fiction, and its fantasy counterpoint Fearsome, edited by Jonathan Strahan (Fearsome Journeys: The New Solaris Book of Fantasy from 2013 and the upcoming Fearsome Magics) — are also published by Solaris.
Dig a little deeper and we see that Solaris has tried this before, publishing three volumes of The Solaris Book of New Science Fiction (2007 – 2009) and one volume of The Solaris Book of New Fantasy (2007), all edited by George Mann.
They even tried their hand at a horror volume, House of Fear, edited by Solaris Editor-in-Chief Jonathan Oliver, back in 2011. Oliver was also behind the current World Fantasy Award nominee for Best Anthology, Magic: An Anthology of the Esoteric and Arcane (November 2012, Solaris).
What's going on here? Is Solaris really trying to make a go of three mass market original anthology series(es)? Don't they know that those days are over?
Well, it's obvious they never got that memo. And if it's true that the primary ingredient in commercial success is the editor, I think they've made solid choices in their two, Ian Whates and Jonathan Strahan.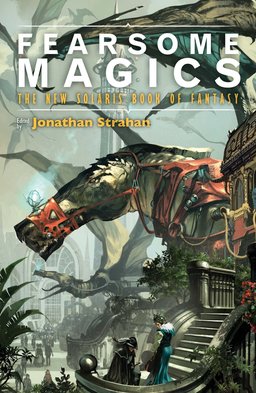 But the very fact that Solaris is making such a determined attempt — series of attempts, really, since the first volume of The Solaris Book of New Science Fiction appeared in 2007 — tells me that I overlooked another essential ingredient: a publisher willing to take risks and one clearly willing to experiment, to find the right way to sell short fiction in paperback format to a modern audience. Solaris looks like exactly that publisher.
I think it may be too early to congratulate Solaris on their success — the second volume of the Fearsome series isn't even out yet. But I think they're overdue for a commendation for their dedication and I'd like to do that now.
And in case it isn't obvious, all this reflection on the difficulties of selling quality short fiction has made one more thing clear to me: success takes more than a determined publisher and a gifted editor. It takes a fan base willing to help get the word out and to open their wallets when the volumes hit the shelves.
So if you care about quality short fiction — and if you're a Black Gate reader, I expect you do — then I hope you'll join me in doing exactly that.
We've tried to do our part over the last few years. James McGlothlin reviewed the first volume of Fearsome Journeys for us back in August and I very much hope to cover future volumes as they arrive. But it takes more than reviews — it takes sales.
It's too early to buy Fearsome Magics. But it's not too early to buy Fearsome Journeys — or either of the Solaris Rising or Engineering volumes. I hope you'll take a minute to check out the links on this page and see if you might be interested. And if you are, I hope you'll take a chance on one or more.
Because Solaris is certainly taking a chance on us. Let's help prove we're worth it.