Solaris Rising, Women Falling?
Solaris Rising, Women Falling?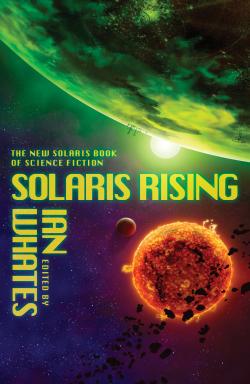 I was consistently impressed with The Solaris Book Of New Science Fiction, edited by George Mann, which published three annual volumes between 2007 and 2009. Solaris Books is relaunching the series as Solaris Rising (shipping in October) under new editor Ian Whates, and I've been looking forward to it.
A while back Kev McVeigh at Performative Utterance noted the following rather dismaying statistic:
The Solaris Book of New Science Fiction by Boys volume one has Mary A Turzillo as token feminine contributor. One woman from eighteen listed authors. Volume Two is obviously the feminist volume with a remarkable three women out of fourteen involved…. It's back to normal for Volume Three as fifteen stories allow room for just one woman…

It might be tempting to just blame editor George Mann for this. Perhaps it really is just his personal taste. After all Ian Whates is now on board, and he published an excellent all female anthology for Newcon Press, Myth-Undertakings. His Solaris Rising might reflect that? No, nineteen stories, 21 contributing authors, just three women.
What I've chiefly been dismayed about is the  reaction from some of the SF old guard, which quickly attacked Kev and his arguments in various newsgroups. This was an irrelevant stat (they said), and the percentage of women contributors had no bearing at all on quality. After all, if If Solaris was against women writers, why were they bothering to include any at all?
To put it bluntly, old guard, you're missing the point. Wake up.
About five years ago I experienced exactly the same criticism as Ian and George. Someone (I honestly forget who) did the math on the first six issues of Black Gate and figured out that I'd published only 15 stories by women, out of a total of 51 – roughly 29%. Right about this time Rich Horton started reporting on the percentage of fiction by women in his yearly short fiction summations. At first I had exactly the same reaction as the old guard – this is a load of crap. I pick the very best stories sent to me; case closed. I deeply resented any implication otherwise, and considered the entire argument a waste of time.
I was, in short, a complete idiot.
All that righteous indignation was preventing me from understanding three important things:
it's not always about editorial taste;
it's only a criticism if you make it one; and
while I might not immediately care about those figures, many of my readers cared deeply.
Once I got past all the suspicion that I was being criticized, I realized that I was being given a golden opportunity to improve my magazine, and to understand what my readers cared about. And most importantly, to understand why my magazine wasn't attracting more female writers.
Sure, I was buying the best fiction I could. But I also started asking myself some basic questions: was there something about my submission guidelines that discouraged women? Was I encouraging female writers the same way I did men? Did I always feel comfortable criticizing and nurturing aspiring women to improve? Did I solicit as many female writers as male writers?
Did I, in fact, enjoy the submissions by women as frequently as those by men?  Why, or why not?
Many of my readers cared about the answers to those questions, and it was about time that I did too.
Once I got over the sting and became a real part of the discussion, I felt a lot better about it. It didn't necessarily mean I was a bad editor, but it did mean there were important things I could learn. I started compiling the stats on women in Black Gate myself, and wondering about how I could improve them. How I could make the magazine better by making those numbers better, and especially how I could be a better editor.
I didn't always like the discussion – especially in the early days – but I sure learned a hell of a lot, and I really think it helped the magazine improve.
I was impressed to see the mature and measured response from editor Ian Whates in the comments section in Kev's original post. It's clear he didn't like the implied criticism any more than I did — but he listened to it, and it seems he made a real effort to understand the dynamic involved in his own decisions. That's the kind of thing only the best editors do.
Modern SF and fantasy editors: ignore this critique at your peril. Yes, old guard, you can dismiss these observations as spurious criticism if you like. But when you choose to see them as criticism instead of simple statistics, and focus all your energies on attacking those who dare point them out, you stand revealed in your own naked insecurities. Facts are facts.
Treat them as simple truth, and a way to help you understand yourself, and they'll be the best friend you ever had.