New Treasures: Fearsome Journeys: The New Solaris Book of Fantasy
New Treasures: Fearsome Journeys: The New Solaris Book of Fantasy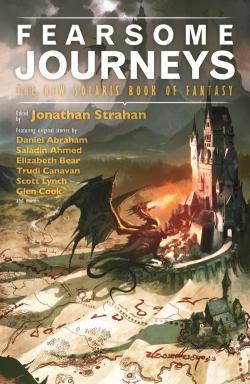 I have to admit I've been a bit frustrated with Ian Whates's recent anthologies from Solaris: Solaris Rising: The New Solaris Book of Science Fiction (2011), and the brand new Solaris Rising 2 (March 2013).
Oh, they're fine anthologies. Whates is establishing himself as an editor with a keen eye for talent, and he's attracted some terrific names.
But that's a lot of science fiction. Nothing wrong with science fiction but… what about fantasy? Come on Solaris — where's the love?
Apparently, it was in the mail. Last month it arrived in the form of Fearsome Journeys: The New Solaris Book of Fantasy, edited by uber-editor Jonathan Strahan.
Fearsome Journeys is the first volume in a new series of fantasy anthologies featuring all-original fiction. Authors in the first volume include Ellen Klages, Trudi Canavan, Elizabeth Bear, Daniel Abraham, Kate Elliott, Saladin Ahmed, Glen Cook, Scott Lynch, Ellen Kushner & Ysabeau Wilce, Jeffrey Ford, Robert Redick and KJ Parker.
That's a damned impressive line-up. All is forgiven, and I can't wait to get my hands on a copy.
Fearsome Journeys: The New Solaris Book of Fantasy was edited by Jonathan Strahan and published by Solaris on May 28, 2013. It is 416 pages, priced at $7.99 in paperback and $6.99 for the digital edition. Find out more at the Solaris website.
See all of our recent New Treasures articles here.