Black Gate Online Fiction: "Falling Castles" by Jamie McEwan
Black Gate Online Fiction: "Falling Castles" by Jamie McEwan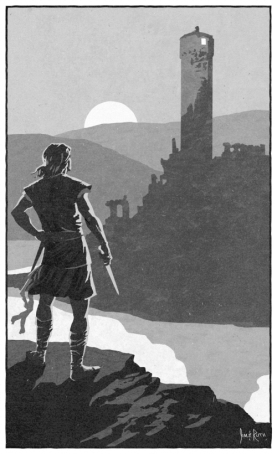 The intrepid Prince Tanek, hero of "An Uprising of One" from Black Gate 15, returns in a tale of a daring castle raid — with chilling consequences.
Tanek could hear voices coming from the watchtower above as one by one his companions pulled themselves through the chilly water and lined up against the wall beside him. Romy was distracting the single watchman on the northwest tower. King Luzak had left only a skeleton guard behind, wishing to include all available force in his invasion.

When they had all hurriedly dressed, Tanek, dagger in hand, slipped through the unlocked postern gate and led the others through the cramped stone passage beyond. He was relieved to find the gate on the far side of the thick wall unlocked as well.

"Rojek," whispered Tanek, his hand on the gate.

"My lord," Rojek answered from close behind.

"Just the two of us," said Tanek. "Follow me out, to our left, and up the tower stairs. Remember; we must stay below the parapet as much as possible." Glancing down at the sword that Rojek had insisted on wearing Tanek added, "And remember, quiet!"
Jamie's "An Uprising of One" made the Tangent Online Recommended Reading List 2011. In his feature review of BG 15 Kevin R. Tipple wrote:
King Erskine of Malpass, a tyrant known as "Erskin the Extractor" for reasons that become clear in the story, must be stopped and stopped now. He has a weakness and Tanek has figured it out. A key part of Tanek's plan requires him to scale the tallest tower at Erskine's castle at Courbe. Despite how dangerous it is, breaking into the castle by climbing the tower might be the easiest party of the plan…
The complete catalog of Black Gate Online Fiction, including stories by Martha Wells, Mary Catelli, Michael Penkas, Vera Nazarian, Robert Rhodes, Ryan Harvey, Nina Kiriki Hoffman, E.E. Knight, C.S.E. Cooney, Howard Andrew Jones, Harry Connolly, and many others, is here.
"Falling Castles" is a complete 11,000-word tale of adventure fantasy offered at no cost. Art from "An Uprising of One" by Jim and Ruth Keegan.
Read the complete story here.