Tangent Online reviews Black Gate 15
Tangent Online reviews Black Gate 15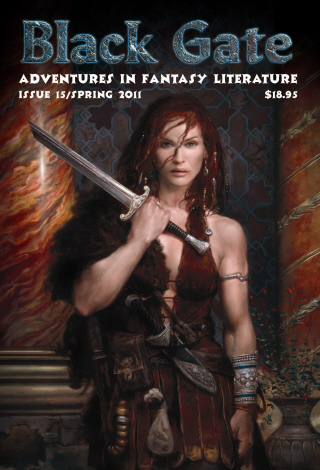 Review site Tangent Online published an extensive and extremely complementary piece on our latest issue on New Year's Day. Author Kevin R. Tipple writes:
The Spring 2011 issue of this massive 384 page magazine delivers in a big way. Beyond the numerous review features on books, dvds, games, letters, and editorial, and other interesting columns and features, the focus is clearly on quality fiction. Complex tales with richly drawn characters of depth engaged in an adventure of some type in a detailed and complex fantasy setting is what you will find in this issue. The stories fully lived up to the subtitle and exceeded my wildest expectations…

Each and every single story in Black Gate #15 is a good one… From the distinctive cover art that pays homage to the concept of the "Special Warrior Woman Issue" to the abundance of reviews, numerous features, and other interesting content, this is a quality magazine. Fiction is what drives the issue in all aspects. Living up wonderfully to their subtitle of "Adventures In Fantasy Literature," Black Gate 15 delivers consistently across the board with the twenty-one stories… I must say the price for what you get is incredibly reasonable and well worth it…

The fiction is tremendously varied in terms of characters, settings, and writing styles. What is constant in each story is that every one is strong and well written. The folks involved at all levels deserve your support as they have produced an incredibly good product.
Buy this issue for only $18.95, or as part of bundle of back issues — any two for just $25 plus shipping — at our online store. Also available in PDF format for only $8.95!
Or buy the Kindle version — with enhanced content and color art and images — at Amazon.com for just $9.95!
You can find the complete review here, and the complete BG 15 table of contents here.