The Best in Fantasy Manga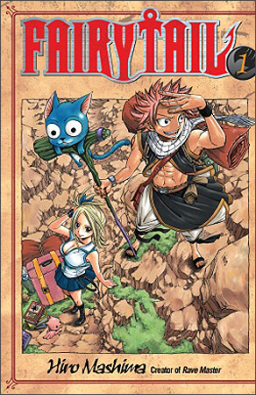 When I was invited to write a guest post, I immediately turned to manga. To my knowledge, Black Gate has never had a post dedicated to Japanese comics before, and I think that absence needs to be rectified.
The series I am about to recommend to you are as good, as dramatic, and as entertaining as any American comic book or even fantasy and science fiction novel.
What follows is a list of some of my personal favorites, as well as those that are must reads. At the end, I will list some of the series that I have not gotten to yet, but am looking forward to.
Fairy Tail by Hiro Mashima
Ongoing. Kodansha has released 17 volumes in translation with vol. 18 due in March.
Lucy Heartfilia, a celestial spirit wizard, and Natsu Dragneel, a fire dragon slayer, form the nucleus of Team Natsu. Stealing a book from a corrupt noble and crushing dark guilds are just some of the adventures that Team Natsu and their friends find themselves in as they ensure Fairy Tail's reputation as the strongest and most infamous wizard guild in Fiore.
Though the series starts out with a heavy does of comedy, the series has steadily gotten darker and more serious with each succeeding story arc yet still maintains an upbeat feel. Indeed, the series really starts to pick up with the Galuna Island arc. The great thing about Fairy Tail is that Mashima does not neglect minor characters. They all have moments in the spotlight. I personally find the series fun and enthralling, and it is without question my favorite series.