The Best in Fantasy Manga
The Best in Fantasy Manga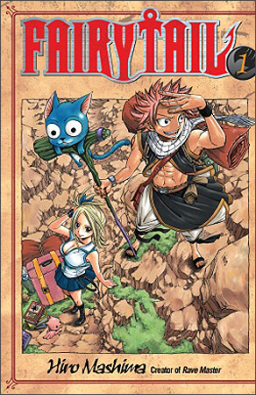 When I was invited to write a guest post, I immediately turned to manga. To my knowledge, Black Gate has never had a post dedicated to Japanese comics before, and I think that absence needs to be rectified.
The series I am about to recommend to you are as good, as dramatic, and as entertaining as any American comic book or even fantasy and science fiction novel.
What follows is a list of some of my personal favorites, as well as those that are must reads. At the end, I will list some of the series that I have not gotten to yet, but am looking forward to.
Fairy Tail by Hiro Mashima
Ongoing. Kodansha has released 17 volumes in translation with vol. 18 due in March.
Lucy Heartfilia, a celestial spirit wizard, and Natsu Dragneel, a fire dragon slayer, form the nucleus of Team Natsu. Stealing a book from a corrupt noble and crushing dark guilds are just some of the adventures that Team Natsu and their friends find themselves in as they ensure Fairy Tail's reputation as the strongest and most infamous wizard guild in Fiore.
Though the series starts out with a heavy does of comedy, the series has steadily gotten darker and more serious with each succeeding story arc yet still maintains an upbeat feel. Indeed, the series really starts to pick up with the Galuna Island arc. The great thing about Fairy Tail is that Mashima does not neglect minor characters. They all have moments in the spotlight. I personally find the series fun and enthralling, and it is without question my favorite series.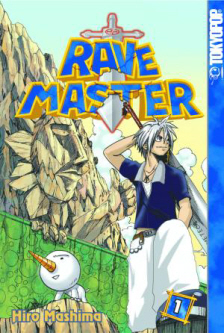 Rave Master by Hiro Mashima
Complete. Tokyo Pop released the first 32 volumes while Del Rey/ Kodansha released the final 3.
Haru Glory comes in possession of the Ten Commandments Sword and a strange being named Plue.
Leaving his home on Garage Island, Haru must travel the world to collect the RAVE stones. Along the way, he meets Ellie and sundry other allies in his quest.
This is Mashima's first series. I've only read the first three volumes, but am looking to read more of the series once the public library finally gets them on the shelves.
Unfortunately, Rave Master is hampered by an inconsistent publishing history.
Currently, save for the omnibus final three volumes, the series is considered out of print.
Naruto by Masashi Kishimoto
Ongoing. VIZ has released 54 volumes in English translation. Vol. 55 is due in March.
Naruto Uzumaki is the dead last in his ninja class, but within him beats the heart of a hero.
From dead last to the Hero of the Leaf, Naruto, with the help of his friends, becomes one of the greatest ninjas in his world. But, becoming hokage means nothing, if he cannot rescue his first friend from darkness.
This is the most popular manga in America (and second most popular in Japan) at the moment, and currently my second favorite.
The number of volumes (likely to reach into the sixties) may be off-putting to prospective readers. However, copies should be available from the local library or through interlibrary loan.
Fullmetal Alchemist by Hiromu Arakawa
Completed. VIZ has released all 27 volumes of the series.
Edward and Alphonse Elric, two alchemist prodigies, commit the ultimate alchemical taboo when they seek to resurrect their dead mother. Now seeking to restore their bodies, Edward has become a state alchemist, a dog of the dictatorial military that rules Amestris.
Along the way, the Elric brothers meet a plethora of allies and friends, and they stumble upon a horrific plan centuries in the making.
This is my third favorite manga series. The series is almost novelistic in its ability to nearly seamlessly weave the various arcs into a unified whole.
The storytelling is stronger than the art, but the art has a charming quality.
Of the steam punk I have read, this is by far one of my favorite examples.
Bleach by Tite Kubo
Ongoing. VIZ has realesed 38 volumes in English translation with vol. 39 due in April.
Ichigo Kurosaki is your average high school student who can see ghosts.
One day, he encounters Rukia Kuchiki, a shinigami, during a hollow attack on his home.
During the battle, Ichigo takes Rukia's powers and becomes a shinigami himself. Thus Ichigo's career as a substitute shinigami begins.
This is the second most popular manga series in America (and formerly one of Weekly Shonen Jump's trinity with One Piece and Naruto).
I like the art work of the series, but the story tends to drag as it progresses. My favorite volume has been the excellent third. Currently entering its long final arc.
One Piece by Eichiiro Oda
Ongoing. VIZ has released 56 volumes in English translation with vol. 57 due in June.
Monkey D. Luffy, a stretchy teenager, wants to become a pirate, but not just any pirate. He wants to become King of the Pirates.
With his crew of friends, Luffy travels the world looking for the treasure of Gol D. Roger, the last pirate king.
This is the most popular manga in Japan. Lately, two million copies of new tankobon are bought (compare this to Naruto which only sells half that much).
I have mixed feelings about this series. Some of the chapters I have read have not impressed me, but I enjoyed the first few volumes.
This series is rather insane and comedic, though it has gotten darker as it goes on. I would recommend using the library for this series.
Currently, the series is running 65 volumes with no end in sight.
Death Note by Tsugumi Ohba and Takeshi Obata
Completed. VIZ has released 12 volumes in English translation.
Light Yagami, a genius student, finds the Death Note dropped by the shinigami Ryuk.
After finding the Death Note, Light decides to purify the world by killing all he deems evil.
A popular manga, this skirts the shonen/ seinen divide.
I have the first three volumes and have enjoyed them immensely.
The series is very dark and disturbing given that Light is a villain protagonist.
A contemporary fantasy, Death Note is one of the most accessible manga series for collecting (at only twelve volumes).
YuYu Hakusho by Yoshihiro Togashi
Completed. VIZ has released 19 volumes.
Yusuke Urameshi is a juvenile delinquent forced to become a spirit detective after his death.
Gradually, he forms alliances and faces multiple threats like a Dark Tournament and his predecessor as spirit detective.
I remember watching YuYu Hakusho when I was younger and have only just now started on the manga.
There are many similarities with Bleach except that Togashi tends to speed his arcs along.
InuYasha by Rumiko Takahashi
Completed. VIZ has released 56 volumes.
Kagome is a modern girl who falls into a well that transports her to feudal Japan. There, she meets the half dog demon InuYasha.
Together with their friends, they seek to restore a shattered jewel of dark magic and defeat the evil demon Naraku.
I have not read as much of this series as I would wish.
It is very interesting and well done, though.
One of the seminal manga of the past twenty years.
Card Captor Sakura by CLAMP
Completed. Dark Horse is releasing the series in four three volume omnibuses.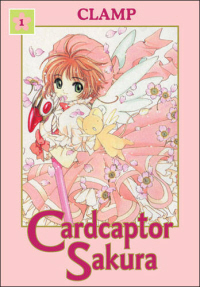 Meet Sakura Kinomoto, a young girl. She discovers her magical destiny when she releases the Clow Cards. Having to find them all and master them to prevent a disaster, Sakura with her friends navigate their duties, school work, and various life issues.
This is a very good shojo series. CLAMP is known for their imagination and the number of series they have developed for over twenty years.
I did not think I would like this series, but I ended up reading the entire second omnibus in one sitting. The comedy and drama are delicately balanced.
The only issue I have with it is the monster of the week elements of the series.
Speaking of CLAMP, I have not yet found the time to read X, Xxxholic, and Tsubasa Reservoir Chronicle, but I really want to check them out.
The same is true of Kentaro Miura's seminal Berserk. Berserk would probably be the one series that is highly reminiscent of the gritty fantasy of Abercombie and Bakker, I'm also looking forward to Naoki Urasawa's Pluto, Kazue Kato's Blue Exorcist, Toriko, D.Gray-man, and definitely looking for more fantasy seinen.
Manga come in a variety of genres. And in each genre, there are a large number of individual series. It would be impossible to truly read them all, but try finding a few good series to spend a few afternoons with.
---
Sftheory1 writes and blogs at Nerd Redefined. He normally blogs about manga, fantasy, comics, science fiction, and occasionally movies.