New Treasures: End of the Road edited by Jonathan Oliver
New Treasures: End of the Road edited by Jonathan Oliver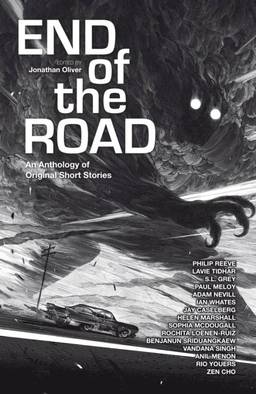 Back in March, we saluted Solaris and their rapidly expanding line of anthologies — a rare thing in today's market — in a post titled "Is the Original SF and Fantasy Paperback Anthology Series Dead?"
In researching that article, I discovered Solaris had released a standalone anthology of original fantasy fiction in December: End of the Road. I ordered a copy, it arrived last week, and I'm very happy to say that I'm not disappointed.
Each step leads you closer to your destination, but who, or what, can you expect to meet along the way?

Here are stories of misfits, spectral hitch-hikers, nightmare travel tales and the rogues, freaks and monsters to be found on the road. The critically acclaimed editor of Magic, The End of The Line and House of Fear has brought together the contemporary masters and mistresses of the weird from around the globe in an anthology of travel tales like no other. Strap on your seatbelt, or shoulder your backpack, and wait for that next ride… into darkness.

An incredible anthology of original short stories from an exciting list of writers including the bestselling Philip Reeve, the World Fantasy Award-winning Lavie Tidhar and the incredible talents of S. L. Grey, Ian Whates, Jay Caselberg, Banjanun Sriduangkaew, Zen Cho, Sophia McDougall, Rochita Loenen-Ruiz, Anil Menon, Rio Youers, Vandana Singh, Paul Meloy, Adam Nevill and Helen Marshall.
Jonathan Oliver is the editor-in-chief of Solaris and Abaddon. He has two novels out with Abaddon Books, The Call of Kerberos and The Wrath of Kerberos, and three other anthologies: House of Fear, The End of the Line, and the World Fantasy award nominee Magic: An Anthology of the Esoteric and Arcane.
End of the Road was published by Solaris Books on December 15, 2013. It is 304 pages, priced at $7.99 in paperback and $6.99 for the digital edition. The moody and effective cover is by Nicolas Delort.