Last Chance to Win a Copy of Patrick Swenson's The Ultra Thin Man
Last Chance to Win a Copy of Patrick Swenson's The Ultra Thin Man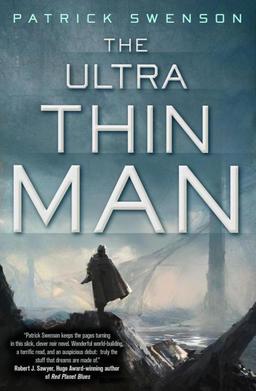 Last week, I told you that you had a chance to win a copy of Patrick Swenson's new novel The Ultra Thin Man. Why? Because good things happen to good people.
How do you win, you lucky dog? Just send an e-mail to john@blackgate.com with the title "The Ultra Thin Man" and a one-sentence review of your favorite Tor fantasy novel. One winner will be drawn at random from all qualifying entries and we'll publish the best reviews here on the Black Gate blog. But hurry, because the contest closes August 31.
All entries become the property of New Epoch Press. No purchase necessary. Must be 12 or older. Decisions of the judges (capricious as they may be) are final. Not valid where prohibited by law. Eat your vegetables. Thanks to Tor for providing the prize (and for footing for shipping). Here's the description, because I think it sounds fantastic, and I wish Tor would let me enter my own contest. Bastards.
In the twenty-second century, a future in which mortaline wire controls the weather on the settled planets and entire refugee camps drowse in drug-induced slumber, no one — alive or dead, human or alien — is quite what they seem. When terrorists manage to crash Coral, the moon, into its home planet of Ribon, forcing evacuation, it's up to Dave Crowell and Alan Brindos, contract detectives for the Network Intelligence Organization, to solve a case of interplanetary consequences. Crowell' and Brindos's investigation plunges them neck-deep into a conspiracy much more dangerous than anything they could have imagined.

The two detectives soon find themselves separated, chasing opposite leads: Brindos has to hunt down the massive Helkunn alien Terl Plenko, shadow leader of the terrorist Movement of Worlds. Crowell, meanwhile, runs into something far more sinister — an elaborate frame job that puts our heroes on the hook for treason.

In this novel from Patrick Swenson, Crowell and Brindos are forced to fight through the intrigue to discover the depths of an interstellar conspiracy. And to answer the all-important question: Who, and what, is the Ultra Thin Man?
The Ultra Thin Man was published by Tor Books on August 12, 2014. It is 334 pages, priced at $25.99 in hardcover and $12.99 for the digital edition. The cover is by Victor Mosquera.