New Treasures: The Last Policeman, by Ben H. Winters
New Treasures: The Last Policeman, by Ben H. Winters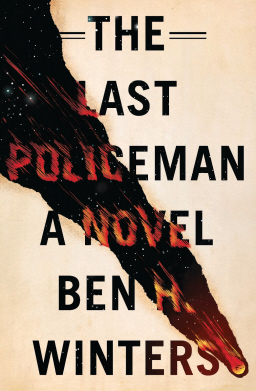 I enjoy genre mash-ups.  When done right, they highlight the strengths of both genres, and that's a hard thing to pull off. Think horror-comedies like Ghostbusters or Zombieland, or science fiction mysteries like Asimov's I, Robot stories. Or zombie westerns like the Bloodlands novels, or Dead Reckoning.
Not every mash-up succeeds, of course. (Did anyone see Seeking A Friend For the End of the World, Steve Carell's romantic comedy cum apocalypse movie from 2012? No? That's what I thought.)
But sometimes a mash-up is so brilliant I have to buy it immediately  That's what happened with The Last Policeman, a police procedural set in Earth's last days.
What's the point in solving murders if we're all going to die soon, anyway?

Detective Hank Palace has faced this question ever since asteroid 2011GV1 hovered into view. There's no chance left. No hope. Just six precious months until impact.

The Last Policeman presents a fascinating portrait of a pre-apocalyptic United States. The economy spirals downward while crops rot in the fields. Churches and synagogues are packed. People all over the world are walking off the job — but not Hank Palace. He's investigating a death by hanging in a city that sees a dozen suicides every week — except this one feels suspicious, and Palace is the only cop who cares.

The first in a trilogy, The Last Policeman offers a mystery set on the brink of an apocalypse. As Palace's investigation plays out under the shadow of 2011GV1, we're confronted by hard questions way beyond "whodunit." What basis does civilization rest upon? What is life worth? What would any of us do, what would we really do, if our days were numbered?
Now there's an original use for an apocalyptic setting. Give me a impending extinction-level event and a relentless investigator too stubborn to give up, and you have my attention. I bought this book after reading the first two paragraphs of the plot summary, and for a jaded book purchaser like me, that's saying something.
Ben H. Winters is a New York Times best-selling author and an Edgar Award nominee. His last novel was Bedbugs. The Last Policeman was published by Quirk Books in trade paperback July 2012. It is 316 pages and priced at $14.95 ($14.95 for the digital edition).