The Bloodlands Novels of Christine Cody
The Bloodlands Novels of Christine Cody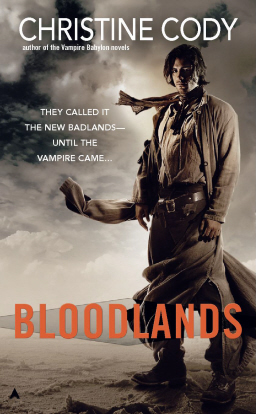 I've been having fun with the Bloodlands novels of Christine Cody. Her website calls them "a post-apocalyptic Western fantasy series," and that's probably the best way to describe them.
Technically they're science fiction, since there's a near-future SF vibe and a post-disaster setting. "The New Badlands" is a vast and devastated American West where a handful of survivors retreated underground to escape changing and deadly weather, and a sequence of unrelenting apocalyptic events that have ravaged the country.
But at heart they're really fantasy as the Badlands aren't just filled with lethal storms, desperate survivors and brutal gunslingers — they're also crawling with monsters, including vampires.
The marketing copy from Ace Books left me in mind of Deadlands, the weird western role playing game from Pinnacle Entertainment that breathed new life into the RPG genre in the 90s. But the author credits her inspiration to classic westerns. This is from the dedication to Bloodlands:
A big shout-out goes to all those Westerns that provided us with High Plains Drifters, Shanes, and Pale Riders, plus all the greedy ranchers and gunslinging villains, feisty homesteaders and rugged pioneers. I wanted to twist and reshape those wonderful tropes into something new while recalling the old. Most important, though, I wanted to pay homage to the mysterious cowboys who have wandered across dusty landscapes to face down the bad guys.
Fair warning to those looking for a pure-blooded adventure series: these books have an outcast female protagonist, and a brooding and misunderstood vampire named "Gabriel." And there's kissing.
The technical term for books containing both kissing and vampires is "paranormal romance," and that's exactly what these are. If sweaty make-out scenes with the undead make you uncomfortable, then back away now.
Christine Cody has also written six novels in the Vampire Babylon series (under the name Chris Marie Green).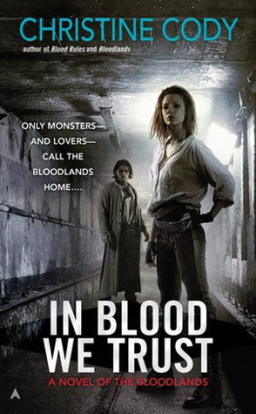 There have been three Bloodlands novels so far: Bloodlands, in which Gabriel strides out of a dust storm searching for his lover's murderer, and is reluctantly taken in by Mariah; Blood Rules, which finds Gabriel and Mariah on a perilous journey to an even more dangerous land filled with human and inhuman monsters; and In Blood We Trust, in which Gabriel and Mariah flee back to the Bloodlands to face the horrors of Mariah's past and make a final stand.
Unfortunately, there may only be three. In the April installment of her online newsletter, the author clarified the future for both of her series:
Truthfully, Bloodlands wasn't what you'd call a smash, so Ace isn't going to buy any more of those. And since Vampire Babylon didn't build in sales as the series went on, Ace isn't doing those, either. However, I'm still trying to see if I have the rights to further explore one or both of these worlds on my own, in self-pubbed digital ventures. I have stories in mind for Vampire Babylon first and foremost, but it can take a long time for these things to develop, and I appreciate your patience so very much. Even so, I'm really happy that, in the meantime, I'll be having a great time in "ghost for hire" land and that you can take the ride with me!
That final line refers to her new book deal, just announced by Penguin:
Chris Marie Green (AKA Christine Cody)'s Jensen Murphy: Ghost for Hire series in a three-book deal with Penguin. The urban fantasy trilogy features a justice-seeking spirit who takes on assignments to haunt/punish humans for the crimes they have committed. Editor: Ginjer Buchanan, agent: Pamela Harty of The Knight Literary Agency.
That's show biz. But if you're at all interested in weird western fantasy, I suggest you check out Cody's Bloodlands books. I started the first one during my family cruise, and they're the literary equivalent of a great Friday night action film: well written, fast moving and a lot of fun, with likable characters and a colorful setting. They're all still in print from Ace Books, and I think you'll like them.