New Treasures: The Drowned Cities by Paolo Bacigalupi
New Treasures: The Drowned Cities by Paolo Bacigalupi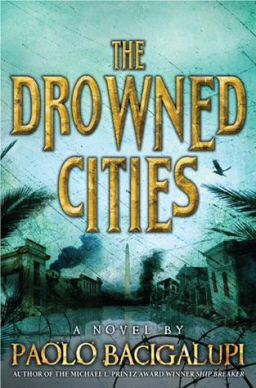 Okay, I know we're here to talk about Paolo Bacigalupi's new novel, but I just want to take a moment to say that I took my two teenage sons to see The Avengers today, and it totally rocked. It was better than it had any right to be, and I agree with Andrew Zimmerman Jones when he says aspiring writers should bring a notebook. Everyone who wants to learn about storytelling should watch this movie.
'Nuff said. We now return to our regularly scheduled New Treasures article.
So Paolo Bacigalupi has a new book out. It's described as "a companion book" to his 2010 novel Ship Breaker.
I don't know what that means, to be honest. Is it a sequel? Why don't they just call it a sequel? Maybe it's a prequel? Or it's, like, set in the same world but doesn't involve any of the same characters, like The Avengers and X-Men? Or does it present the same events from two radically different viewpoints, like MSNBC and Fox News?
Dang it, I don't know why the publicity departments at New York publishing houses keep coming up with different words for sequels. They should use straightforward comic analogies in promotional materials, so busy bloggers like me can get to bed early.
Anyway. Paolo Bacigalupi has a new book. His last two, The Windup Girl and Ship Breaker, were really cool (and The Windup Girl even won the Hugo Award). The Hugo Award is a big deal. Black Gate doesn't have one (yet), and until we get one, that shiny rocket statue makes us starry-eyed and respectful. That's Mr. Bacigalupi to you, Buster. Here's the book description:
In a dark future America where violence, terror, and grief touch everyone, young refugees Mahlia and Mouse have managed to leave behind the war-torn lands of the Drowned Cities by escaping into the jungle outskirts. But when they discover a wounded half-man — a bioengineered war beast named Tool — who is being hunted by a vengeful band of soldiers, their fragile existence quickly collapses. One is taken prisoner by merciless soldier boys, and the other is faced with an impossible decision: Risk everything to save a friend, or flee to a place where freedom might finally be possible.

This thrilling companion to Paolo Bacigalupi's highly acclaimed Ship Breaker is a haunting and powerful story of loyalty, survival, and heart-pounding adventure.
Ship Breaker is highly acclaimed; forgot to mention that. The Drowned Cities arrived in stores on May 1st, it is $17.99 for 448 pages in hardcover, and is published by Little, Brown Books' Young Adult division.