I'm Leaving on a Jet Plane (and a Boat)
I'm Leaving on a Jet Plane (and a Boat)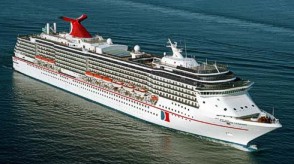 Tomorrow morning my three children and I take a flight to Tampa, where we'll board the Carnival Legend cruise ship, sailing to the Grand Cayman Islands, Cozumel Mexico, and Belize. The trip is part of a celebration for my parents 50th wedding anniversary, so we'll be sailing with our entire extended family. Sixteen people — minus Alice, who's staying home because she couldn't afford to be away from school that long. (I understand. I'm leaving my laptop, and it was a close call whether I could bear to be away from it that long).
There's no cell phone or Internet coverage on the ship. This will be the first time I've been away from the Internet for more than 24 hours in over a decade. I may need to be sedated.
If you're one of the 60-100 people who e-mail me on an average day, I apologize in advance for ignoring you. If you really need to reach me because there's a problem with your subscription, or you sent me a story during the Civil War and I haven't responded yet, or you're just lonely, your best bet is probably a postcard. (I'm kidding. If you really need to reach me in the next 10 days, forget it).
I've never been on a cruise before. My parents (and my co-worker Corey) tell me they're wonderful. Last time I was on a ship bigger than a rowboat, I was crossing the English channel on my honeymoon. Our brief stop-over in Dover turned into a two-night stay while I recovered from near-fatal sea sicknesses.  Our trip to Ireland had to be completely scrapped (16 hours in a ferry? No thank you!). I'm hoping the cruise ship Carnival Legend will have better stabilizers. Seven days is a long time to be clinging to a balcony railing.
I've spent the past week agonizing over what books to bring (come on, you know you'd do exactly the same thing). I plan to be on a deck chair on the sunny side within five minutes of departure. Here's the final list.
Before the Golden Age, edited by Isaac Asimov
The Hugo Winners, Vols I & II, edited by Isaac Asimov
The People of the Black Circle, Robert E. Howard
Child of Fire, Harry Connolly
Sandman Slim, Richard Kadrey
The Warded Man, Peter V. Brett
Den of Thieves, David Chandler
Grimspace, Ann Aguirre
Shadow Ops: Control Point, Myke Cole
This list took some planning. I'm bringing the Asimov anthologies because they're two of my favorite books, and despite the fact that I've had them for over 35 years, I still haven't finished them. Big books are hard to hold up that long.
The Robert E. Howard collection is on there because of a dinner I had with some fellow Sword & Sorcery fans at the Windy City Pulp & Paperback show in 2010. "I like Robert E. Howard just fine," I said in the middle of the conversation, "but I've never read any of his Conan stories." Everyone stopped talking. "Never admit that again," Howard Andrew Jones advised me privately later.
Child of Fire by Harry Connolly and Sandman Slim by Richard Kadrey are both opening volumes in very highly regarded fantasy series, and Peter V. Brett's The Warded Man comes highly recommended by several close friends. The rest are just titles that grabbed my attention over the past few years.
This is the first vacation I'll be bringing my Kindle Fire, crammed with the latest issue of Fantasy & Science Fiction, public domain collections of H. Beam Piper and Robert E. Howard, and the newest volume of Jonathan Strahan's Best Science Fiction and Fantasy of the Year. If it falls in the pool, I'm going to be bummed.
While I'm gone I'm leaving Howard Andrew Jones and Bill Ward in charge of the blog. Behave, everyone. Remember that C.S.E. Cooney has administrator privileges and can break up any fights — by force, if necessary. Be excellent to one another. And if anyone wants a souvenir from a Mayan ruin, tell me now.