Clarkesworld Issue #64
Clarkesworld Issue #64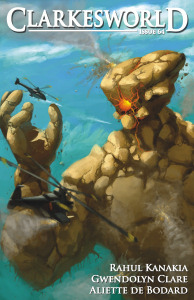 The January issue of Clarkesworld is currently online. Featured fiction: "Scattered Along the River of Heaven" by Aliette de Bodard, "What Everyone Remembers" by Rahul Kanakia and "All the Painted Stars" by Gwendolyn Clare.  Non fiction by Christopher Bahn, Jeremey L. C. Jones and Neil Clarke.  The cover art is by Arthur Wang.
All of this is available online for free; there's even an audio podcast version of all three stories read by Kate Baker. However, nothing is really free. The magazine is supported by "Clarkesworld Citizens" who donate $10 or more.
We last covered Clarkesworld with issue #63.