New Treasures: Dead Reckoning by Mercedes Lackey & Rosemary Edghill
New Treasures: Dead Reckoning by Mercedes Lackey & Rosemary Edghill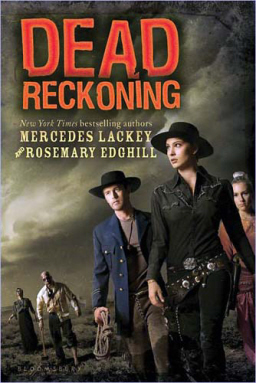 July is a special month in the O'Neill household, and not just because it's summer. All three of my children were born in July, which means it's a month of birthday cake, party planning, and a lot of exchanging gifts.
My kids are readers, and one of the gifts they traditionally receive from aunts and uncles is book store gift certificates. So every year, at the end of July, we trek to the local Barnes & Noble where my children each bring home a stack of books. For Tim, the oldest, it's usually manga — this year as many Fullmetal Alchemist volumes as he could find. Taylor is harder to predict, although she's developed a fondness for manga herself, especially Inuyahsa and Hollow Fields. The middle one, Drew, is a little more adventurous, and this year he parked himself in front of the teen section and spent long minutes agonizing over the selection.
One of the titles he picked out caught my eye as well: Dead Reckoning, a zombie western from two much-loved fantasy writers with a history of successful collaboration. This one looks like a lot of fun, and I might read it as soon as he's done.
It's 1867. And something truly monstrous is breaking loose in West Texas.

Jett Gallatin expects trouble in Alsop, Texas, but not zombies. She's looking for her lost twin brother when she enters a dusty saloon that suddenly is attacked by an army of the undead.

Together with her new friends — one a brilliant inventor, one a clever and good-looking young scout — it's everything she can do to keep the zombies from killing or taking every living soul in their path. But who could possibly desire to control such an army? And what is it they want from the wild Texas frontier?
Mercedes Lackey & Rosemary Edghill have written more than a dozen books together, including the Shadow Grail novels and six volumes of the Bedlam's Bard series.
Dead Reckoning was published in June by Bloomsbury. It is 324 pages in hardcover for $16.99 ($13.99 for the digital edition).