January 2015 Nightmare Magazine Now on Sale
January 2015 Nightmare Magazine Now on Sale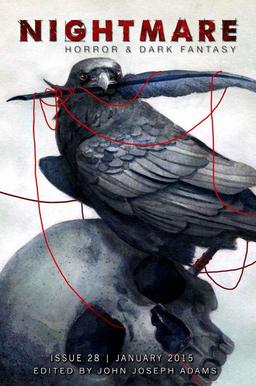 The January 2015 issue of Nightmare Magazine is now available.
Nightmare is the sister publication to the highly-regarded science fiction and fantasy magazine Lightspeed. It's an online magazine of horror and dark fantasy, with a broad focus — editor John Joseph Adams promises you'll find all kinds of horror within, from zombie stories and haunted house tales to visceral psychological horror. Fiction contents this month are:
Original Stories
"Returned" by Kat Howard
"The Trampling" by Christopher Barzak
Reprints
"The Hollow Man" by Norman Partridge
"Blessed Be the Bound" by Lucy Taylor
There's also an editorial with news on the follow-up to the groundbreaking Women Destroy Science Fiction! anniversary issue of Lightspeed, the upcoming Queers Destroy Science Fiction! project, as well as new subscription pricing through Amazon. Read the complete editorial online here,
In the non-fiction section, Stoker award-winning writer Lisa Morton explores the state of female protagonists in horror, and there's an interview with legendary Canadian filmmaker and novelist David Cronenberg. Plus author spotlights and a showcase on cover artist Tran Nguyen.
See the complete contents of the issue here.
Nightmare is edited by John Joseph Adams, editor of Dead Man's Hand, The Mad Scientist's Guide to World Domination, Epic, Wastelands, and many other fine anthologies. The mighty Patty Templeton interviewed him for us here. He has been nominated for the Hugo Award 8 times.
Most recently, Adams has become the editor of the new Year's Best series, The Best American Science Fiction & Fantasy. The first volume will be published by Houghton Mifflin Harcourt this October.
This is the 28th issue of Nightmare. Subscriptions are available for just $1.99 per issue, single issues are available in multiple digital formats for $2.99. Purchase copies and sample free content at the website.
See all of our recent magazine coverage here.