New Treasures: Lightspeed Magazine: Women Destroy Science Fiction! Special Issue
New Treasures: Lightspeed Magazine: Women Destroy Science Fiction! Special Issue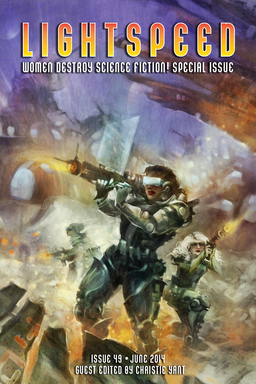 Back in February, John Joseph Adams's Lightspeed magazine held one of the most successful genre Kickstarter campaigns of the year, raising money for a special Women Destroy Science Fiction! issue. With a modest $5,000 goal, the magazine ended up raising $53,136 before the campaign ended on February 15.
Ambitious Kickstarter projects frequently have a reputation for being late — and I'm not sure I've seen many as ambitious as this one. But the issue shipped right on time in early June, and we reported here on the details back on June 5th. Lightspeed is a digital magazine and, as you'd expect, this groundbreaking issue was first made available in digital format. I'm not much of a digital magazine reader, truth be told — I like to read magazines curled up in my big green chair — but I thought I'd eventually make an exception for this one.
But about a week later, on June 14th, I saw a Facebook post from contributor (and occasional Black Gate blogger) Amal El-Mohtar, showing off the print version of the magazine.
Wait, what? There's a print version? I want it. How do I get it? Amal's description was tantalizingly cryptic:
My physical copy of Lightspeed Magazine's Women Destroy Science Fiction arrived! It's gorgeous, and huge, and I love it so much and can't seem to stop petting it. It contains "The Lonely Sea in the Sky," my first (and hopefully not last) piece of science fiction… The print copy contains everything — the interviews, essays, editorials, reprints, flash fiction, and originals. You can't quite tell from the photo but the book is about 2 inches thick. It really is more of an anthology at this point than it is an issue of a magazine. To reiterate: TWO INCHES THICK.
I knew that I had to have a copy. And as it turned out, it wasn't very hard to get one: Amazon has them in stock, discounted to $12.77 — less than the cost of an average trade paperback. I ordered a copy on July 3rd and it arrived a week later.
And, if anything, Amal undersold it in her description. The book — and it is a book — is gorgeous and massive. Here's the description:
Lightspeed is an online science fiction and fantasy magazine. In its pages, you will find science fiction: from near-future, sociological soft SF, to far-future, star-spanning hard SF — and fantasy: from epic fantasy, sword-and-sorcery, and contemporary urban tales, to magical realism, science-fantasy, and folktales. This month, we present our special anniversary issue, Women Destroy Science Fiction!, an all-science fiction extravaganza entirely written — and edited! — by women. Guest-edited by long-time Lightspeed assistant editor Christie Yant, our Women Destroy Science Fiction! Issue contains eleven all-new, original science fiction short stories, plus four short story reprints, a novella reprint, and for the first time ever, an array of fifteen flash fiction stories. In addition to all that goodness, we also have more than two dozen personal essays by women talking about their experiences reading and writing science fiction, plus seven in-depth nonfiction articles.

Here's what we've got lined up for you in this special issue: Original science fiction by Seanan McGuire, N.K. Jemisin, Charlie Jane Anders, Maria Dahvana Headley, Amal El-Mohtar, Kris Millering, Heather Clitheroe, Rhonda Eikamp, Gabriella Stalker, Elizabeth Porter Birdsall, and K.C. Norton. Original flash fiction by Carrie Vaughn, Ellen Denham, Samantha Murray, Holly Schofield, Cathy Humble, Emily Fox, Tina Connolly, Effie Seiberg, Marina J. Lostetter, Rhiannon Rasmussen, Sarah Pinsker, Kim Winternheimer, Anaid Perez, Katherine Crighton, and Vanessa Torline. Reprints by Alice Sheldon (a/k/a James Tiptree, Jr.), Eleanor Arnason, Maria Romasco Moore, Tananarive Due, and a novella reprint by Maureen F. McHugh. Nonfiction articles by Pat Murphy, Stina Leicht, Tracie Welser, plus a roundtable interview by Mary Robinette Kowal with Ursula K. Le Guin, Pat Cadigan, Ellen Datlow, and Nancy Kress, and a feature interview with comic book writer Kelly Sue DeConnick by Jennifer Willis.

Our cover for this issue is brand-new art from Galen Dara, who also conducted our artist showcase interview this month. Personal Essays by Seanan McGuire, E. Catherine Tobler, Brooke Bolander, Marissa Lingen, Sylvia Spruck Wrigley, O.J. Cade, Anne Charnock, Cheryl Morgan, Pat Murphy, Sheila Finch, Kat Howard, Amy Sterling Casil, Nancy Jane Moore, Liz Argall, Bonnie Jo Stufflebeam, Anaea Lay, Helena Bell, Stina Leicht, Jude Griffin, Gail Marsella, DeAnna Knippling, Georgina Kamsika, Sandra Wickham, Kristi Charish, Rachel Swirsky, Maya Kaathryn Bohnhoff, Juliette Wade, and Kameron Hurley.
Whew! All that is packed into 479 beautiful pages — with eight pieces of original art: five for the original fiction, one in the flash fiction section, and two illustrating reprints.
And in the Coming Attractions section, the editors announce that the success of this issue has inspired similar projects for Lightspeed's sister magazines, listed as stretch goals in the original Kickstarter:
In October, our sister-magazines, Fantasy and Nightmare, will destroy fantasy and horror, respectively, with their Women Destroy Fantasy! and Women Destroy Horror! special issues. Women Destroy Fantasy! is guest-edited by long-time Fantasy Magazine editor Cat Rambo, and Women Destroy Horror! is guest-edited by legendary editor Ellen Datlow.

Then, in 2015, stay tuned for… Queers Destroy Science Fiction! guest edited by bestselling, award winning author Seanan McGuire.
Women Destroy Science Fiction! was edited by Christie Yant and published by Lightspeed Magazine on June 1, 2014. It is 479 pages, priced at $15.99 for the print edition and $3.99 for the digital edition.
See all of our recent New Treasures here.