New Treasures: Epic, Edited by John Joseph Adams
New Treasures: Epic, Edited by John Joseph Adams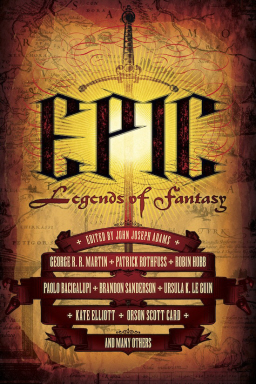 Black Gate's Managing Editor Howard Andrew Jones said something in his Monday post on Heroic Fantasy Quarterly 15 that I wish I'd said. So I'm going to repeat it here word for word, and pretend I'm saying it now.
I always wished I could find a way to draw more attention to the Flashing Swords e-zine when I helmed it. Well, it's gone now. But HFQ is alive and well, and doing good work. So I'm using the mighty bandwidth now possessed by Black Gate online to point you to the e-zine. I can personally vouch for the stories I've named above. If you're a fan of sword-and-sorcery and heroic fiction, you owe it to yourself to check them out. Go there, celebrate the stories, and the writers, and the market, because markets are fragile things and should be cherished while we have them.
Hear hear! We're always happy when we can point you to a neglected vintage paperback or forgotten silent film. But our greatest pride comes from finding and promoting exciting, vibrant creators doing great work now, who need and deserve your support.
Lately, I feel that way about John Joseph Adams, who's edited some of the most celebrated anthologies of the past few years — including The Way of the Wizard, Wastelands, Federations, Lightspeed: Year One, The Mad Scientist's Guide to World Domination, and many others. But his most recent publication of keen interest to heroic fantasy fans is the monumental Epic, a massive collection of some of the finest epic fantasy from the last five decades. It's a fabulous collection of many of your favorite writers — including Patrick Rothfuss, George R. R. Martin, Tad Williams, Robin Hobb, Ursula K. Le Guin, and Michael Moorcock — alongside exciting authors you should be reading, such as Aliette de Bodard, Mary Robinette Kowal, N. K. Jemisin, Paolo Bacigalupi, and many others.
The complete table of contents is here. Support John Joseph Adams and Tachyon Publications, and keep them publishing groundbreaking anthologies for the next 20 years.
Epic: Legends of Fantasy was published on October 5th by Tachyon Publications. It is 624 pages in trade paperback for $17.95 ($9.99 for the digital version). Complete details at the Tachyon website.