Last Chance to Win a Copy of The Complete John Thunstone from Haffner Press
Last Chance to Win a Copy of The Complete John Thunstone from Haffner Press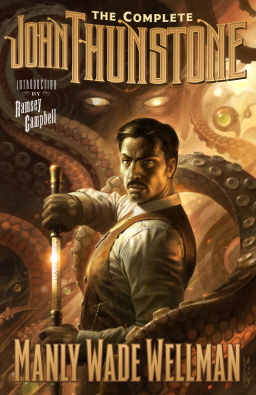 In a moment of weakness earlier this month, I decided to give away two copies of the long-awaited pulp compilation The Complete John Thunstone by Manly Wade Wellman.
Too late to back out now. How do you win one, you lucky dog? Just send an e-mail to john@blackgate.com with the title "John Thunstone" and a one-sentence review of your favorite Manly Wade Wellman novel or short story. And don't forget to mention what story you're reviewing!
That's it. Two winners will be drawn at random from all qualifying entries, and we'll publish the best reviews here on the Black Gate blog.
But time is running out — the contest closes March 3. Because if I have to hold these things any longer than that, there's no way I'll be able to part with them.
Haffner's archival-quality hardcovers are some of the most collectible books in the genre. The Complete John Thunstone is 640 pages in hardcover, with an introduction by Ramsey Campbell and cover art by Raymond Swanland. It is edited by Stephen Haffner and illustrated by George Evans, and has a retail price of $40. Our original article on the book is here.
All entries become the property of New Epoch Press. No purchase necessary. Must be 12 or older. Decisions of the judges (capricious as they may be) are final. Terms and conditions subject to change as our lawyers sober up and get back to us. Not valid where prohibited by law. Or anywhere postage for a hefty hardcover is more than, like, 10 bucks. Good luck!