The Omnibus Volumes of C.J. Cherryh, Part III
The Omnibus Volumes of C.J. Cherryh, Part III
We've come to the end of our three-part series on DAW's omnibus reprint volumes of C.J. Cherryh's early fantasy and space opera novels. Part I examined The Faded Sun Trilogy, The Morgaine Saga, and The Chanur Saga, all published in the year 2000, and Part II continued with Chanur's Endgame, Alternate Realities, and Alliance Space. In Part III, we'll take a look at The Dreaming Tree, At the Edge of Space, and The Deep Beyond., each of which collects a pair of novels.
With The Dreaming Tree, we're back to fantasy again. Cherryh dabbles in fantasy only occasionally — she's had the greatest success with space opera over her long career, especially her long-running Foreigner and Chanur series, which together encompass some 20 novels. But The Dreaming Tree, which collects the two Ealdwood novels, The Dreamstone and The Tree of Swords and Jewels, has proved to be one of her most enduring works. The omnibus volume was published in 1997 and is still in print, eighteen years later.
The first novel was released in 1983 with a cover by David Cherry. The sequel followed the same year, with a cover by Cherryh's frequent cover artist Michael Whelan.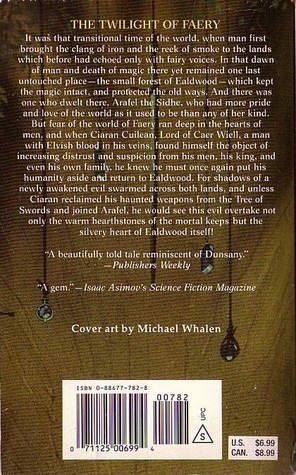 Here's the back cover text to The Dreaming Tree, which is largely taken from the blurb on the back of The Dreamstone:
The Twilight of Faery

It was that transitional time of the world, when man first brought the clang of iron and the reek of smoke to the lands which before had echoed only with fairy voices. In that dawn of man and death of magic there yet remained one last untouched place — the small forest of Ealdwood — which kept the magic intact, and protected the old ways. And there was one who dwelt there, Arafel the Sidhe, who had more pride and love of the world as it used to be than any of her kind.

But fear of the world of Faery ran deep in the hearts of men, and when Ciaran Cuilean, Lord of Caer Wiell, a man with Elvish blood in his veins, found himself the object of increasing distrust and suspicion from his men, his king, and even his own family, he knew he must once again put his humanity aside and return to Ealdwood. For shadows of a newly awakened evil swarmed across both lands, and unless Ciaran reclaimed his haunted weapons from the Tree of Swords and joined Arafel, he would see this evil overtake not only the warm hearthstones of the mortal keeps but the silvery heart of Ealdwood itself!
The Dreaming Tree was published by DAW on December 1, 1997. It is 464 pages, priced at $8.99 in paperback; there is no digital edition. The cover is by Michael Whelan.
C.J. Cherryh's novel Brothers of Earth is an important one for me, although for an unusual reason. I was introduced to science fiction in 1975 by my friend John MacMaster, who brought me a pair of SF novels when I was home sick from school. He also enrolled me in the Science Fiction Book Club, and I remember waiting impatiently for my first monthly club catalog to arrive in the mail. When it did, the feature selection for the month was Brothers of Earth by C.J. Cherryh.
I must have read that book description half a dozen times, entranced by the vivid description of a space traveler lost on an alien world. I'd been reading what would now be called young adult fiction for years, but the SFBC was my doorway to adult science fiction, and Brothers of Earth seemed very adult indeed. Even today when I look at that cover, it speaks to me of grown up fiction.
That's the cover of the SFBC edition at left (art by D. K. Stone.)
Brothers of Earth was one of C.J. Cherryh's very first novels (the other was Gate of Ivrel, also from 1976). It was published in paperback by DAW in 1976, with a cover by Alan Atkinson — a cover that proudly proclaimed the book was a Science Fiction Book Club selection. It placed 10th that year in the annual Locus poll for Best Science Fiction novel.
Here's the blurb from the back of the DAW edition:
The sole survivor of a spaceship battle, Kurt Morgan's survival capsule finds an Earth-type planet in this unknown system. Stranded for life, he must adapt quickly to the strange terrain and even stranger inhabitants… or face extinction. But would it be possible for him to learn the ways of this totally alien culture… to entirely adapt his human reactions to their fabulous civilization and complex mores? Kurt didn't know it yet, but before long he would be completely enveloped by this alien race and become the key figure in their great civil was. And it would take all of Kurt's brave determination and keen resources just to keep himself alive.
Brothers of Earth is the first of the two Hanan Rebellion novels. The second, Hunter of Worlds, was published in 1977, with a cover by John Berkey. It placed 12th on the Locus poll. Here's the back cover blurb:
The iduve were the most advanced spacefaring race in the galaxy. They traveled where they pleased in giant city-sized vessels, engrossed with their own affairs. The iduve were humanoids — with a difference: they were predators incapable of human emotions.

Aiela was a world-survey officer who found himself abducted to serve the iduve clanship Ashanome. Forcibly mind-linked with two other humans, life became for him wholly intended for dedication to the service of his captors.

But events involving a human world that had become prey to the Ashanome were to bring out contradictions and confrontations that make the story of this man and his captor-master, the Hunter of Worlds, a truly powerful science fiction novel.
Both novels had British editions, published in 1977 and 1980 by Orbit / Futura.
DAW kept both novels in print through the 80s. In May 1987 the publisher reprinted Hunter of Worlds with a new cover by John Pound, and July 1988 Brothers of Earth followed with a new cover by Dawn Wilson.
Smaller versions of both of these were inset into the cover of the omnibus edition At the Edge of Space (which uses the top third of the Wilson Brothers of Earth cover, rotated by 90 degrees, as a backdrop.)
At the Edge of Space was published by DAW on September 2, 2003. It is 540 pages, priced at $7.99 in paperback and $6.99 for the digital edition. It is still in print.
The ninth and final omnibus in our series is The Deep Beyond, a collection of two of Cherryh's standalone novels, Cuckoo's Egg and Serpent's Reach. If you're looking for a fine introduction to Cherryh, but not ready to dive into any of her series just yet, this collection or Alliance Space might be your best bet.
Cuckoo's Egg, which fits into Cherryh's Age Of Exploration time line, was published in 1985, and nominated for a Hugo Award. The DAW paperback edition had a cover by Michael Whelan. It has been reprinted several times since, always with a variant of Whelan's cover.
Serpent's Reach has a far more interesting publishing history. It originally appeared in hardcover from the SFBC in May 1980, with a cover by Ken Barr (below left). It appeared in paperback just three months later from DAW, with a cover by David B. Mattingly (above right). For the fourth printing of the paperback, in October 1985, the publisher switched up the cover, replacing it with art by Mike Embden (below middle). It also had a British edition from Orbit in Tim White (below right, cover by Tim White.)
Serpent's Reach was set in Union-Alliance space. It placed 7th in the Locus poll for the year.
Here's the blurb for both novels, taken from the back of the omnibus edition:
Cuckoo's Egg

They named him Thorn. They told him he was of their people, although he was so different. He was ugly in their eyes, strange, sleek-skinned instead of furred, clawless, different. Yet he was of their power class: judge-warriors, the elite, the fighters, the defenders.

Thorn knew that his difference was somehow very important — but not important enough to prevent murderous conspiracies against him, against his protector, against his caste, and perhaps against the peace of the world. But when the crunch came, when Thorn finally learned what his true role in life was to be, that on him might hang the future of two worlds, then he had to stand alone to justify his very existence.

Serpent's Reach

Within the Constellation of the Serpent, out of bounds to all spacefarers, humans live among the insect-like aliens–and one of them, a woman named Paen, is bent on a revenge that will tear apart the truce between human and alien. "Brisk pacing… and genuinely brilliant world-building."– ALA Booklist
The Deep Beyond was published by DAW on August 2, 2005. It is 544 pages, priced at $8.99 in paperback. There is no digital edition. The cover art is by Michael Whelan. It is still in print.
The nine DAW C.J. Cherryh Classic Omnibus Editions are:
The Dreaming Tree (The Dreamstone, The Tree of Swords and Jewels)
The Faded Sun Trilogy (The Faded Sun: Kesrith, The Faded Sun: Shon'jir, The Faded Sun: Kutath)
The Morgaine Saga (Gate of Ivrel, Well of Shiuan, Fires of Azeroth)
The Chanur Saga (The Pride of Chanur, Chanur's Venture, The Kif Strike Back)
Chanur's Endgame (Chanur's Homecoming, Chanur's Legacy)
Alternate Realities (Port Eternity, Wave Without a Shore, Voyager in Night)
At the Edge of Space (Brothers of Earth, Hunter of Worlds)
The Deep Beyond (Serpent's Reach, Cuckoo's Egg)
Alliance Space (Merchanter's Luck, Forty Thousand in Gehenna)
In Part I, we covered The Faded Sun Trilogy, The Morgaine Saga, and The Chanur Saga.
Part II examined Chanur's Endgame, Alternate Realities, and Alliance Space.
See all of our recent Vintage Treasures here.