January/February Magazine of Fantasy & Science Fiction now on Sale
January/February Magazine of Fantasy & Science Fiction now on Sale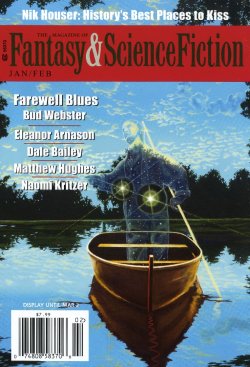 Black Gate blogger Bud Webster gets the cover of the January/February issue of The Magazine of Fantasy of Science Fiction with his novelette "Farewell Blues," a ghost story set in the swamps of Louisiana in 1937. In her review of the issue, Colleen Chen at Tangent Online had this to say:
The narrator, trumpet player Juney Walker, talks about a cornet player named Jake, who was so good he could play to wake the dead. Turns out this is literally true. One hot summer, he and Jake were playing music nights in a small swamp town in Louisiana, and strange dead things start emerging from the swamp in response to the music. It turns out that Jake isn't quite from this realm, and the music he plays is bridging the place where he is to the place he's from. Something is calling him home, and if he doesn't go, the uncontrolled pieces from that beyond place will seep into here and wreak their eerie havoc… This is an atmospheric and Cajun-flavored ghost story.
Good to see Bud get the spotlight. He's a terrific writer and was a regular columnist and poetry editor for the print version of Black Gate.
He's also written a dozen blog posts for us, most recently "Selling Your Books Ain't as Easy as it Looks," and "Talk to Any Squids Lately? In Space, I Mean?" His most recent books are his guide to SF & fantasy bookselling, The Joy of Booking, and his collection of columns on genre writers, Past Masters: and Other Bookish Natterings.
There are other enticing stories in the issue, from Eleanor Arnason, Matthew Hughes, Dale Bailey, Naomi Kritzer, Albert E. Cowdrey, and others. Here's the complete Table of Contents.
NOVELETS
"Prisoner of Pandarius" – Matthew Hughes
"Lightning Jack's Last Ride" – Dale Bailey
"Jubilee: A Seastead Story" – Naomi Kritzer
"Portrait of a Witch" – Albert E. Cowdrey
"Farewell Blues" – Bud Webster
SHORT STORIES
"Telling Stories to the Sky" – Eleanor Arnason
"Out of the Jar" – Eric Schwitzgebel
"History's Best Places to Kiss" – Nik Houser
"The Chart of the Vagrant Mariner" – Alan Baxter
"The Man from X" – Gregor Hartmann
"The Gazelle Who Begged for Her Life" – Francis Marion Soty
POEMS
"Robot Agonistes" – Alan Ira Gordon
"An Undiscovered Country" – Robert Frazier
Departments this issue include book reviews by Charles de Lint and James Sallis, Paul Di Filippo's Plumage From Pegasus column, film reviews from David J. Skal, a Science feature by Pat Murphy & Paul Doherty, cartoons by Joseph Farris, Arthur Masear, and Danny Shanahan, and a Curiosities entry by publisher Stephen Haffner. The cover is by Kent Bash.
The Magazine of Fantasy and Science Fiction is published by Gordon van Gelder. The cover price is $7.99 for a thick 258 pages. Check out the complete TOC and additional free content at the F&SF website.
We last covered F&SF here with the November/December 2014 issue.