Bud Webster Joins Black Gate as Poetry Editor
Bud Webster Joins Black Gate as Poetry Editor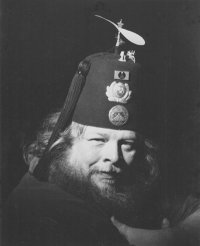 Genre historian and poet Bud Webster, author of Anthopology 101, joins the Black Gate team as our first poetry editor, effective immediately.
Bud Webster is a prize-winning epic poet, and served as poetry editor for the online magazine HELIX SF. During his tenure there, eight of the poems he published were nominated for the Rhysling Award, with one taking first place in the Long Poem category. He was co-editor of SFPA founder Suzette Hadin Elgin's The Science Fiction Poetry Handbook (Sam's Dot Publishing, 2005), and has been nominated for the Rhysling himself a couple of times.
Bud has gained considerable renown over the past decade for his Past Masters columns, examining and promoting the work of some the finest of science fiction and fantasy authors of the 20th Century. He continues that theme with his Who? columns for the print edition of Black Gate magazine. The first Who? column, on author Tom Reamy, appears in the upcoming Black Gate 15.
Bud's first online article for us was What I Do and Why I Do It in December of last year; his most recent was What I Do It With. His enthusiasm for — and encyclopedic knowledge of — classic SF and fantasy, and the tireless energy with which he promotes neglected authors, are a welcome addition to the Black Gate team.
Bud will be purchasing 6-10 original fantasy poems for each issue of Black Gate magazine. The first issue to feature his selections will be BG 16.
For a complete list of the folks responsible for Black Gate, visit our Staff Page.