Anthopology 101 dives into classic SF Anthologies
Anthopology 101 dives into classic SF Anthologies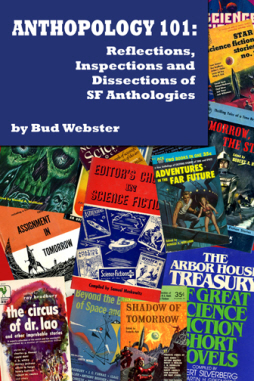 SF author Bud Webster informs us that his book Anthopology 101: Reflections, Inspections and Dissections of SF Anthologies, is now available from The Merry Blacksmith Press. Bud tells us:
Anthologies are the core samples of science fiction.  Through their pages, we can not only follow the growth of the genre from its very beginnings, but we can also study the past's visions of the future.
As author of the always-fascinating Past Masters column, which examines the forgotten work of some of the finest SF and fantasy writers of the 20th Century, Bud should know.
This is one of the most intriguing titles I've come across in a while, and I'm really looking forward to getting a copy in my hot little hands.
The book includes an introduction from Mike Ashley, and collects 25 of Bud's "Anthopology 101" columns  that originally appeared in The New York Review of Science Fiction, Chronicle, SFWA Bulletin, and other fine publications.
For anyone else with an obsessive interest in these fascinating and beautiful relics of early science fiction and fantasy (I'm talking to you, Rich Horton), you'll want to jump over to the Merry Blacksmith website, where they're offering free shipping on Anthopology 101 until August 21.